Fours Head: clubs prepare for Tideway time trial
Anticipation is building for the Fours Head on Saturday 13 November. Zoe Gullen talks to four crews about their preparations for this Tideway challenge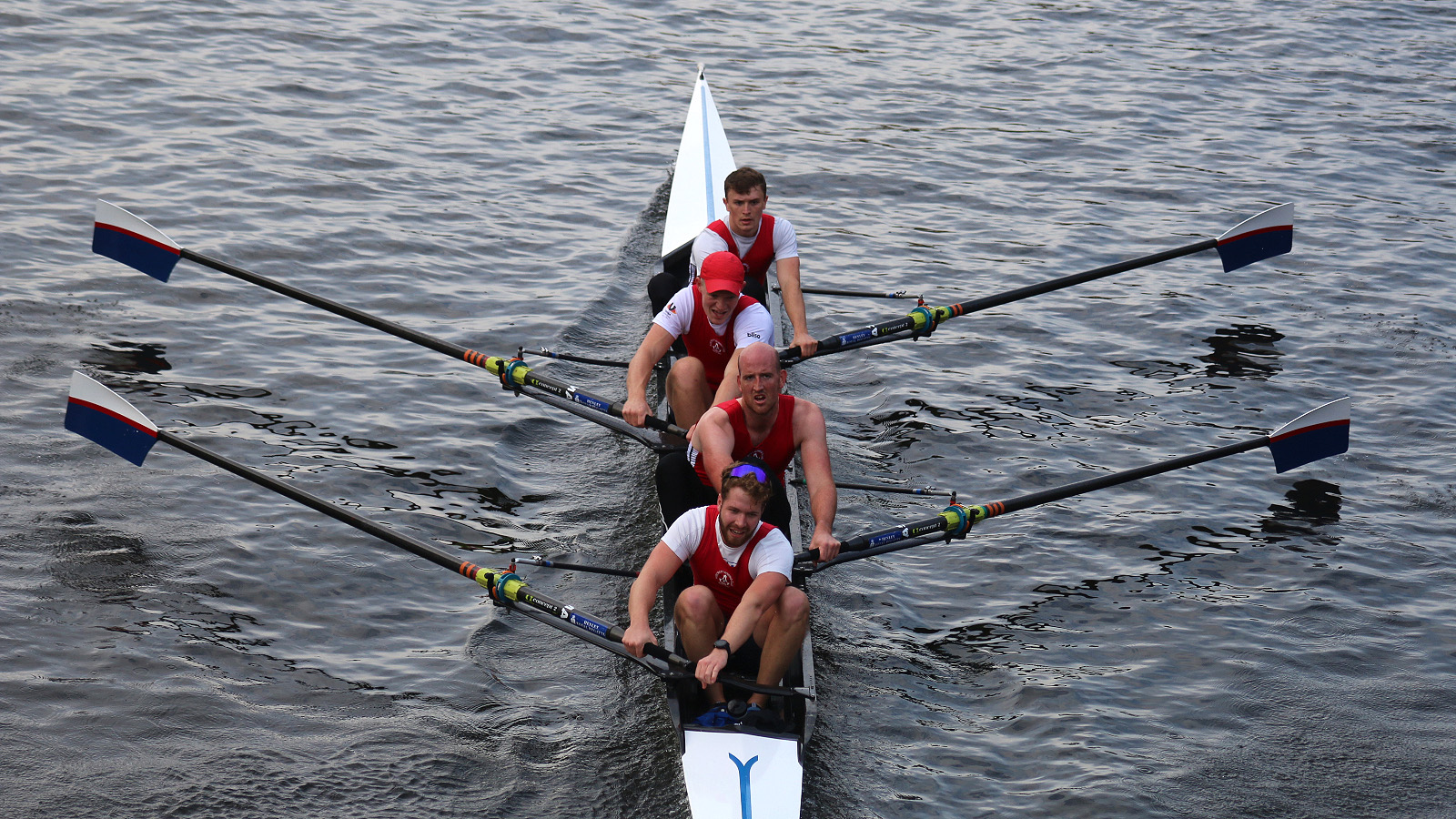 The clocks have gone back, the nights are drawing in and winter training is under way, and for clubs around the country this has meant a very welcome return to head racing. Following the move of the Scullers Head to September, the Tideway heads now, for the first time, run in ascending order of boat size, starting out with singles in September and culminating with eights in March.
Unfortunately, the Pairs Head was a casualty of the weather, but there are high hopes for the Fours Head on 13 November. Such is the appetite for racing that the race was oversubscribed just two days after opening for entries.
Richard Phelps, race chairman, says: "We are thrilled to be back, delighted that it will be raced over the full championship course and were bowled over at how quickly our entries filled. All of this augurs well for the event and the sport of rowing. Here's hoping the weather gods play nicely."
For many crews, the race is a chance to encounter some top-quality opposition, and to set a benchmark for the winter of training to come.
Patrick Wright, men's captain at Agecroft – and pictured above at three in their men's four – says that the Fours Head is "always one I really enjoy every year. There are people from all over: it's a proper test".
He continues: "I really enjoy the chance to get out on the Tideway in smaller boats. It's a very different feel to eights: you can really make a change in a four, it's fast and responsive."
"We like coming to the big heads to get a view of the competition, set an early marker and get some exciting racing"
The Manchester club had a pre-race run at their own head race on Salford Quays in October, putting out similar combinations across the two quads and two fours that will be racing on the Tideway.
Patrick says: "We had a good strong race, which was good prep. We're lucky to have a race on our home water, but the Fours Head will be our first big race."
Hinksey Sculling School also had what Director of Rowing Bodo Schulenburg terms "a dress rehearsal, to dust off the cobwebs" at Upper Thames Autumn Head, racing in some challenging conditions, but returning with a clutch of wins.
All of their Fours Head crews will be first-timers, he says, adding: "No one has been on the Tideway ever, so that will be quite new, but we always like coming to the big heads to get a view of the competition, set an early marker and get some exciting racing."
The Oxford-based community club is building momentum after the successes of last season, which culminated in representation in four crews at Henley Royal Regatta, including an entry in the inaugural Junior Women's Eights and reaching the final of the Britannia Challenge Cup. Bodo says that this success has been "quite infectious", and athletes "are keen to follow in the footsteps of those who have left".
He adds: "One of the lessons we've learned from COVID is that we don't need to do too much head racing, but [we need to] focus early on summer targets." However, head races are a welcome break from training for his Hinksey crews, adding a bit of excitement to the winter months.
In contrast, clubs in the north-east race regularly through October and November in the Northern Rowing Council's Long Distance Sculling series. Beth Holmes, captain and senior women's coach at Durham ARC (DARC), says that the races help to set a baseline to set targets to push crews on.
"It's intense, but it makes the winter months go quickly," she explains. The four quads the club has entered in the Fours Head – one women's boat and three junior crews – raced in Tyne and Tees legs of the series, coming away with wins and second places.
As the club's home stretch of the Wear is narrow and quite sheltered, DARC's crews also train on the Tyne, for practice on a tidal river.
Beth says: "We try to get up to the Tyne when we can, to get out in the open and come up against headwinds." She also credits these sessions with helping to build mental stamina and staying focused while rowing for much longer continuous stretches than are possible in Durham.
"We're coming down to do the best we can"
Praising the club's coaches, she adds that during lockdown they were brilliant, holding loads of Zoom sessions and cross training, while the club also lent out rowing machines.
The way the juniors handled the last year has been amazing, she reflects. "They've come back, determined to crack on, and it's the same with the senior women – and us coaches too. It's been a long time coming."
So, what is she most looking forward to about the Fours Head?
"For me as captain, it's that we have four crews racing this year – we're putting DARC on the map. We're coming down to do the best we can. We'll go down, have a brilliant time and make a bit of a weekend of it going round London.
"A lot of organisation goes into it, but these kids are great, same as the senior women. They just want to represent the club in a national competition."
DARC may have one of the longest journeys to the race, but for Mortlake, Anglian & Alpha (MAA) it is almost literally on their doorstep. The club, just upriver of Chiswick Bridge, will field five crews ranging from Fours Head first-timers to long-standing squad members – some of whom will also be racing in the Veteran Fours Head the following day.
Club captain Alice Jenkinson says: "Thankfully we are now back to a 'normal' training pattern, since September, and have targeted many of the local events to build up our lost head-racing experience, as well as doing our own internal 'club dash' timed events over the course in the weeks preceding to get prepared. It starts to create the race nerves and to simulate the forthcoming race-day preparations."
MAA members will also be involved in the non-racing side, as part of the army of marshals, timekeepers, umpires and many other volunteers over the busy weekend of racing.
"It is great to welcome old friends from up and down the country to our club for the day"
"As a Tideway club we try to do our bit to support the running of events. We lend launches and supply drivers, and we host visiting clubs."
Indeed, the clubs up and down the Tideway will open their doors to welcome visiting crews, building connections and renewing friendships, and providing vital behind-the-scenes support.
Alice says: "It's always satisfying to welcome clubs from around the country to row on our stretch. The event can't run without this.
"The atmosphere at the club is very busy on the day and we try to manage how many people we can realistically look after whilst offering a decent experience – they have to have room to rig their boats, to be able to get some shelter if the weather is iffy, to access the toilets and changing rooms and there needs to be refreshments available – all things our club volunteers take care of to help our visitors.
"Obviously, this became very challenging during COVID, and some of those precautions remain for everyone's welfare, but some semblance of normality is returning, and it is great to be able to welcome old friends from up and down the country to our club for the day."
Many of the race's volunteers will be back, to either race at or help with the running of the Veteran Fours Head on the day after the Fours Head, and, all in all, a busy, rewarding and exciting weekend of racing is in store.
For the latest updates, including the start order, follow The Fours Head on Twitter at @FoursHead and for the Veterans Fours Head at @vetfourshead.