Wingfields 2021: Graeme Thomas and Lola Anderson crowned champions
There were two new Champions of the Thames as the Wingfield Sculls took place in difficult water on the Tideway on 21 October. Tim Koch reports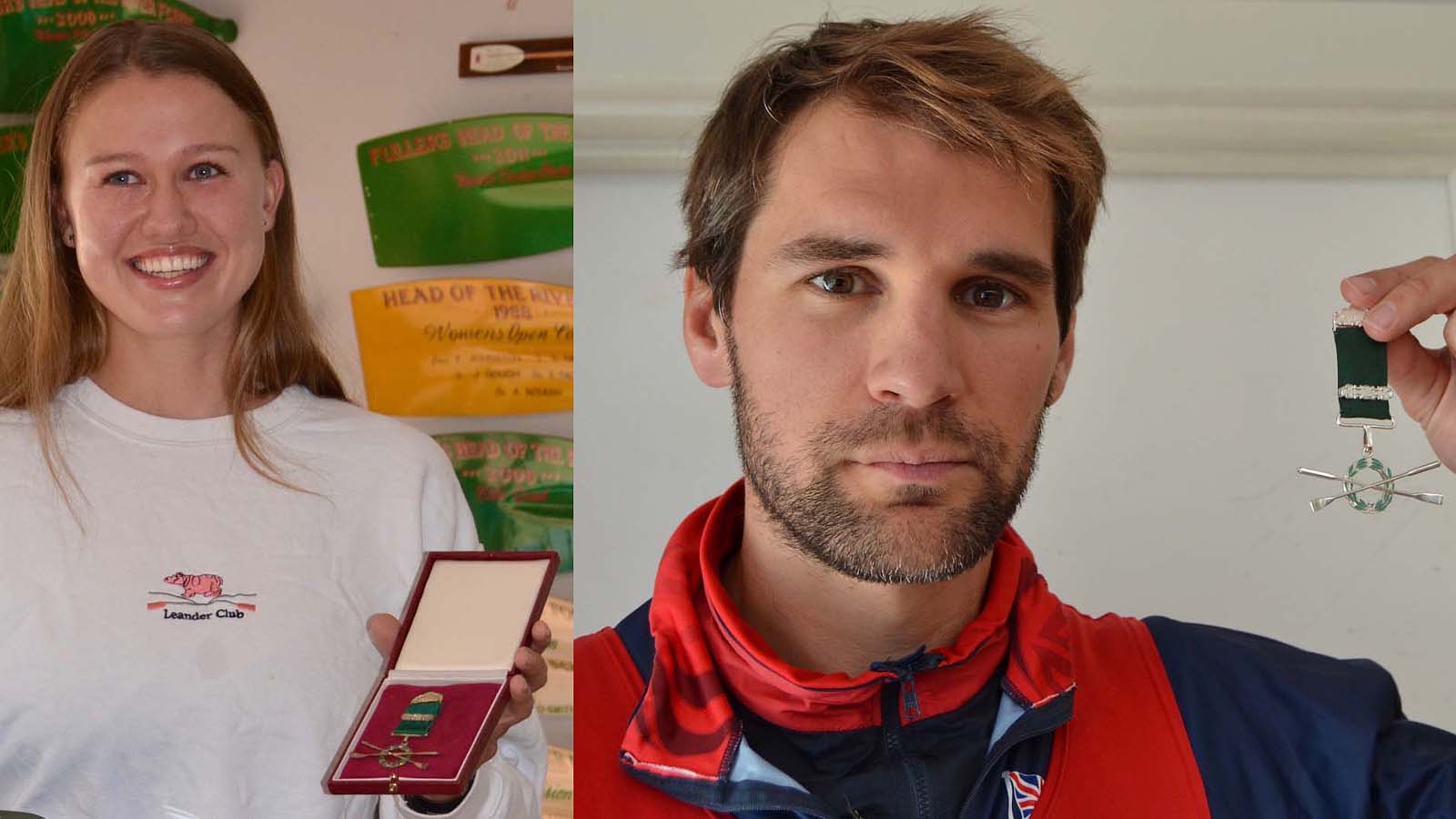 On Thursday, 21 October, two new 'Champions of the Thames' were decided after racing over the Putney to Mortlake course when Olympian Graeme Thomas won the 180th Wingfield Sculls and Lola Anderson was victorious in the 15th Women's Wingfields.
Representing Agecroft, Thomas added to his Diamond Challenge Sculls triumph at Henley earlier this year, while Leander sculler Anderson won the Princess Royal Challenge Cup at Henley and was also a bronze medallist at World Cup III in the single sculls in June.
"It was really enjoyable," said Thomas afterwards. "I surprised myself at the start, I think that I was sat at backstops on the 'go', but thankfully the first few strokes went off really nicely and I got a couple of lengths out of nowhere. From that point I was in the lucky position to be able to pick my line…
"A big thanks to my steerer, Josh Butler, because I'm very inexperienced on the Tideway."
At the prize giving, Wingfields' secretary Wade Hall-Craggs commended the winner on their outstanding races and said: "I think that someone has got sore knees from praying very hard to the river gods to give us a really good day."
Difficult water from wind against tide was forecast but the unexpected closure of the Thames Barrier produced slow, but generally rowable conditions.
"I heard about this race a lot, and wanted to race it one day if I was good enough!"
In the women's race, Kathryn Mole of Leeds RC, Meghann Jackson of Upper Thames, Grace Bake of London RC, and Lola Anderson and Georgina Brayshaw, both from Leander, faced rough water at the start and the initial ratings were low, less than 30 strokes per minute, as each sculler struggled just to stay upright.
Anderson took an immediate and commanding lead, her initial Ludum stats displayed on the live feed giving her a 500m split of 1.55, five seconds below her nearest competitor.
Anderson soon tucked herself tightly into the Surrey bank, giving herself an advantage that she did not really need. Mole and Brayshaw fought hard for second place, the Leander sculler eventually going ahead – though the duel was reignited after Brayshaw nearly clipped Barnes Bridge. Blake and then Jackson followed behind with the two swapping places around St Paul's.
For most of the race, Anderson, in her own words, "wasn't taking in the scenery but was not as pressed and panicked as if I was in the middle of the pack".
She added: "I grew up in Richmond, not far from this finish line, and learned to row at Surbiton High School. I heard about this race a lot, thought that it was really cool and wanted to race it one day if I was good enough. Last year, I was supposed to (race) but I was injured, so this year I was excited but also nervous."
By the time of the men's race between Graeme Thomas, Callum Dixon of Twickenham, Jack Keating of Leander and three challengers from London RC: Nathan O'Reilly, Gregor Maxwell and Rui Xu, the Thames Barrier closure meant that the race was against the stream, so the scullers could take the inshore zone and take the shortest line around the bends. Some interesting tactics resulted.
Dixon started on the second Middlesex station, but immediately cut directly in front of the umpire's launch to join O'Reilly, both inside the line of boats moored along Putney Embankment and both tight to the shelter of the bank – but having to go the long way around the bend.
After Fulham  football ground, everyone had crossed to Surrey for the bend advantage and by the Mile Post the order settled to Thomas, keeping his nerve and maintaining the comfortable lead that he established early on, followed by Keating, Xu, Dixon, Maxwell and O'Reilly.
Thomas was the only sculler to take the centre arch of Hammersmith Bridge, something that disadvantaged him slightly, but he easily retained his lead while Dixon, Keating and Xu took turns for second place (Xu impressively just taking it by the finish) while Maxwell and O'Reilly brought up the rear.
At the finish, Thomas said that the win "had been on my bucket list for some time" and admitted, "My first time in a single on the Tideway was on Monday" but also, "The closure of the Thames Barrier means that I may be the slowest Wingfield's winner ever!"
Women's results:
1 Lola Anderson 25:19
2 Georgina Brayshaw 26:23
3 Kathryn Mole 26:26
4 Meghann Jackson 27:30
5 Grace Blake NTT
Men's results:
1 Graeme Thomas 28:48
2 Rui Xu 29:18
3 Jack Keating 29:23
4 Callum Dixon 29:36
5 Gregor Maxwell 29:39
6 Nathan O'Reilly 30:04