Exmouth welcomes home finalists from the World Coastal Rowing Championships
Exmouth rowers celebrated past and present club members over their regatta weekend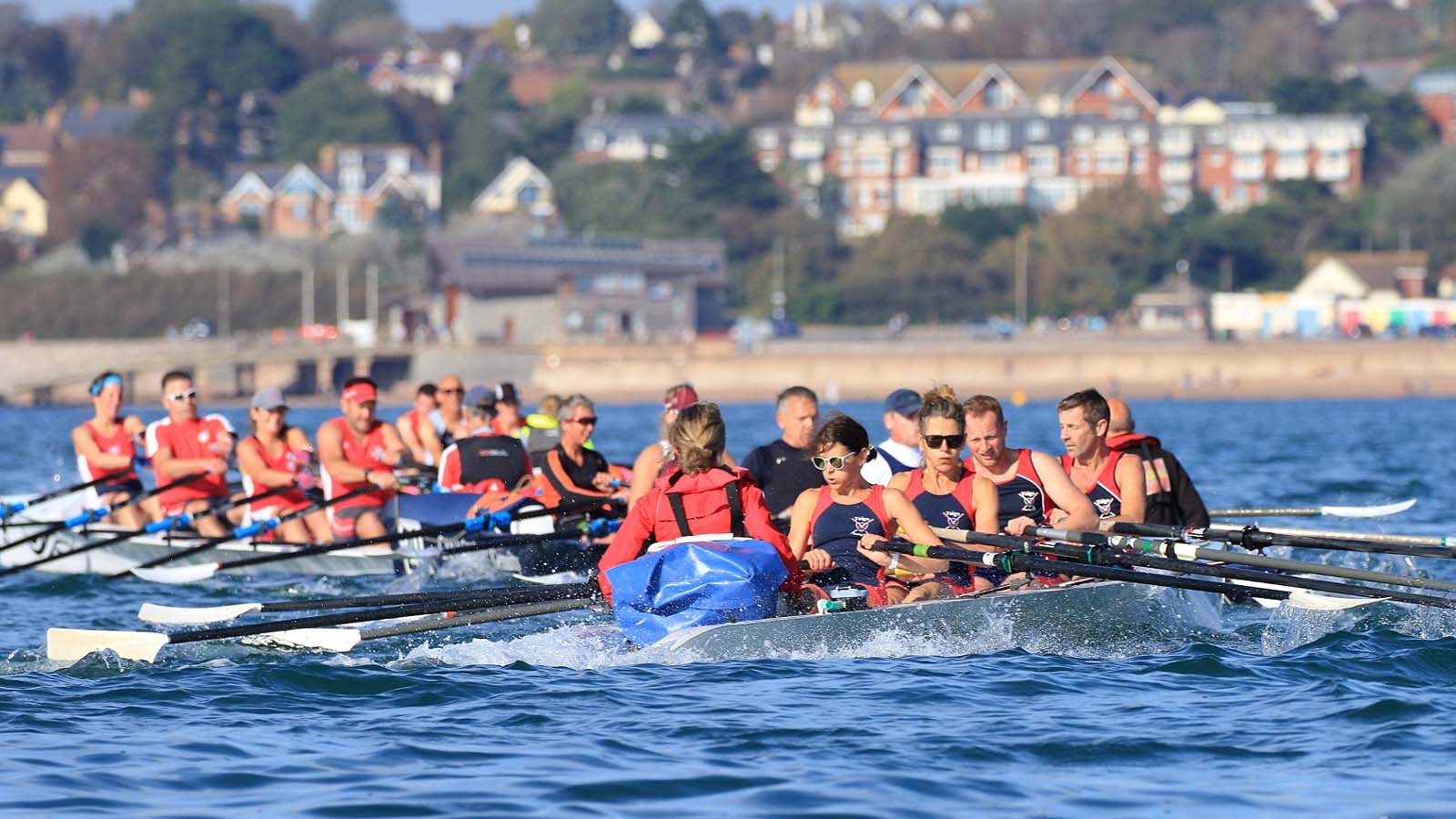 On Saturday 16 October, Exmouth Rowing Club hosted the penultimate regatta – Exe Raid – in the South West Coastal Rowing League's 2021 calendar. Men's, women's, masters (50+) and mixed crews competed in quadruple, double and single sculls over a 4km or 8km course, according to age-group.
Pictured below, the regatta drew over 100 competitors and their coxes, from Wales as well as from Devon, Cornwall and Dorset. Exmouth Rowing Club was proud to be represented, amongst others, by three finalists from the recent World Coastal Rowing Championships held at Oeiras in Portugal.

Exmouth Rowing Club sculler Will Loftus finished sixth in the single sculls, in his first Coastal Worlds, while Marie Guingouain (Exmouth RC) reached 17th place in the world women's single sculls. Anna Childs (Exmouth RC) and her partner Judith Schulz came home 16th out of 20, after multiple clashes with other errant double sculls.
"I'm completely sold on coastal," added Will, 27, who started out with flat-water rowing. "You're up against the elements, that's the challenge and thrill. You have to respect the sea and work with it – you can never tame it. It's a great leveller."
A warm welcome home
Will, Marie and Anna were formally congratulated on their achievements at Exmouth Rowing Club on Sunday 17 October.
Their sterling achievements featured at the christening of the club's latest acquisition, a brand new Lite boat quad, formally named 'Pat Murrin' by founder Keith Murrin in memory of his late wife and life-long supporter of the club. Guests of honour also included Bob Cottell of Coastal Rowing UK who coincidentally conducted a single sculls training day for over 30 members at the Exmouth Club.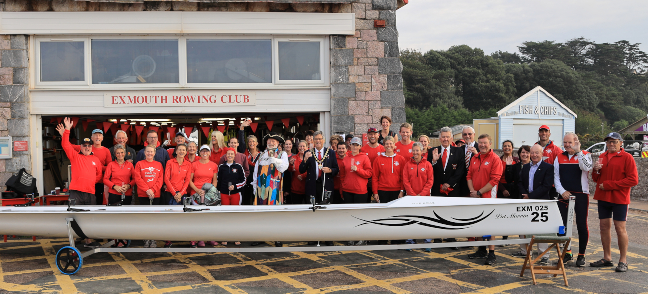 The club was honoured to have both events opened by Exmouth Town Mayor Steve Gazzard and Town Crier Roger Bourgoin.
Saturday's regatta appeared to be the prey of early coastal fog, until the echoes of our Town Crier's welcome of "Oyez!" summoned the attention of light onshore southerly winds.
The curtains of coastal cloud then lifted on a feast of competitive rowing, attended by all-day sunshine, record numbers of competitors and tight starts, race-turns and finishes.
Exmouth Rowing Club now completes its 28th year with membership numbers approaching 100 of all ages and genders.
Exe Raid results 
Exmouth's Exe Raid Autumn regatta was attended by quads and doubles crews from Plymouth Mayflower, Carrick in Falmouth, Teign Scullers, Torbay RC, Jurassic, the Coastal Barbarians, as well as scullers from Wales. Here are the results:
Ladies quads, 8km: 1st Teign A (39.11), 2nd Exmouth A, 3rd Jurassica, 4th/5th Exmouth B&C, 6th Carrick, 7th Mayflower A.
Men's quads, 8km: 1st Exmouth A (38.01), 2nd Teign A, 3/4th Mayflower A&B, 5th Teign B, 6th Exmouth B.
Masters (mixed), 4km: 1st Jurassica ( 18.15), 2nd/3rd Exmouth B&A, 4th Carrick, 5th Mayflower A, 6th Torquay.
Mixed, 4km: 1st Exmouth B (20.22),2nd Jurassica,3rd Exmouth A, 4th Teign A, 5th Mayflower A, 6th Carrick, 7th Mayflower B, 6th Exmouth C.
Ladies singles, 4km: 1st Teign (22.09), 2nd Dolphin, 3rd Teign, 4/5th Exmouth, 6th Teign.
Men's singles, 4km. 1st Exmouth (20.31), 2nd Independent, 3rd Mumbles RC, 4th Exmouth.
Masters men's singles, 4km: 1st Barbarians (18.87), 2nd Exmouth, 3rd/4th Barbarians
Ladies Doubles, 4km: 1st/2nd Teign (21.17)
Mixed doubles, 4km: 1st Mayflower( 21.45), 2nd Exmouth.
Thanks to Richard Robinson, Vice-Captain ERC, for the report and Tom Hurley for the photos