'Your local club name a boat after you, it doesn't get more special than that'
Paralympian Benjamin Pritchard returned to City of Swansea Rowing Club, where his rowing journey first started, for a boat-naming ceremony last weekend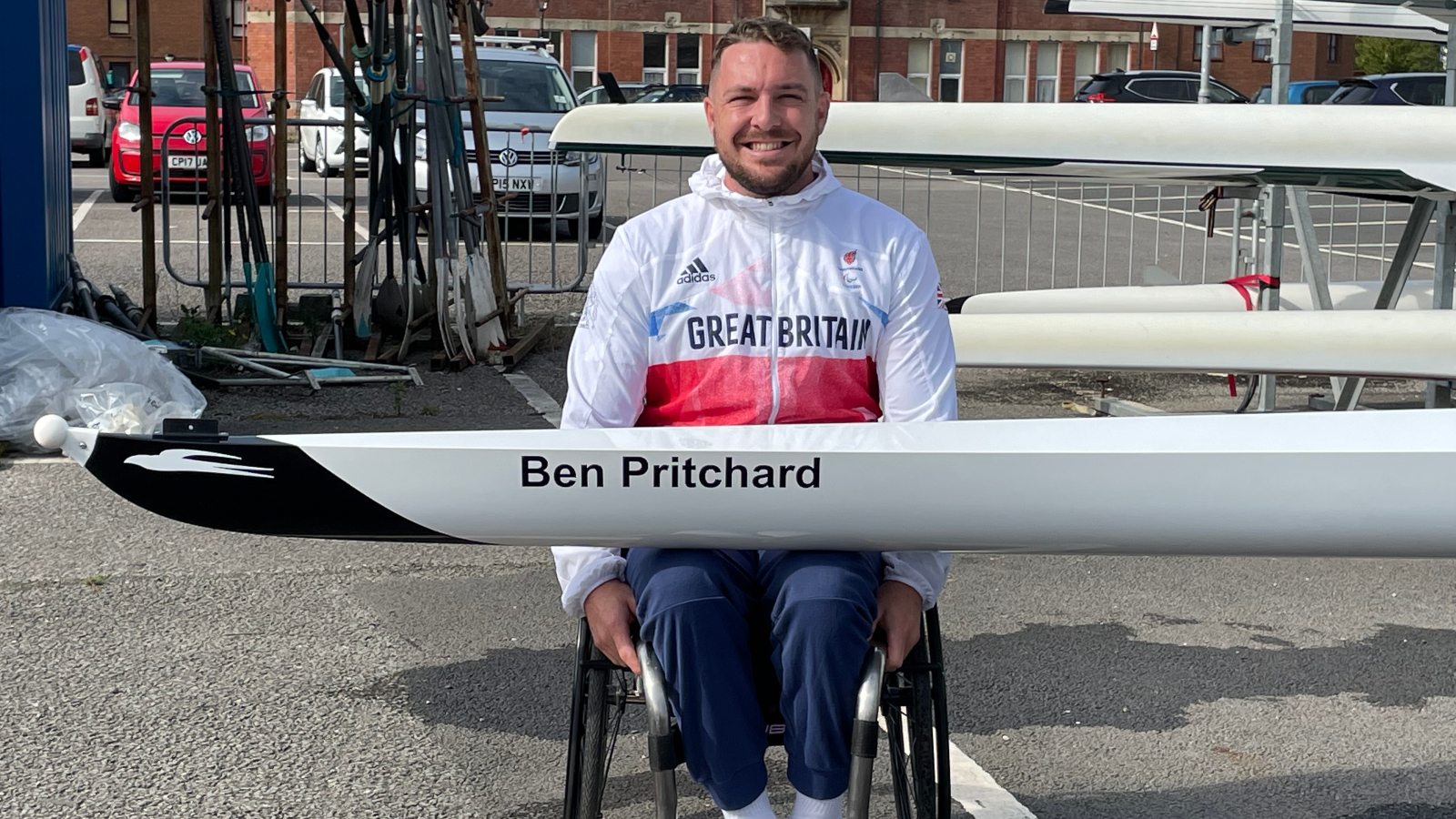 Last month at the Tokyo Paralympics, Benjamin Pritchard finished fifth in the A final of the PR1 men's singles sculls, after setting a Paralympic record in the repechage on the Sea Forest Waterway. On Saturday, the 29-year-old Welsh rower visited his club – City of Swansea Rowing Club (CSRC) – who paid tribute by naming their new adaptive double scull after the star.
The club intends to use the boat to allow more adaptive athletes access to the water, along with those able-bodied people who want to try the sport for the very first time.
City of Swansea Rowing Club Founder, Sarah Hayward said: "It was really nice to see Ben down here today, to name the boat in his honour. We are so proud of what he did at the Paralympics and we just hope next time in Paris, France 2024 he is going to go more than one step better and secure himself a medal."
"Ben is a terrific ambassador for CSRC and is an inspiration to us all"
Andrew Williams, Ben's first coach and Chairman of City of Swansea Rowing Club was also there, saying: "We are delighted to welcome Ben back to his home club and honoured to name a boat after him. The double scull is adaptable for Para-rowing which means it is multi-use which is ideal in a small club like ours.
"Ben is a terrific ambassador for CSRC and is an inspiration to us all. Our club may only have basic facilities, but we have always welcomed people of all abilities to try rowing… if we can get you in a boat, we can teach you to row.
"Today it was great to see Ben talking to one of our most recent recruits, giving Poppy some helpful advice about transferring from her wheelchair to the boat and vice versa.
Andrew added: "On a personal note, it's been a privilege and pleasure to be involved in Ben's rowing career from his first strokes back in a cold and wet January 2017 to Tokyo and wherever it leads him in the future. There's always a welcome at the City of Swansea Rowing Club."
After putting the new boat through its paces on the water, Ben said: "What can you say? Your local club have named a boat after you, it doesn't get more special than that.
"Four years ago, I sat here in the same position as Poppy, a disabled athlete looking at a new sport. City of Swansea has always been so welcoming and would do anything for me to succeed at the sport.
"I am hoping that this new boat will provide an opportunity for more adaptive athletes to enter our wonderful sport and also enjoy the beautiful surroundings of the River Tawe! Who knows where it may take you.
"I would just like to say a huge thank you to everyone at the club who has helped me reach Tokyo 2020 and I look forward to continuing to represent City of Swansea on the world stage."