Olympians and club rowers set for swell time at World Coastals
British rowers are ready to ride the waves at The World Rowing Coastal Championships from 30 September to 2 October in Portugal. Nick Hartland reports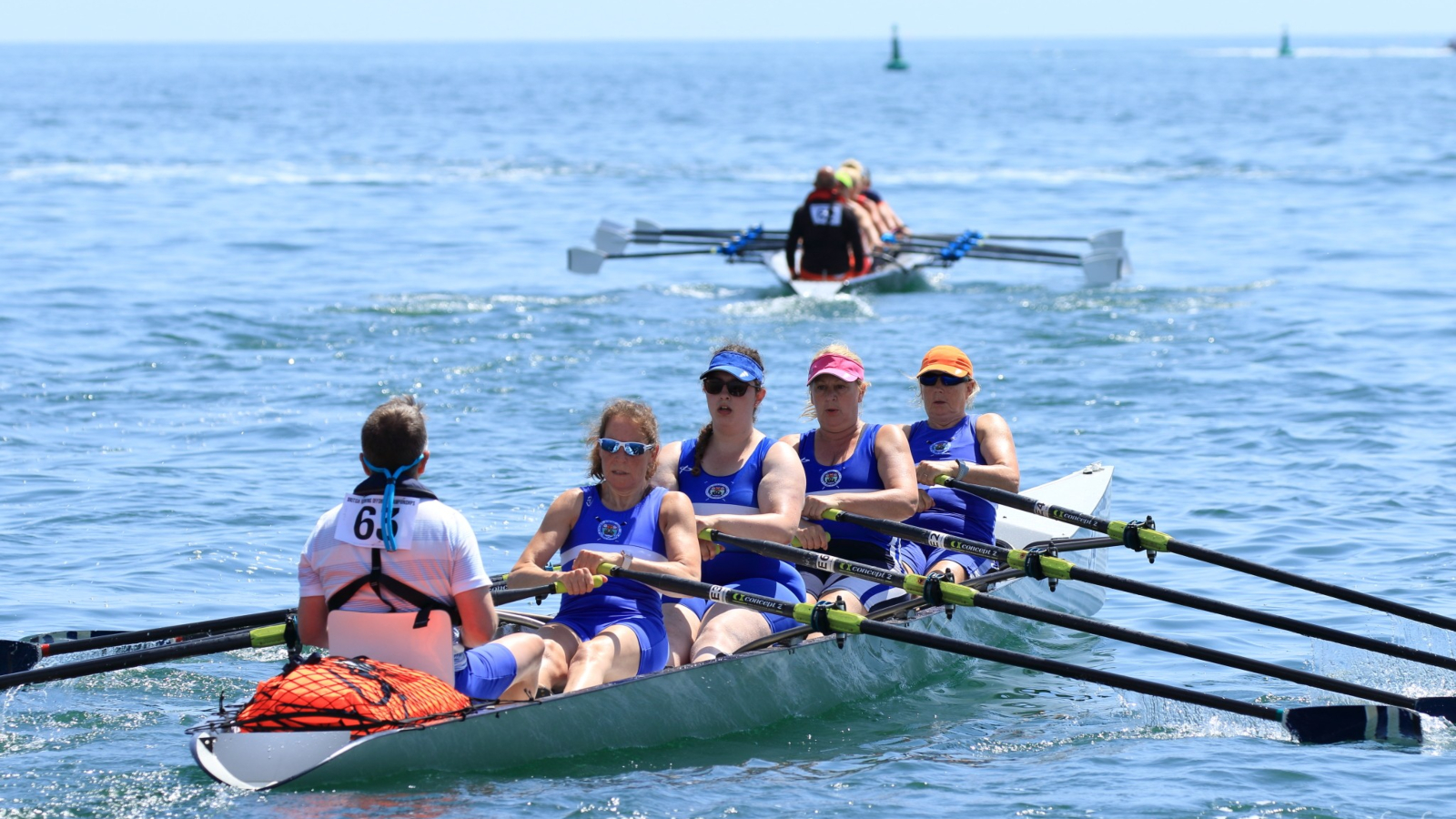 Rowers are looking to surf a wave of success when they launch out in Oeiras, Portugal at the World Rowing Coastal Championships next week, with 47 British boats from 21 clubs bidding to make a splash.
The UK entry a year out from the 2022 'home' worlds in Pembrokeshire is double the size of previous GB fleets, with Olympians swelling the ranks of experienced offshore rowers and club river racers.
Tokyo finalist Emily Craig coxes a UL Tyrian quad containing Games medallist Jack Beaumont, European champion Matt Rossiter, world U23 medallist Richard Clarke and Paralympic champion James Fox. The October regatta's 700-plus competitors from 34 nations also include the likes of Norway and Austria Olympic stars Kjetil Borch and Magdalena Lobnig. But hold on tight, they're all in for "a rollercoaster white-knuckle ride" on the Atlantic swell off the Portuguese coast.
"It's flat water's wild cousin and every river rower should try it"
"Hit a big wave and there's that heart-pumping 'oh my god, don't fall out' moment," says Carmarthen RC's Swyn Williams. "Then catch a big one coming back, you're flying, cheering and surfing all the way."
The Praia da Torre beach start will see rowers jump into wave-tossed boats before battling the elements around buoyed turns, in fields of up to 28.
"Headwinds, chop, waves, sidewinds, tailwinds, surf and swell from different directions, all in one race – it's never the same," says 23-year-old PE graduate Swyn, a veteran of two worlds already, who races with club mate Tom Brain in their British Rowing Offshore Championships-winning mixed double.
"It's flat water's wild cousin and every river rower should try it. I rowed at Worcester Uni last season, and my BUCS doubles partner Sophie Everett came third with me in BROC and loved every minute.
"It's as physical as it gets… real hands-on, everyone for themselves. It's a contact sport – no lanes, boats always clashing."
"It's hand-to-hand combat, with 20 or so boats going for that first marker"
Tim Fenemore started rowing at Hollowell Reservoir after the 2012 Olympics, but with a lifelong love of windsurfing and wave sailing, the sea soon came calling again.
"I went touring off the Portuguese coast and rowing with dolphins did it for me. I was hooked!" says Tim, who holds 'come and try it' coastal sessions and raced at the 2019 worlds in Hong Kong.
"You're in a beautiful location and you can get quite Zen," adds Tim, who partners Hollowell Scullers Henley medallist club mate Sean Sinclair in men's doubles this time.
"With his technique and my knowledge, we thought let's do BROC and won… against the younger guys! And we'll give it our best shot in Portugal.
"It's hand-to-hand combat, with 20 or so boats going for that first marker. It can be brutal, but that's part of its appeal.
"Each leg is different, a new race every time you round a buoy. One moment you're surfing the wind, next racing into the chop.
"Flat water rowing you want perfection. In coastal, it's about minimising mistakes.
"It's just wild… who knows what's next? Waves breaking over your back, a lost blade, a kitesurfer landing in front, which happened at BROC!
"The key is reacting fast, responding to whatever the race throws at you.
"Plus learn to read the water, the conditions, whether it's a steep or shallow beach, how the waves are breaking, when you're across the wind, is it roughed up against the tide…"
Olympian Emily Craig coxed a winning Italian eight in the vets eights, but the coastal novice admits: "It's going to be entirely different. I might be out of my comfort zone being thrown around with all the boats in a pack.
"I think seeing the buoys will be hard, and I've been told there could be some crashing.
"We're hoping to get a practice session, but if not, we'll just have to dive in and roll with the punches.
"It sounds wild – I'm telling people like BMX compared to cycling – but it should be fun and a great way to spend some downtime."
Emily joins a large Tyrian squad, and crew mate Jack Beaumont says: "I'm really excited to race the championships. Coastal rowing's something totally new to me, but it looks so fun and exciting.
"We're looking forward to getting out on the sea, and hope our flat water rowing skills can be useful there too!"
"It's a roller coaster white-knuckle ride all the way!"
Runcorn RC's Jackie Hamer followed her children to the river after London 2012, and then tried coastal rowing in Plymouth with club mates, making the doubles A final at the 2017 worlds on Lake Geneva.
"I'm stroking a Runcorn quad and we've also got a men's quad. We've done a bit before, but once training in Plymouth, our 'police escort' in rough water turned out to be because we were too close to the warships!
"You're a fair way out on a wild sea racing, and while the Weaver chops up, I'm expecting much rougher in Portugal. The waves look daunting. Certainly, bow Sue Sljivic expects to get wet – I'm sure we all will!
"Waves break right over you and side-on can roll you over.
"It's a roller coaster white-knuckle ride all the way! You're at the mercy of the elements, but you've just got to roll with it and try and get both blades in."
Races of 15 miles or more are the norm for Gary Briggs and his seagoing Jersey RC club mates. And the Portugal-bound singler, who began rowing in 2015, says: "Our stand-out is the 27-mile Sark-Jersey race, so the Worlds is a bit of a sprint!
"I'd never rowed outside Jersey until this year's BROC, but a few members have set the benchmark, backed by our Project Gold athlete-development programme headed by experienced coastal rower Rick Rouille.
"He's been a driving force, with loads of experience about training, starting the race, rounding the buoys.
"In a normal race, if I take an extra 20 seconds turning it probably won't matter… 20 seconds in an offshore race is worth everything."
Gary, who started singling in lockdown, adds: "It will take 30-35 minutes to race the 4km heat and I'm excited that 18 months' preparation comes down to that to make the A final, when you'll push yourself to the max.
"But it's not just physical effort – you need to respond to the tides, waves, what other competitors are doing, where you put your boat, when it pays to go that bit easier, that bit harder.
"It'll be challenging whatever you get. A coastal race is never going to be cancelled just because it's rough – and there's nothing quite like it," says Gary.
"I'm thrilled to be racing on the world stage, and the whole GB fleet has come together, there's a wonderful level of community.
"And the fact Olympians are racing alongside is something you can't get away from!"
Tim adds: "The coastal community is really supportive, and the social side's pretty good too… banter, burgers and beers on the beach afterwards, with the salt on your skin and the music going."
Looking ahead to 2022, Swyn says: "The idea of the worlds at Saundersfoot is amazing. I thought it might come to the UK, but never on my doorstep.
"It's a fantastic location, the sea is challenging, and it'll be great to showcase the sport and Wales to the world."
"It's a chance for the GB coastal scene to come together and showcase this wonderful aspect of rowing," adds Tim. "To show flat water rowers how exciting it is. Better still, come and have a go.
"It's a great time to be involved. Offshore is in its early stages, with so many fantastic locations. You can pretty much row anywhere in a coastal boat."
With the 2022 World Rowing Coastal Championships taking place in Wales at Saundersfoot from October 14-16, it's also great to have the sport 'coming home' next year.
Louise Kingsley is the Deputy Director of Performance Pathways & Paralympic Programme at British Rowing and has a close eye on the development of coastal rowing. She says, "It is fantastic to see coastal sculling create the opportunity for rowers from both of our Tokyo teams and crews from river and coastal clubs to race alongside each other in this amazing, action-packed discipline.
"I can't wait to see who comes out on top, there is far more to this event than going fast in a straight line."
The 2021 World Rowing Coastal Championships takes place in Oeiras, Portugal, from 30 September to 2 October, preceded by the Beach Sprint Finals from 24-26 September.
Find out more – and get involved in the 2022 World Rowing Coastal Championships
The 2022 World Rowing Coastal Championships will take place at Saundersfoot in Wales from 14-16 October, preceded by the Beach Sprint Finals from 7-9 October. Sign up to the mailing list here to hear more about the event and volunteer opportunities.
Try coastal sculling!
For more information about coastal rowing, you can contact Tim Fenemore via Positive Float.