Max Carter-Miller wins the Doggett's Coat & Badge
Congratulations to sculler Max Carter-Miller, winner of the 307th Doggett's race on the Thames on 8 September. Tim Koch reports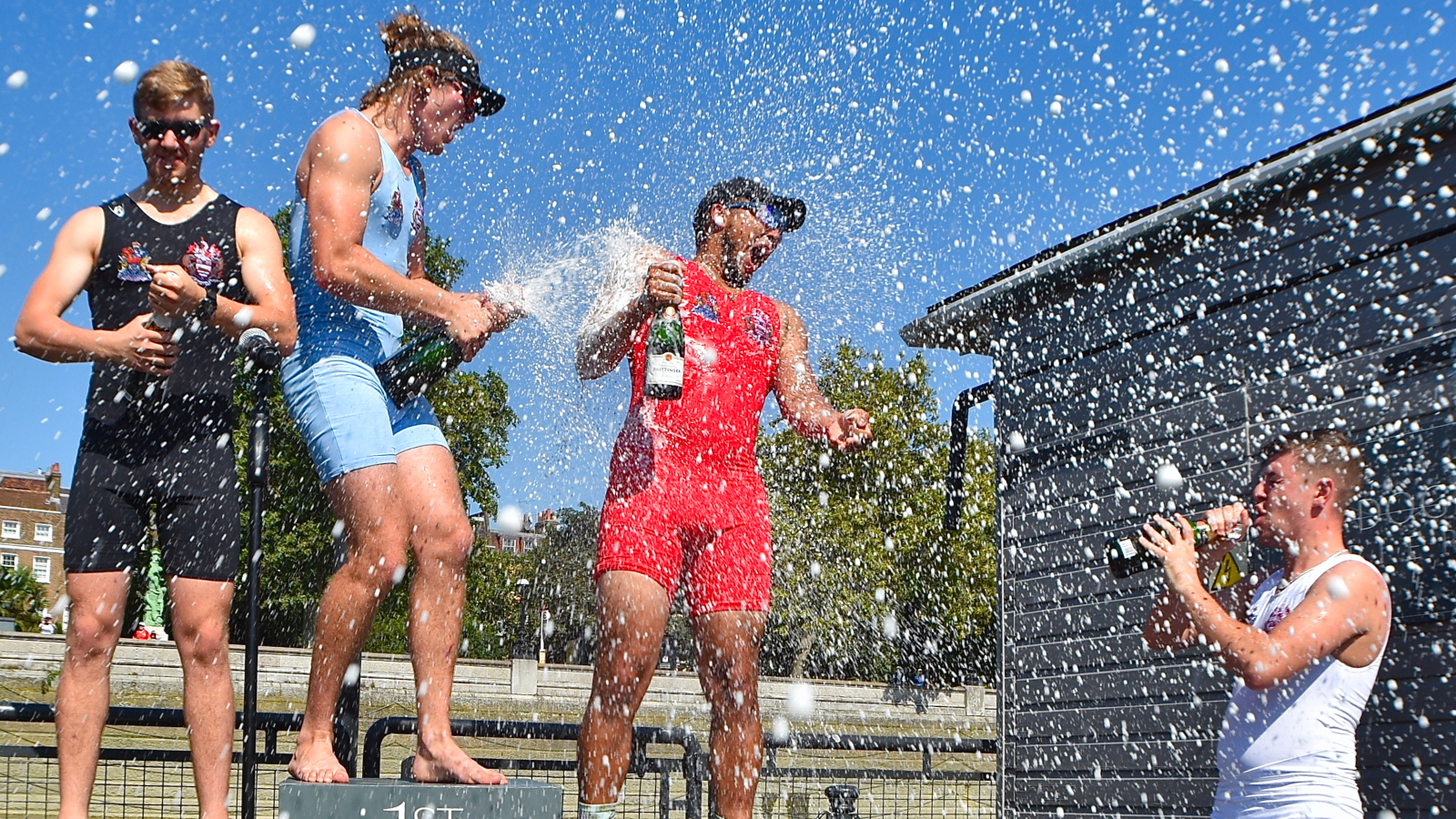 Max Carter-Miller (pictured above centre) from Thames Marine Services, has won the 2021 Doggett's Coat & Badge in the world's oldest sculling race, held annually over 7,400m on the Thames from London Bridge to Chelsea. Victory was all the more sweeter after coming second in the 2020 race.
Afterwards Carter-Miller said: "I knew that I had to go off hard and then settle. I stuck to the race plan and tried to look where I was going this time."
His opponents in the 2021 race were George Gilbert, racing on his third attempt, Coran Cherry on his second while Lucas Britton was competing for the first time.
In the 2020 race, Carter-Miller had led for the first 3,000 metres and may have eventually lost due to erratic steering. But this year, he was determined not to repeat previous mistakes and immediately took a strong lead, striking 28, doggedly followed by Gilbert at 26. The race soon turned into a contest between these two with Cherry leading Britton in a separate race for third place.
Carter-Miller reached the approximate halfway point, Lambeth Bridge, in about 11 minutes 45 seconds and so could, in theory, have beaten the course record of 23 minutes 22 seconds set in 1973 by race umpire, Bobby Prentice. Sadly, on reaching the finish at Chelsea's Cadogan Pier, he was just eight seconds out, finally finishing in 23 minutes 30 seconds.
He said: "The 2020 Doggett's was my first ever race. [But in preparation for this year's race] I raced at Molesey and Peterborough. Having that little bit of race experience was valuable. Having someone next to you, you panic [but] after you've raced a couple of times, you learn to settle yourself."
"Maybe in four years' time, I'll do the Diamonds at Henley"
It is strange that The Doggett's Coat and Badge Wager, a side-by-side contest for up to six scullers held every year since 1715, should be so little-known in the rowing world, this despite it being 114 years older than the much more celebrated Oxford – Cambridge Boat Race.
Doggett's obscurity is not its only peculiarity. Its name references its founder, Irish actor Thomas Doggett, and the winner's prize, a tailor-made scarlet costume of an 18th-century waterman adorned with a solid-silver arm-badge the size of a side plate.
Further, there are unusual entrance requirements as the race is open only to those under the age of 28 who have completed the long apprenticeship to qualify them to carry goods and people on the River Thames. In modern times, suitably qualified women have been allowed to race Doggett's but only two have so far taken up the challenge: Claire Burran in 1992 and Kate Saunders in 1998, 1999 and 2000.
Back to this year's race and the celebrations continued, with Max-Miller adding: "Maybe in four years' time, I'll do the Diamonds at Henley, but there's a lot of hard work to do first."