UK Coaching launches new toolkit and digital badge to facilitate #GreatCoaching
UK Coaching is launching a new Duty to Care Toolkit covering the following five pillars: safeguarding, inclusion, diversity, well-being and mental health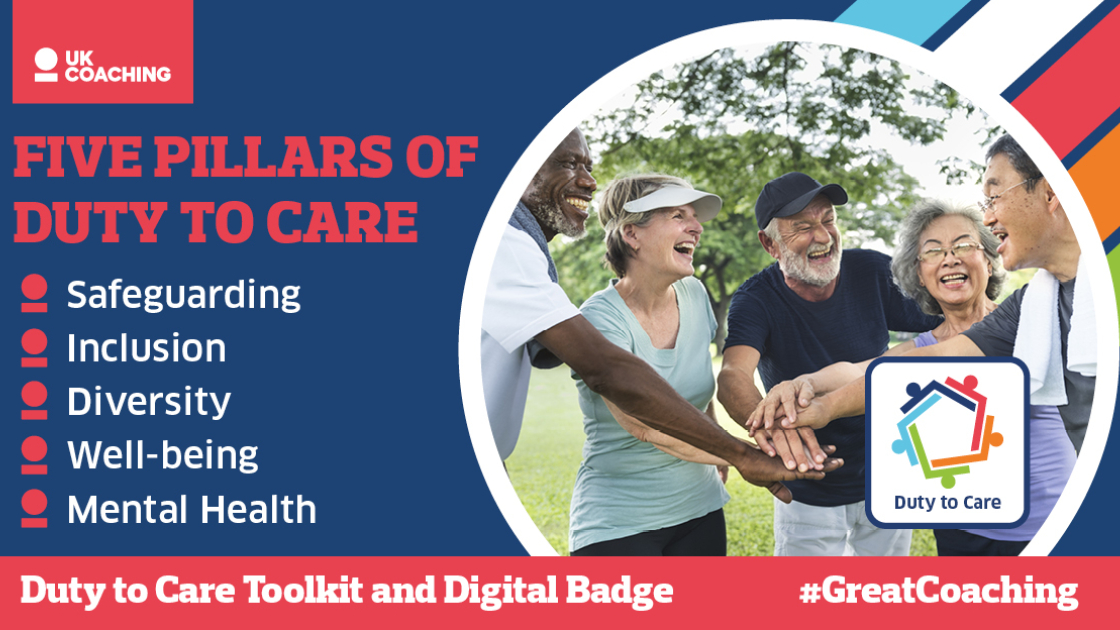 This week, UK Coaching is launching a new toolkit that will ensure the nation's coaches are equipped with the knowledge and skills to provide great coaching experiences to others, and support them as coaches to better look after themselves as they return to coaching after COVID-19 restrictions are relaxed.
The Duty to Care Toolkit, which will be available on UK Coaching's learning and development platform has come to fruition after extensive consultative support from a range of partners and coaches across the UK.
Set across five areas, known as pillars – diversity, inclusion, mental health, safeguarding and well-being – the toolkit will challenge coaches to demonstrate their knowledge of the principles of Duty to Care and will sign-post them to coach learning resources that can help them to adapt sessions safely; creating diverse and inclusive environments that help to increase the mental health and well-being of both them and their participants.
Coaches have a big part to play in their communities, boosting the physical, social, emotional and mental health of the nation
Coaches who complete the free Duty to Care Knowledge Check in each pillar will earn themselves a nationally recognised Duty to Care 'Digital Badge', which they can display with pride to show their commitment to great coaching.
The findings of Baroness Grey-Thompson's Duty of Care in Sport review coincided with UK Coaching's plan to devise a product that ensures coaches are sufficiently equipped to deliver great coaching – and thereby, inspire their participants to develop lifelong active lifestyles and ensure athletes' welfare is at the top of their priority list.
UK Coaching's Director of Coaching Emma Atkins, said: "In the coronavirus era, coaches have a big part to play in their communities, lifting the mood and boosting the physical, social, emotional and mental health of the nation.
"More than ever before, we need to look after our participants regardless of where they are on their sport and physical activity journey. The last few months have put an unimaginable strain on people's physical and mental well-being, and thus, we are seeing a society desperate to return to sport and exercise. We know that many coaches are wanting to return to coaching too, but they want the reassurance that they can do this safely and confidently.
"At UK Coaching, we pride ourselves in supporting coaches who transform the lives of individuals and communities to help create a happier and healthier society. This extensive toolkit will help all coaches thrive in their role, which is essential if we are to navigate this uncertain time together and get the nation back on its feet."
Sarah Harris, Head of Education & Training at British Rowing, said: "British Rowing is committed to developing and supporting our coaches, so they have the tools to deliver a great experience for those taking part in our sport, while being able to look after their own well-being too.
"The UK Coaching Duty of Care Toolkit helps to enrich this commitment to great coaching and we welcome its launch."
Find out more about British Rowing's coaching pathway here.