A tribute to Ann Sayer
Ann Sayer, former GB rower and ultra-distance walker, sadly passed away on 15 April 2020 aged 83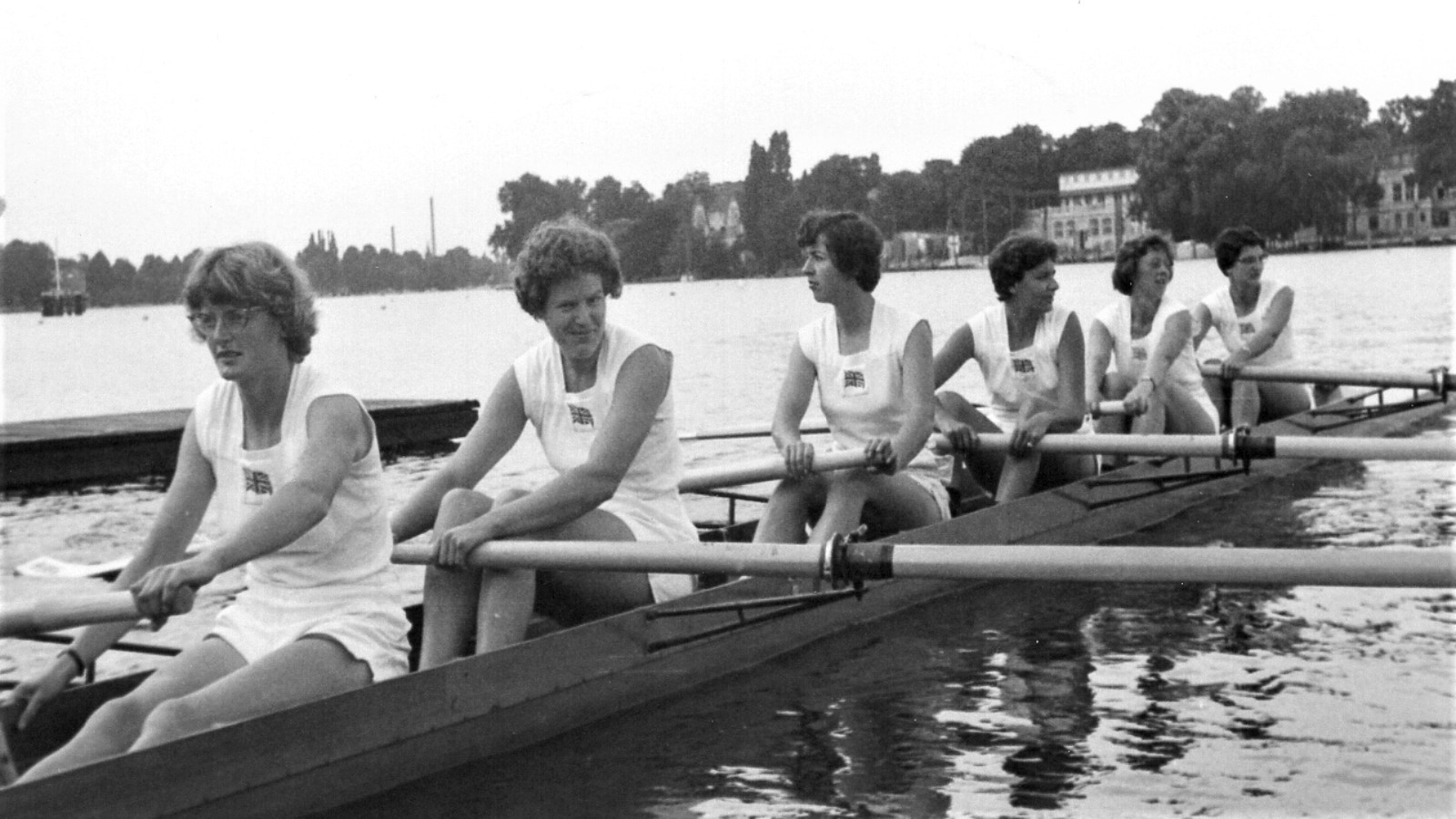 Former international rower Ann Sayer, who passed away last month, also represented GB in ultra-distance walking, becoming the first British woman to walk 100 miles in 24 hours. In March 2017, Helena Smalman-Smith talked to Ann for the 100th edition of Rowing & Regatta magazine. As a special tribute, the full interview is republished below.
Ann Sayer raises her arms triumphantly in the air, her face creased up with delight. "I can't believe it!" she says, grinning, during our chat at her home in Teddington. The 80-year-old former GB international had just been told that she had been mentioned in the press alongside Katherine Grainger after the 2015 Women's Eights Head of the River Race.
Grainger had just won her eighth headship and in the process surpassed Sayer's previous record. The press article claimed Ann had won seven times, although this isn't quite correct: it was actually six – in 1959 and 1961-65 (there was no race in 1960). That said, she would have been in the winning UL crew in 1958 as well, but wasn't available for the race as it clashed with a field trip for her geography course.
Ann's first experience of rowing was in a Bedford College (now part of Royal Holloway, University of London) tub pair on Regent's Park lake in 1955. Within weeks she was out in a racing four at the UL boathouse. She rowed in the ULWBC eight in 1958 and 1959, and then joined United Universities' Women's Boat Club after graduating. Single gender clubs were the norm in London back then; 'UU' merged with Thames RC in 1973.
Grainger had just won her eighth headship and in the process surpassed Sayer's previous record
Her UU eight was selected to represent GB at the Women's European Rowing  Championships in 1960, 1962 and 1964 – the World Championships didn't start until 1962 with women's events only included from 1974. They were regularly coached by Quintin stalwart Frank Harry, whom they referred to as "Sir", with occasional – valuable – input from Freddie Page who taught them how to rate high, which was instrumental in their 'finest hour' in 1962 when they beat three other crews in the repechage.
"I got a lot of enjoyment from rowing and I got a lot from working hard for other people. I'm not the sort of person who would necessarily always work hard for myself but I'd certainly bust a gut for the crew," Ann explains, modestly attributing her Women's Head successes to being with other good people.
The race was somewhat different in those days, with separate categories for 'shell' and 'clinker' boats; entries generally in single figures; winning margins as large as 44 seconds; and the only permanent prize was a pennant for the whole crew – there were no individual medals.
Surprisingly, her favourite row at the Women's Head was in 1966, the year when UU finally lost its title to the up-and-coming St George's Ladies RC (which merged with Twickenham RC in 1979) stroked by one Di Hall, later Di Ellis, who went on to become British Rowing Chairman for almost 25 years.
Ann recalls: "Our main feeling was relief at actually being defeated. We were now not obliged to enter regattas as we would have been had we won."
Another key difference between the Women's Heads in the 1960s and now was that the course then was only two miles, from the White Hart just above Barnes Bridge to Hammersmith – a legacy from when the race was restarted after the Second World War and it was deemed that the full course might be too much after years of rationing.
"I just wish that they had been over the full course," Ann says wistfully, thinking of her later enthusiasm for longer-distance exploits. These began with persuading UU to do the Boston Marathon in an eight in 1968, of which she says, "Everybody hated it except for me. I didn't know at the time that I had an ultra-distance gene."
Her favourite row at the Women's Head was in 1966, the year when UU finally lost its title to St George's Ladies RC
This 'gene' led to Ann getting into the niche sport of competitive long-distance walking as her rowing activities waned. Her interest was piqued by going on a snow and ice-climbing holiday in the Alps. Someone then told her about the ultra-distance walks organised by the Long Distance Walkers Association (LDWA) in the UK, and she plunged straight in with a 100-mile event round the Peak District.
Wondering what to take on next, she remembered a newspaper article she'd read about 'Centurion' or '100 miles within 24 hours' walking challenges. In 1977 she became the first British woman to complete 100 miles in the UK, averaging over 4.8 miles an hour to finish the Bristol 100 in 20 hours, 37 minutes and 14 seconds.
During this time she ate tinned fruit and rice and the occasional Mars bar, and drank milk.
"I'm sure I broke all the rules [of sports nutrition], but I didn't know any rules!" In fact, with that mix of low-GI carbohydrate and protein replacement, she got it spot on.
In 1980 she set a new record for walking from Land's End to John O'Groats of 13 days, 17 hours and 42 minutes, pounding out at least 60 miles each day after working with a walking coach to improve her speed.
"A quarter of a mile an hour doesn't sound much," she laughs, "but it adds up."
In 2005, some 40 years after her last headship, she was awarded an MBE as Honorary Vice President of the LDWA for services to sport. Etiquette obviously forbade her from raising her arms in celebration, but she would have deserved the celebration if she had. A hundred times over.
Ann Rosemary Sayer, international rower and ultra-distance walker, was born on 16 October 1936 and died on 15 April 2020.