GB Rowing Team prepare for first trial of the Olympic and Paralympic season
Nearly 400 rowers will head to Boston, Lincolnshire and Caversham, Berkshire this weekend for the first GB assessment of the Olympic and Paralympic season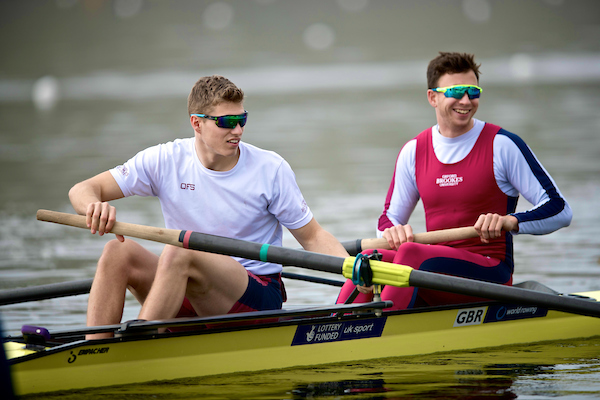 The GB team qualified ten Olympic boats at the World Championships in August – the joint highest total along with the Netherlands, meaning there is currently a total of 39 seats up for grabs at next summer's Olympic Games. In non-Olympic years the senior GB squad are exempt from this first assessment, which marks the start of the season-long selection process, but this weekend the team from the 2019 World Rowing Championships will be heading to Boston to prove themselves.
The assessment will begin with a 2km ergo test on Saturday, where rowers who achieve qualifying times including 6:05 minutes for senior men and 7:05 for senior women will progress to a 5km on-water time trial on Sunday.
Last year Polly Swann won the women's single sculls time trial as she made her return to the GB team, while last weekend's World Rowing Beach Sprints double medallist Robyn Hart-Winks was fastest in the lightweight women's single sculls.
Following the weekend, further invitation-only testing will take place over a number of weeks before Chief Coach Jürgen Grobler and Director of Performance Brendan Purcell decide if any changes should be made to the current senior squad who train full-time at Caversham, Berkshire. The assessment will also start the process of U23 selection for the upcoming season, led by Chief Coach Peter Sheppard.
Aspiring para-rowers will travel to Caversham this Saturday to take part in the first GB Paralympic assessment, which will aid Paralympic Chief Coach Tom Dyson in deciding if any changes should be made to the core para squad as they begin their winter training. The para-rowing squad qualified three boats for the Paralympic Games at August's World Championships, as well as coming away with gold medals in the PR2 mixed double sculls and PR3 mixed coxed four.
Director of Performance Brendan Purcell, who is responsible for the Olympic, Paralympic and under-23 programmes, said: "We're now at the start of the Olympic and Paralympic season and this first assessment is an important step on the journey to the Games.
"There are some exciting athletes who will be knocking on the door to challenge for spots against our strong senior worlds teams. We're expecting great competition across the whole weekend."
The second Olympic assessment will be by invitation only and will take place on 14 December, while the upcoming British Rowing Indoor Championships on 7 December will constitute the second Paralympic assessment of the season.