Two medals for Great Britain at first ever World Rowing Beach Sprints Finals
The GB squad claimed two medals in the first-ever World Rowing Beach Sprints Finals this weekend in Shenzhen, China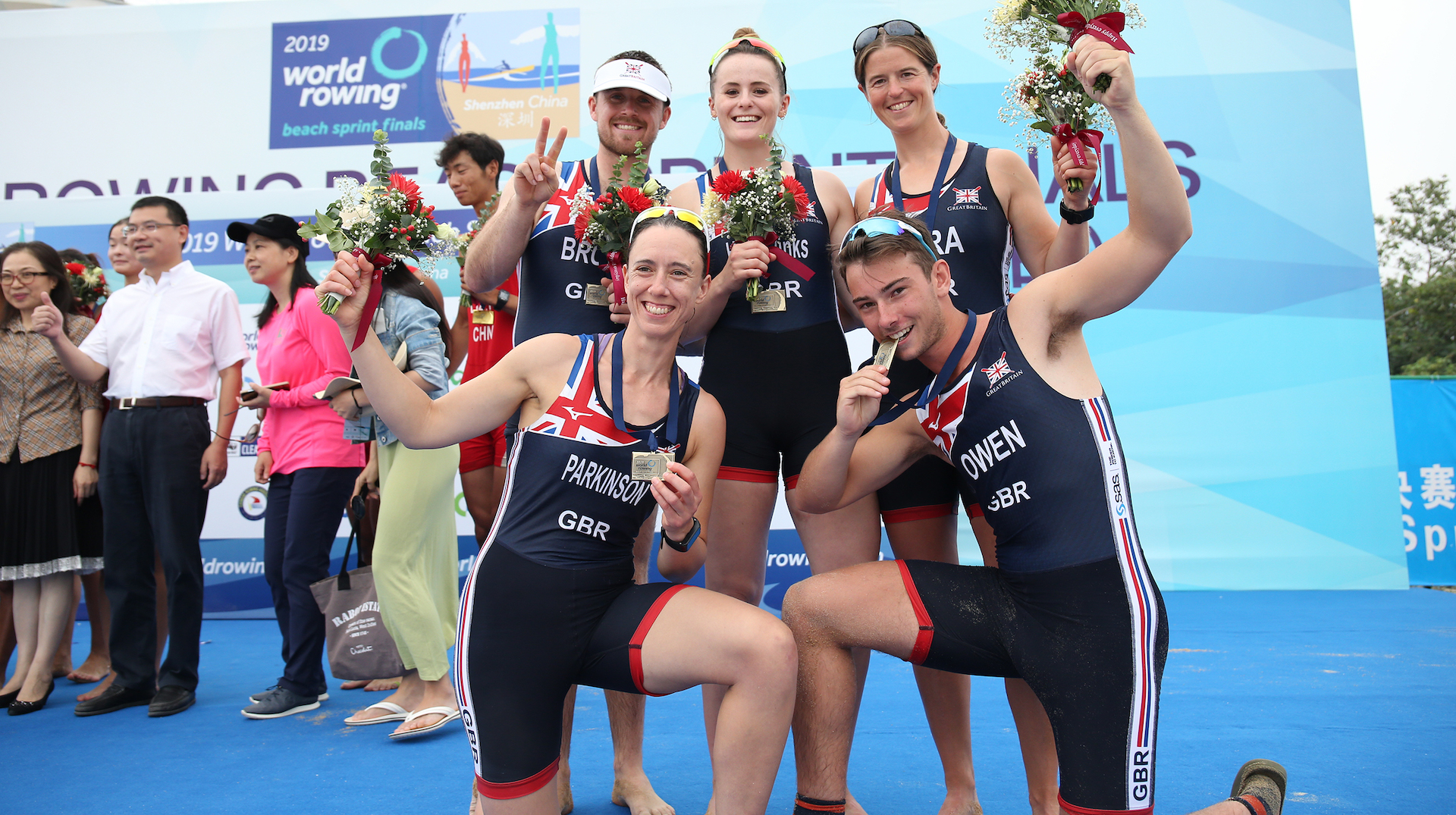 The first medal came courtesy of the whole squad, who teamed up to take a fantastic bronze in the mixed coxed quadruple sculls. After losing out to the eventual gold medallists China in their semi-final, the crew of Jerry Owen, Gillian Mara, Robyn Hart-Winks, Kieran Brown and cox Kate Parkinson regrouped to win their bronze medal final with a strong row and a sprint and dive to the line by Owen.
Hart-Winks took her second medal of the weekend on Sunday with silver in the women's solo. After having her boat flipped by the strong shorebreak earlier in the day, she showed her grit and put in outstanding performances through the rest of the afternoon to put herself through to the gold medal final and take the silver.
"A dramatic start [to training this morning] when a wave hit me coming into the beach and flipped my boat on top of me (twice)," she said on Twitter.
"Luckily I came out with just some bruising and the fear of the waves getting me again made me row faster so I came away with a silver medal."
The inaugural event started with time trials on Friday before quick-fire repechages and finals on Saturday and Sunday. Each race featured competitors running to their boat from the beach then rowing a slalom course around two buoys, before turning round a final buoy to row back to the beach. One member from each crew then had to sprint to the finish line on the beach.
Mara and Brown put in a strong performance in the mixed double and were narrowly beaten in the quarter final to the French crew that went on to win silver, while Owen just missed out on a spot in the semi-finals for the men's solo after being outgunned by a strong Hong Kong entry.
Coach Tim Fenemore commented: "We have had an awesome Beach Sprint World Championships this weekend and we're absolutely stoked to have won two medals across the four events in such great surf. A huge thank you to everyone who has supported the team throughout training and competition.
"We are looking forward to sharing all the learning and energy from this first world championship so that we can prepare for the 2020 event in Portugal."
You can watch replays of the Beach Sprints action at the World Rowing website.
Results
Women's solo (Gold medal final)
China 2:45.44
Great Britain (Robyn Hart-Winks) 2:56.64
Mixed coxed quadruple sculls (Bronze medal final)
Great Britain (Jerry Owen, Gillian Mara, Robyn Hart-Winks, Kieran Brown and cox Kate Parkinson) 2:27.85
France 2:30.16
Men's solo (Quarter final)
Hong Kong 2:36.24
Great Britain (Jerry Owens) 2:40.00
Mixed double sculls (Quarter final)
France 2:34.72
Great Britain (Gillian Mara and Kieran Brown) 2:36.94
You can view the full results from the weekend at the World Rowing website.