How Rowing Changed My Life – Dan Brown
From Postman to Paralympic Gold: We talk to Dan Brown MBE about his journey from club rower to Rio 2016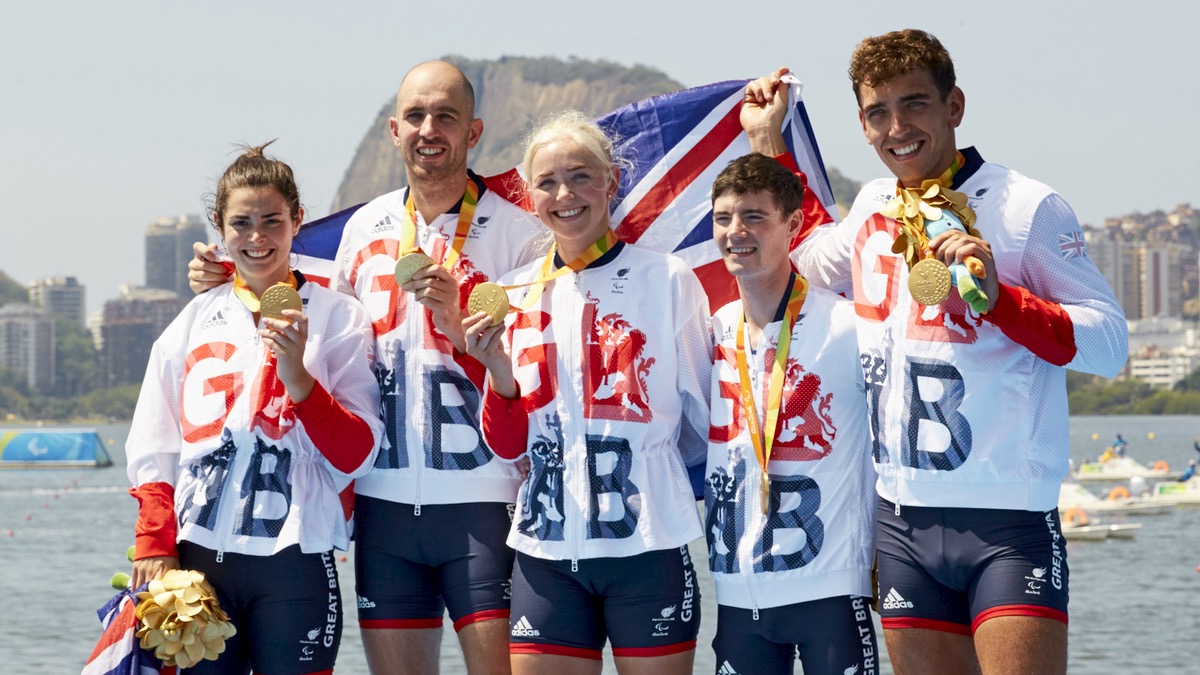 Talk to anyone involved in the sport and they'll tell you that, in some way, rowing changed their life. Whether it be a new set of friends, a new-found love of fitness, or a totally different outlook on life, there's something about being in a boat that transforms people.
Dan Brown MBE is a Paralympic Gold medallist and three-time World Champion in the PR3 mixed coxed four, but his life-changing journey started in a place that will be familiar to many British Rowing members: in a stable boat, on a Learn to Row course, at his local club.
Dan was on a bridge in his home town of Reading when the rowing gods intervened. Looking for a way back into sport after a car accident had left him with injuries to his ankle and severed nerves in his arm, he spotted a familiar sight.
"Sport was a big part of my life up until my accident," he explains. "I tried to find a sport that would fit my needs, but I couldn't do anything that was load-bearing on my ankle. Then one day I was crossing Caversham Bridge and I saw these rowers, and they were sat down, so I thought, yeah, I'll give that a go."
The rowers Dan spotted were from Reading Rowing Club. He got in contact with the club, and at the start of 2010 signed up to a Learn to Row course.
"My first time at the club was on a Saturday morning, and I went and met Terry O'Sullivan, who was the novice coach at Reading at the time," he says. "Terry put me in a single with stabilisers on the sides – a float boat – and I did a couple of half-hour sessions in that, and then I was put in an eight with the other beginner rowers at the club."
Dan had recently taken redundancy from his job as a postman and found that being part of the club filled a gap in his life, but it was the support he got that kept him coming back for more.
"Terry was the driving force behind why I wanted to carry on rowing," he says. "He was great at keeping everyone involved, made us feel that we all had a role in the boat, and at the club, and that he wanted you to be there."
The drive that has made Dan one of the GB Rowing Team's most successful Para athletes was on show even in these early days – although by his own admission his attention to detail left something to be desired.
"I've got so many great memories from back then, but my I think my favourite would be going to Peterborough Regatta in summer, racing in a four with my mates," he says. "During the heats on Saturday, I picked up the wrong blades. I took the women's blades, so they were all wrong, and then I caught a massive crab during the race, so we didn't make the final.
"I went and sulked for a bit, but we were racing again the next day so we changed the boat up a bit, got the right blades, and then went through to the final on Sunday and won it."
Dan went on to row at Henley Royal Regatta for Reading, then in 2012 continued his rowing journey by making the switch downriver to Upper Thames Rowing Club.
"Rowing at Upper Thames was a different ethos," he admits. "Our coach Justin Sutherland wasn't just talking about rowing at Henley Royal, he was talking about winning at it. Up until that point, rowing had been more about fun for me, so it was a big step up. And to be fair, that's what I wanted."
Stepping up for Dan also meant the prospect of trying out for the Para squad, although he insists that while he was a club rower, thoughts of Rio and the Paralympics were far from his mind.
"One of the coxes at Upper Thames knew my background and mentioned Para rowing," he says. "I'd really not thought about it before that, and it definitely wasn't part of a bigger plan. But I thought I'd give it a go and contacted British Rowing."
Pretty soon Dan was part of the programme and facing his first day at the GB Rowing Team's training base in Caversham, just a short trip from where he first sat in a boat.
"It was a bit nerve-wracking seeing all these medallists in one place," he admits. "You looked around and there was Alex Gregory, Moe Sbihi, Katherine Grainger – all the big stars in the sport, all in one place. But you realise pretty quickly that they're there to do a job, and I was there to do mine."
So how did it feel to go from being a club rower to a funded athlete? "The training load was the biggest difference. At Upper Thames, the training was Monday to Thursday and double sessions on a Saturday and Sunday. When you're in the Para squad it can be multiple sessions every day, and they're much more intense. But we have really good coaches and support staff to get us through it, and I know I'm really lucky to be doing something I enjoy."
As well as the step-up in training and the star colleagues, Dan also experienced another first: rowing in a mixed boat. "I'd never rowed in a mixed crew before – not even for fun events at summer regattas," he says. "But you don't do anything different in a mixed boat than any other boat. You don't even think about it. You're just a crew. That's how you think."
In the run-up to the Rio Games, Dan and his PR3 crew won gold at the World Championships in Amsterdam in 2014, and again a year later in 2015 in Aiguebelette. But the chance to win Paralympic Gold is something else. With the stakes so high and the world watching, what goes through an athlete's mind during the final?
"I'd spoken a lot to our psychologist before Rio and he gave me some mental prompts on how to think in the race situation," Dan explains. "That's what I went back to during the final, especially the start of the race – those first five, ten strokes. After that, it's just about concentrating on what you need to and listening to the cox. He knew our strengths and weaknesses, and what to push us on."
Dan and crew went on to take Gold, but the after-party wasn't the full-on carnival you might expect. "There were all the protocols after the race and about 15 interviews, so I didn't get to see my family until about 10.30 at night. I had two beers and was in bed by midnight. When I got home, that's when the parties started!"
From Reading novices to Rio Gold is an amazing journey, but the part of it that really changed Dan's life was being able to share the experience with his daughter.
"Having my daughter there to share my success has been truly special for me. It was absolutely amazing to have her there along the way, being able to experience the special moments, to see us win."
And if he hadn't just happened to have been on Caversham Bridge when a rowing boat passed by, where does Dan think he'd be now?
"I think I'd still have found my way into it," he insists. "And in all honesty, even if I wasn't funded I'd be still be rowing. I'd be doing a normal 9 to 5 job then rowing in the evening and weekends. That's been the big difference in my life, getting funded to do something that I truly enjoy – but I'd be part of the sport no matter what."
The Para-rowing programme is always looking for the future stars of the GB Rowing Team. So if you think you have what it takes, click here to find out more.