Competition heats up in quarter-finals of World Rowing Championships
Fifteen GB rowers were in action on day four of the World Rowing Championships as crews fought for those all-important spots in the semi-finals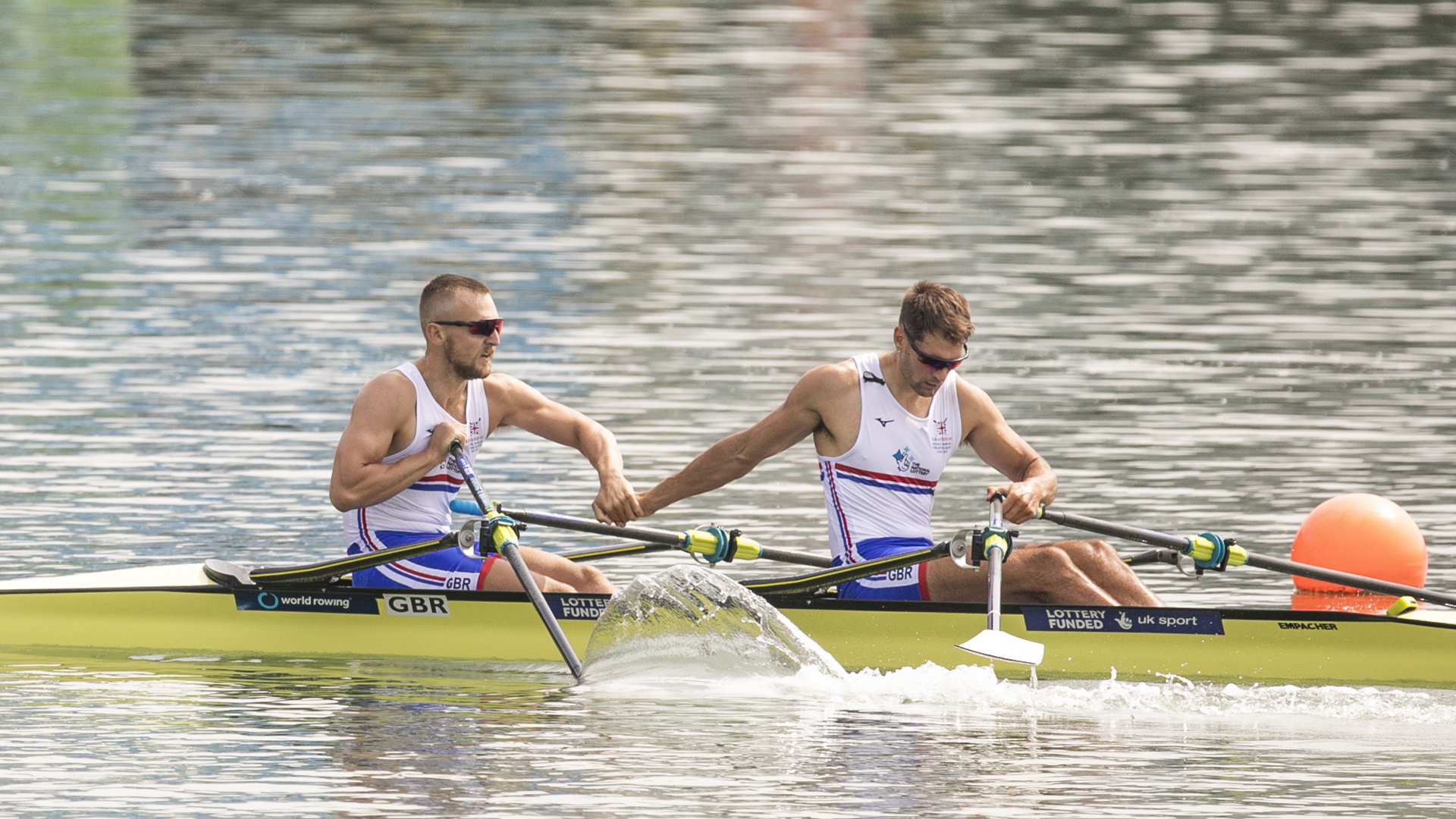 John Collins and Graeme Thomas cemented their status as one of this season's top men's doubles partnerships as they overturned 2019 World Cup series winners Barnabe Delarze and Roman Roeoesli of Switzerland to win their quarter-final.
Collins was pleased with the performance: "We watched a couple of the races before ours and they were very tense affairs so we were quite nervous as to what to expect, but I think we dealt with the pressure well and did the job we needed to do. It went perfectly so very happy with that."
In what she described as her "most enjoyable race for a couple of years", Vicky Thornley won her heat by three seconds to claim her spot in the semi-finals of the women's single sculls.
Thornley continued: "It all went to plan and I hit every marker so I'm really happy with that. Another step on now for the semi-final – I'm looking forward to it."
Lightweight double Imogen Grant and Emily Craig made a huge statement in their quarter-final, putting clear water between themselves and World Cup III bronze medallists Patricia Merz and Frederique Rol of Switzerland to win and progress through to the A/B semi-finals.
A delighted Grant said: "I feel like we've arrived. We knew we were capable of that performance and we still have more to give."
The most thrilling races of the day belonged to the pairs: both Sam Courty and Annie Withers and Tom Jeffrey and Morgan Bolding sat in fourth place at the 1km mark before putting on huge final sprints to take those all-important qualification spots for the A/B semi-finals.
Courty and Withers' coach Tom Pattichis said "That was pretty nervewracking to watch. I was confident they could do it though; they showed a lot of guts in those last 500."
There was heartbreak for Tom Barras in the single sculls and  Zak Lee-Green and Jamie Copus in the lightweight double as the intensity of the qualification regatta increased; both crews finished fourth in their quarter-finals, putting them out of contention for an Olympic qualification spot at this regatta.
A gutted Lee-Green said: "We gave it absolutely everything. We trusted each other, delivered our race plan and every stroke was the best we could do. The whole support team behind us have done an amazing job as well.
"The reality of elite sport is that not everyone can win, but we can be proud of how we raced today."
Sam Mottram secured himself a spot in the A/B semi-final for the lightweight men's single sculls after finishing second in his quarter-final, while Kyra Edwards and Ruth Siddorn finished third in their repechage for the women's double sculls, putting them through to the C/D semi-final.
Director of Performance Brendan Purcell said: "As we knew and expected, the standard at this qualification regatta has stepped up and there's been some really brutal racing.
"As a team we've talked about celebrating our successes and supporting each other in the disappointments; that will make us stronger."
Tomorrow sees 14 GB crews take on the semi-finals and repechages, starting with the women's pair semi-final at 09:22 BST. You can watch all the races live on www.worldrowing.com.
Results
Women's pair (Quarter final)
1. Caileigh Filmer and Hillary Janssens (CAN) 7:10.96
2. Maria Kyridou and Christina Bourmpou (GRE) 7:13.24
3. Sam Courty and Annie Withers (GBR) 7:14.25
Next GB race: A/B semi-final 
Men's pair (Quarter final)
1. Thomas Murray and Michael Brake (NZL) 6:29.70
2. John Smith and Lawrence Brittain (RSA) 6:30.73
3. Morgan Bolding and Tom Jeffrey (GBR) 6:31.62
Next GB race: A/B semi-final
Lightweight men's double sculls (Quarter final)
1. Fintan McCarthy and Paul O'Donovan (IRL) 6:20.84
2. Rodrigo Conde Romero and Manel Balastegui (ESP) 6:22.84
3. Jerzy Kowalski and Artur Mikolajczewski (POL) 6:23.72
4. Jamie Copus and Zak Lee-Green (GBR) 6:28.43
Next GB race: C/D semi-final 
Lightweight women's double sculls (Quarter final)
1. Emily Craig and Imogen Grant (GBR) 6:59.09
2. Patricia Merz and Frederique Rol (SUI) 7:01.30
3. Valentina Rodini and Federica Cesarini (ITA) 7:03.84
Next GB race: A/B semi-final 
Men's double sculls (Quarter final)
1. John Collins and Graeme Thomas (GBR) 6:14.21
2. Barnabe Delarze and Roman Roeoesli (SUI) 6:14.42
3. David Bartholot and Caleb Antill (AUS) 6:16.26
Next GB race: A/B semi-final 
Women's single sculls (Quarter final)
1. Vicky Thornley (GBR) 7:30.69
2. Carling Zeeman (CAN) 7:33.84
3. Yan Jiang (CHN) 7:35.39
Next GB race: A/B semi-final 
Men's single sculls (Quarter final)
1. Ondrej Synek (CZE) 6:48.43
2. Sverri Nielsen (DEN) 6:48.96
3. Simone Martini (ITA) 6:51.45
4. Tom Barras (GBR) 6:53.13
Next GB race: C/D semi-final 
Lightweight men's single sculls (Quarter final)
1. Peter Galambos (HUN) 6:57.73
3. Milosz Jankowski (POL) 7:02.44
Next GB race: A/B semi-final 
Women's double sculls (Repechage)
1. Gabrielle Smith and Andrea Proske (CAN) 7:02.65
2. Tatsiana Klimovich and Krystsina Staraselets (BLR) 7:03.78
3. Ruth Siddorn and Kyra Edwards (GBR) 7:08.80
Next GB race: C/D semi-final