Strong performances for England at Home International Regatta 2019 as Junior Women win their match
The England team produced a number of exceptional performances at this year's Home International Regatta in Strathclyde, with the Junior Women notably taking the win in their match against the other home nations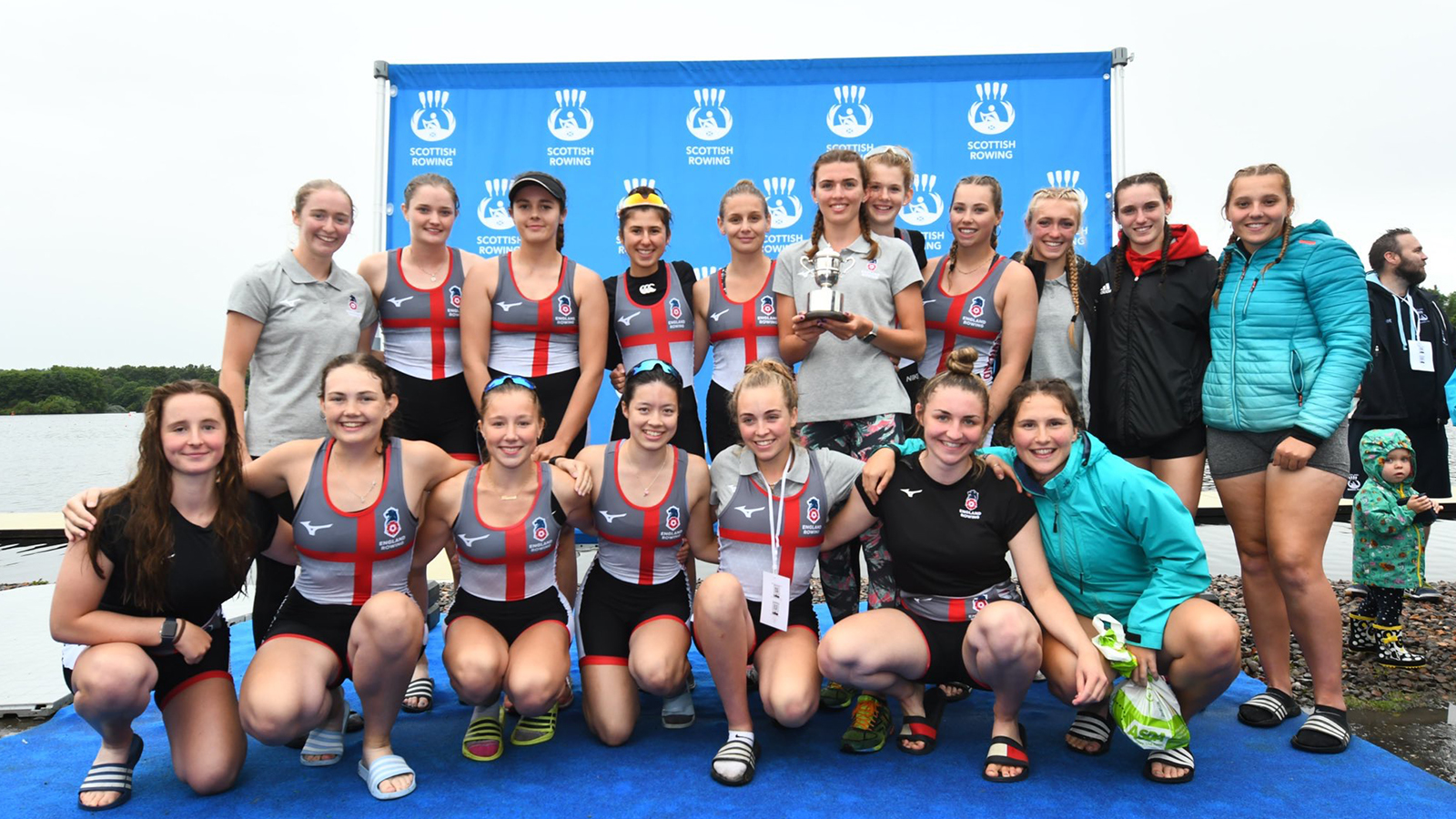 England's Junior Women showcased some fantastic speed across the day, winning five of the seven events in their match; the Junior Women's pair, Junior Women's double scull, Junior Women's coxed four, Junior Women's quad and Junior Women's eight.
The eight (Nolson, Bates, O'Donnell, McAuliffe, Coomber, Moore, Brankin, Stenning and Murray, coached by talented junior coaches Tom Cannon and Dec Gamble) showed their class from the moment they set to the water, displaying poise, discipline and strong technique.
England also won both of the regatta's adaptive rowing events, with Georgia Walker of Marlow Rowing Club claiming gold in the PR3 women's single scull and Sophie Brown of Sudbury Rowing Club following suit in the PR2 women's single scull. Walker, coached by Enya Meadows and aged just 16 years old, gave an exceptional performance which will stand her in good stead for the future.
In the Senior Women's match, the Lightweight pair of Catherine King and Gemma King extended their Home International Regatta dominance, adding a Senior gold to their back to back Junior pair wins of the two previous years.
In the Senior Men's match, the England eight of Fuscone, Devereux, Geffen, Gray, Piggott, Warren, Schofield, Bright and Coulthard delivered a spectacular win in the final race of the day.
Tim Liversage, England Team Manager, noted that the entire England team were outstanding throughout the process, from the trials at London Docklands through their race preparation and into the regatta itself. He also noted that "the team shared the goal of performance through learning from each other, and the coaches and logistics teams continued to be exceptional this year." Indeed, the England coaching team this year showed a perfect mix of experience, talent and fun, which created an ideal training environment for the athletes.
The event as a whole has continued to step on and a huge congratulations must go to the entire Scottish team for producing some amazing performances.
Thanks, as ever, go to all coaches, equipment managers and supporters for their involvement with the England Team this year. No doubt, the team will head to Wales next year with the aim of defending their titles and reclaiming others.
Full results from the Home International Regatta can be found here. More information about the England Talent Pathway can be found here.