Celebrating Volunteers' Week: students save the day at BUCS Regatta
Over 100 students helped out on the stake boats at the last minute, enabling BUCS Regatta to go ahead on 4-6 May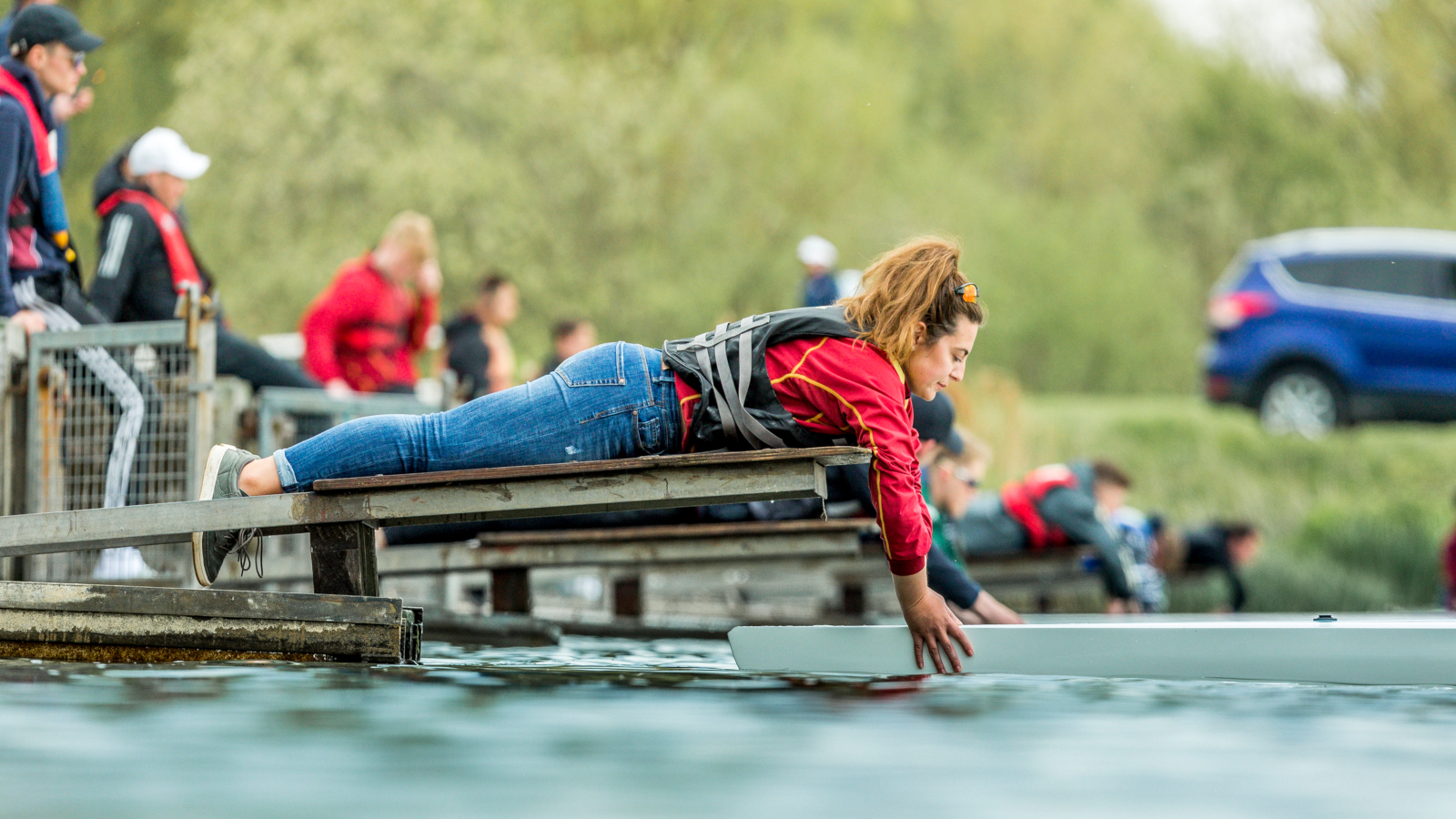 Volunteers' Week is a fabulous opportunity to thank all the people who make rowing possible, including the many students who answered the call for stake-boat volunteers at BUCS Regatta.
A day before the biggest student regatta in Europe – BUCS Regatta – was set to get underway, the organisation arranging the stake-boat volunteers pulled out at the last minute.
BUCS Welfare Officer Katy Young takes up the story: "The Organising Committee began a hunt for another group, but understandably at such short notice and a bank holiday weekend, we were struggling!"
With a minimum of 12 people needed for the stake-boat starts per shift, it normally requires around 20 people per day who rotate in and out. With such short notice, there was a larger number of students who volunteered, as and when they could, around racing (and revising!) commitments across the three-day regatta.
"A plea went out for helpers from clubs and we took names from there!" said Young. "It was very organic, relied a lot on WhatsApp, commentary shout-outs and the good old-fashioned personal touch of asking anyone and everyone we saw across the weekend!"
Incredibly, over 100 students came forward to volunteer over the course of the weekend, enabling the racing to take place.
Harry Smallman, 21, President at Cardiff University Rowing Club (CURC) was cooking dinner with crewmates on the Friday night before racing when word arrived that the regatta was in desperate need of volunteers.
Over 100 students came forward to volunteer, enabling the racing to take place
"As not everyone was racing on the Saturday, we managed to get quite a few – 12 from CURC I think."
He added: "Probably, for most, it was a fun form of procrastination as BUCS fell days before the start of our exam period this year. However, I wanted to get involved because I'm currently training to be a Welsh Rowing umpire.
"It was great to see some stake boating and umpiring close-up on a multi-lane course. I really enjoyed helping out – I didn't realise how intricate the whole process was.
"There were radios with earpieces connected to the aligner to coordinate moving the stake boat in and out. There were set lengths for different boat classes. Things I never thought would be needed when sitting facing the other way, and about to race the 2km stretch.
"The highlight was the opportunity to stake-boat for the women's intermediate quad semi-final where the CURC women's quad of Georgie Haynes, Ella Tepper, Sienna Hayes and Livi Howe qualified for the A final and went on to win a bronze medal, a huge achievement for these girls and our club.
"Medals at BUCS don't come often for CURC and these races are usually dominated by the top rowing universities so it was celebrations all round."
Everyone had a great time – they've already volunteered themselves for next year
Cardiff was well represented on the stake boats with students from Cardiff Metropolitan University Boat Club also volunteering in force.
Club captain Owain Jones, 22, said: "I knew we had multiple people not racing on some days so it was an easy decision to volunteer the club."
"As we are only a small club with most members being novices it was a great opportunity for them to learn more about the sport. We also had a few people who were keen to do an umpire course, so it gave them a taster.
"All the club members enjoyed the experience, they all wanted to stay there and do it another day. Everyone had a great time – they've already volunteered themselves for next year."
A sentiment echoed by students at University of Nottingham Boat Club. Men's captain James Lawn said: "I would encourage everyone to help out at an event near them, you make great friends, and have good fun watching all the racing from varying perspectives."
While Victor Ludorum honours went to Newcastle University Boat Club for their prowess on the water, the overall success of the competition was thanks to all the volunteers, not just those on the stake boats. This included the umpires, launch drivers, registration, commentary and timing teams, together with staff from BUCS and British Rowing.
Young said: "Just a massive thank-you to the volunteers for getting involved. We hope it will be the start of more actively engaging with the student rowing community at BUCS events."
Look out for the 2019 British Rowing volunteer strategy
Rowing wouldn't happen without all our fabulous volunteers. They really are the lifeblood of the sport. British Rowing is planning a survey on volunteering later in the year so we can better support all our volunteers. Look out for more details on our website and our social media channels.
Find out more about volunteering here.