'We've got some big characters and I want them in my crew because I can see the passion they have'
Holly Hill discusses her excitement to get the women's eight's campaign underway at the 2018 World Rowing Championships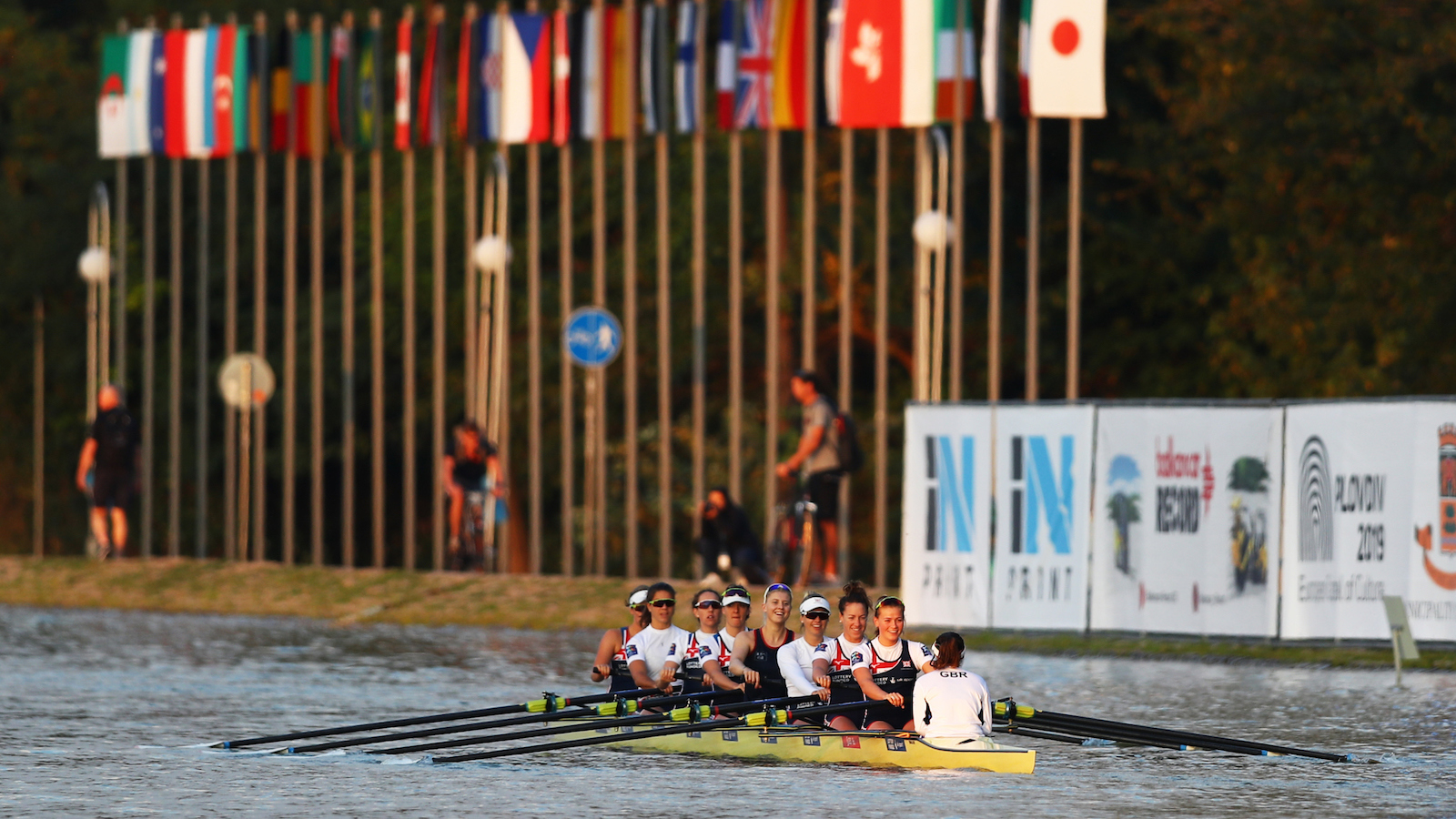 Seven days into their time in Plovdiv, the GB men's and women's eights are finally getting their time to shine; starting their 2018 World Rowing Championships campaigns with heats on Wednesday.
The two crews will be the 19th and 20th British crews to race in Bulgaria over the past four days, watching one-by-one as the other 18 got underway from the prime vantage point of a hotel on the start line.
The women's eight finished the first half of their season on a high, winning silver in front of a home crowd at the European Championships in Glasgow. There, they beat a strong Dutch crew and were inches away from Romania in gold medal position.
Those two opponents are back for the World Championships and so are several strong non-European nations looking to build on successful international summers.
"It is going to be pretty feisty out there," said GB's Holly Hill.
"In Glasgow there was less than a second separating the Dutch, Romanians and us, but then the Dutch won the World Cup series. But in the last regatta [in Lucerne] they got totalled by the Kiwis, Canadians and Americans, so I think across the board it's going to be very tight.
"Obviously it would be great to be eight lengths ahead and win in a blaze of glory, but the really exciting racing is when you're side-by-side getting an inch here and there. It's great for rowing to have that tight racing so we're looking forward to the fight."
Hill has history in Plovdiv, having won a bronze medal in the four at the World U23 Championships in 2015.
All three of her teammates from that final – Melissa Wilson, Sam Courty and Emily Ford – are also part of the GB squad this year and the event holds a fond place in Hill's heart.
"It was my first ever international race for GB and I was pretty nervous, but we had a lot of fun," she said.
"My coach was Peter Lee, my World Class Start coach who taught me from day one, so it was really special to bring a medal home for him and for me. It was boiling hot in July.
"It was one of those races in which three strokes in you've got sandpaper for a mouth which was savage, so I'm enjoying the temperatures out here now."
After six weeks on the road at training camps and now the World Championships, Hill and the other members of the eight are champing at the bit to get racing.
The Cambridge graduate and Boat Race winner is happy that cabin fever has not set in within the crew, despite their close proximity for the last month-and-a-half.
"It's always hard when you're sharing rooms, sharing an eating environment and there's literally no escape from each other. But I actually think we've done a really good job as it's always easy to let the pot boil over a little bit.
"We've all had strategies for switching off – I've taken my guitar on camps, much to the annoyance of my roommates!
"We've got some big characters but I love that because you know where you stand with people and you know that because they're fiery they're going to bring everything they can to the race. I want them in my crew because I can see the passion they have."