Two golds for Great Britain at World Rowing Junior Championships
GB's men's four and men's eight win gold medals, while the men's quadruple sculls take silver at the World Rowing Junior Championships in Racice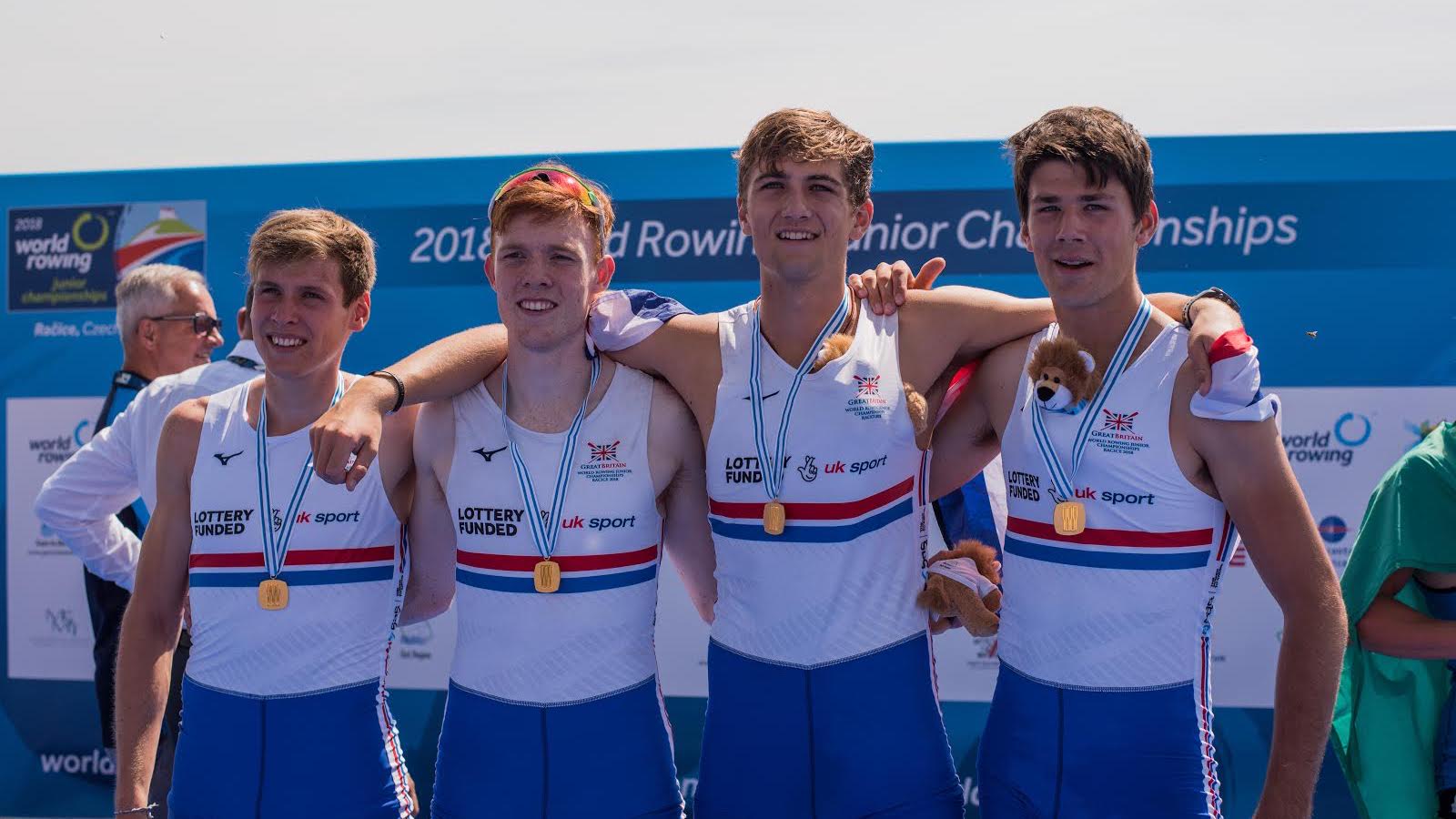 Great Britain took two stunning gold medals at the World Rowing Junior Championships in Racice, with the men's four and men's eight both winning memorable races.
The men's quadruple sculls took silver, as they did in 2017, as Great Britain finished third in the medal table behind the USA and Italy.
Calvin Tarczy and Douwe de Graaf retained their men's four title in style, along with Michael Dalton and Theo Darlow. The crew set a new Junior World Best Time in the semi-final on Saturday and were equally dominant in the final.
They had opened up a strong lead by the halfway mark and never looked like giving it up, with New Zealand trailing by over a length.
The men's eight, coxed by last year's bronze medallist Axel de Boissard, opened up a healthy lead on the USA with 500m to go and then matched the Americans' sprint to the line to take the gold.
Bryn Ellery and Victor Kleshnev won their second silver in as many years in the men's quadruple sculls alongside Jake Offiler and James Cartwright. The Brits held off a fast finish by Germany to take silver behind home favourites Czech Republic.
And the women's quad capped a good week of racing with fifth place in the final, won by Switzerland ahead of Germany and the Netherlands.
In the morning's B finals, Robert Powell and Miles Beeson took an excellent win to finish seventh overall in the men's pair, while Isabella O'Hara and Isabel Jonsson finished second in the women's pair's race.
The women's four took ninth overall and the women's double sculls took 11th place.
British Rowing Director of Performance Brendan Purcell said: "I'm delighted for our three medal-winning crews and credit goes to Lead Coach Ade Roberts and his team of coaches and support staff who have worked diligently with the athletes over the last few months to create our best possible formations across the nine boat classes we entered.
"I would also like to thank John Layng, long time Junior Team Manager. He puts tireless work into setting up the logistics and environment to allow the coaches and athletes to deliver.
"Junior rowing always provides tough racing, so our athletes can be very proud of their performances in the conditions in Racice. Our rowers wore their GB vests with pride all week and showed such passion in the finals, ensuring that to beat us the other nations needed to be at the top of their game.
"It's always great to see success on the junior stage as it highlights the strength of club and school rowing in Great Britain, which is an important part of our development pathway and bodes well for the future."
Results
A finals
Men's four
1. Great Britain (Michael Dalton, Douwe de Graaf, Calvin Tarczy and Theo Darlow), 5:52.79
2. New Zealand, 5:56.20
3. Italy, 5:58.09
Men's eight
1. Great Britain (Jake Swann, Oscar Olsen, Max Shakespeare, Dominic Sullivan, Connor Sheriden, Oliver Parish, Thomas Horncastle, George Dickinson, Axel de Boissard (cox)), 5:37.56
2. USA, 5:38.34
3. Germany, 5:40.15
Men's quadruple sculls
1. Czech Republic, 5:51.81
2. Great Britain (Victor Kleshnev, Jake Offiler, James Cartwright and Bryn Ellery) 5:53.21
3. Germany, 5:54.3
Women's quadruple sculls
1. Switzerland, 6:25.82
2. Germany, 6:26.65
3. Netherlands, 6:28.62
–
5. Great Britain (Lottie Orr, Phoebe Campbell, Georgina Robinson Ranger, Olivia Morgan), 6:37.84
B finals
Men's pair
1. Great Britain (Robert Powell & Miles Beeson), 6:44.78
2. Argentina, 6:47.60
3. Belarus, 6:48.03
Women's pair
1. Hungary, 7:35.92
2. Great Britain (Isabella O'Hara & Isabel Jonsson), 7:38.75
3. Germany, 7:39.86
Women's four
1. Germany, 6:57.10
2. Switzerland, 6:59.52
3. Great Britain (Lucy Pullinger, Daisy Butterworth, Mary Wright, Mia Andersen), 7:02.10
Women's double sculls
1. USA, 7:25.01
2. Japan, 7:27.13
3. Russia, 7:30.04
–
5. Great Britain (Olivia von Stauffenberg & Natasha Strudwick), 7:30.58