England team announced for the 2018 Home International Regatta
76 rowers from 29 clubs have been selected to represent England at the 2018 Home International Regatta on 21 July in Cork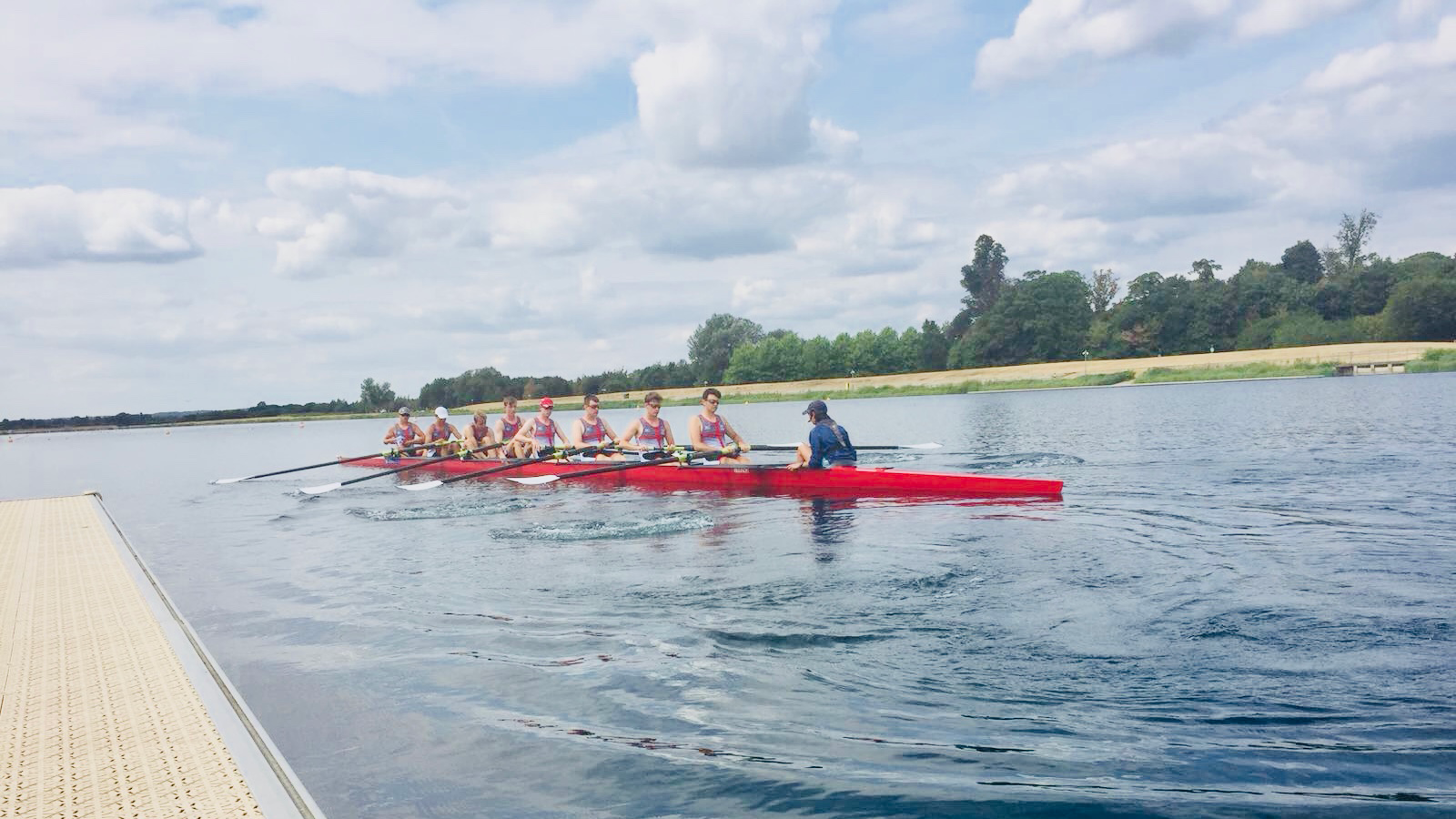 England will be looking to retain their three Home International Regatta titles this year, as the competition heads to Inniscarra, Cork on Saturday, 21 July.
Seventy-six rowers from 29 clubs across England have been selected to represent their country as they race against the home nations of Ireland, Scotland and Wales.
The senior men and women will be racing in ten events, with the junior men and women competing in seven events each.
Tim Liversage, Team Manager for England said: "We have a talented squad travelling to Ireland for this year's Home International Regatta. Following a competitive selection process at our trials in London, I'm confident we will see some solid performances at Inniscarra. With a number of returning rowers from the 2017 squad, alongside many new and exciting young rowers, we are looking forward to seeing what the squads can achieve out in Ireland."
All racing takes place on Saturday, 21 July, at Inniscarra, Cork, which is offering free admission to spectators, so why not go down and cheer on the rowers as they race for Home Nations glory? Alternatively, follow all the action on the Home International Regatta twitter feed or by using the hashtag #HIR2018.
England team for Home International Regatta, Cork (21 July)
Senior men
Single scull
Steve Byford (Birmingham Rowing Club)
Lightweight single scull
Ashley Cowley (Molesey Boat Club)
Double scull
Ryan Cheale (Broxbourne Rowing Club)
Stuart Hosie (University of York)
Lightweight double scull
Ashley Cowley (Molesey Boat Club)
Matt Day (Broxbourne Rowing Club)
Quadruple scull
Ashley Cowley (Molesey Boat Club)
Steve Byford (Birmingham Rowing Club)
Stuart Hosie (University of York)
Matt Day (Broxbourne Rowing Club)
Pair
Kenny Gray (Molesey Boat Club)
Jonah Harrish (Molesey Boat Club)
Lightweight pair
Harrison Skinner (Lea Rowing Club)
Callum Prosser (Lea Rowing Club)
Four
Hugo Storey (Newcastle University)
Same Baker (Newcastle University)
Matthew Thoumine (Nottingham University)
Luca Nicolaou (Nottingham University)
Coxed four
James Doleman (Nottingham Rowing Club)
Steve Bennett (Nottingham Rowing Club)
James Walker (Nottingham Rowing Club)
Ben Farrell (Nottingham Rowing Club)
(cox) Jennifer Wainer (Molesey Boat Club)
Eight
Harrison Skinner (Lea Rowing Club)
Callum Prosser (Lea Rowing Club)
Hugo Storey (Newcastle University)
Sam Baker (Newcastle University)
Matthew Thoumine (Nottingham University)
Luca Nicolaou (Nottingham University)
Kenny Gray (Molesey Boat Club)
Jonah Harris (Molesey Boat Club)
(cox) Jennifer Wainer (Molesey Boat Club)
Senior women
Single scull
Samantha Redgrave (Norwich Rowing Club)
Lightweight single scull
Camilla Plumb (Peterborough City)
Double scull
Annie Campbell-Orde (Nottingham Rowing Club)
Sophie Connolly (Nottingham Rowing Club)
Lightweight double scull
Camilla Plumb (Peterborough City)
Pippa Birch (Molesey Boat Club)
Quadruple scull
Annie Campbell-Orde (Nottingham Rowing Club)
Sophie Connolly (Nottingham Rowing Club)
Samantha Redgrave (Nottingham Rowing Club)
Camilla Plumb (Peterborough City)
Pair
Louisa Emkes (Vesta Rowing Club)
Jamie-Rose Larkin (Vesta Rowing Club)
Lightweight pair
Katie Potter (Tideway Scullers)
Kate Wagstaff (Tideway Scullers)
Coxed Four
Rachel Borrows (Nottingham Rowing Club)
Kate Parson (Nottingham Rowing Club)
Fleur Tavare (Nottingham Rowing Club)
Lucy Holgate (Nottingham Rowing Club)
(cox) Fergus Robertson (Nottingham Rowing Club)
Four
Jasmine Bone (University of Surrey)
Maddie Gardner (University of Surrey)
Pippa Birch (University of Surrey)
Eleanor Stevens (University of Surrey)
Eight
Katie Potter (Tideway Scullers School)
Kate Wagstaff (Tideway Scullers School)
Louisa Emkes (Vesta Rowing Club)
Jamie-Rose Larkin (Vesta Rowing Club)
Rachel Borrows (Nottingham Rowing Club)
Kate Parsons (Nottingham Rowing Club)
Fleur Tavare (Nottingham Rowing Club)
Lucy Holgate (Nottingham Rowing Club)
Fergus Robertson (Nottingham Rowing Club)
Junior men
Single scull
Joe Willis (Leander Club)
Double scull
Jasper Den Dulk (Lea Rowing Club)
Louis Powell (Lea Rowing Club)
Quadruple scull
Sam Bodkin (Windsor Boys School Boat Club)
Thomas Shewell (Windsor Boys School Boat Club)
Harrison Rowe (Maidenhead Rowing Club)
Lewis Howlett (Henley Rowing Club)
Pair
James McMullan (Walton Rowing Club)
Ben Harris (Walton Rowing Club)
Four
Oliver Pearce (Great Marlow School Boat Club)
Jamie Jack Westfold (Great Marlow School Boat Club)
Josh McKenzie (Great Marlow School Boat Club)
Oliver Emmit-Bird (Great Marlow School Boat Club)
Coxed four
Henry Pearson (Eton College)
Rufus King (Kings College School)
Will Wakefield (Hinksey Sculling School)
Jack Roberts (Kings Chester)
(cox) Olly Perry (Eton College)
Eight
Henry Pearson (Eton College)
Rufus King (Kings College School)
Will Wakefield (Hinksey Sculling School)
Jack Roberts (Kings Chester)
Oliver Peace (Great Marlow School Boat Club)
Jamie Jack Westfold (Great Marlow School Boat Club)
Josh McKenzie (Great Marlow School Boat Club)
Oliver Emmit-Bird (Great Marlow School Boat Club)
(cox) Olly Perry (Eton College)
Junior women
Single scull
Ellie Cushen (Northwich Rowing Club)
Double scull
Orla Supple (Tideway Scullers School)
Rubby O'Keefe (Tideway Scullers School)
Quadruple scull
Charlotte Barker (Headington School)
Tilly Burn (Headington School)
Hannah Hornby (Headington School)
Anna Lockhart (Headington School)
Pair
Gemma King (Lady Eleanor Holles Boat Club)
Catherine King (Lady Eleanor Holles Boat Club)
Four
Phoebe Fletcher (Henley Rowing Club)
Alice Jones (Henley Rowing Club)
Grace Johnson (Henley Rowing Club)
Madeline Pollard (Henley Rowing Club)
Coxed four
Cecile Ramin (Latymer Upper School)
India Colegrave (Godolphin & Latymer School)
Daisy Faifthful (Shanklin Sandown Rowing Club)
Jessie Goodall (Tideway Scullers School)
(cox) Lizzie Townhill (Headington School)
Eight
Cecile Ramin (Latymer Upper School)
India Colegrave (Godolphin & Latymer School)
Daisy Faithful (Shanklin Sandown RC)
Jessie Goodall (Tideway Scullers School)
Charlotte Barker (Headington School)
Tilly Burn (Headington School)
Hannah Hornby (Headington School)
Anna Lockhart (Headington School)