British rowers announced for 2018 European Universities Games
The 2018 European Universities Games regatta will be held between 14 and 19 July in Coimbra, Portugal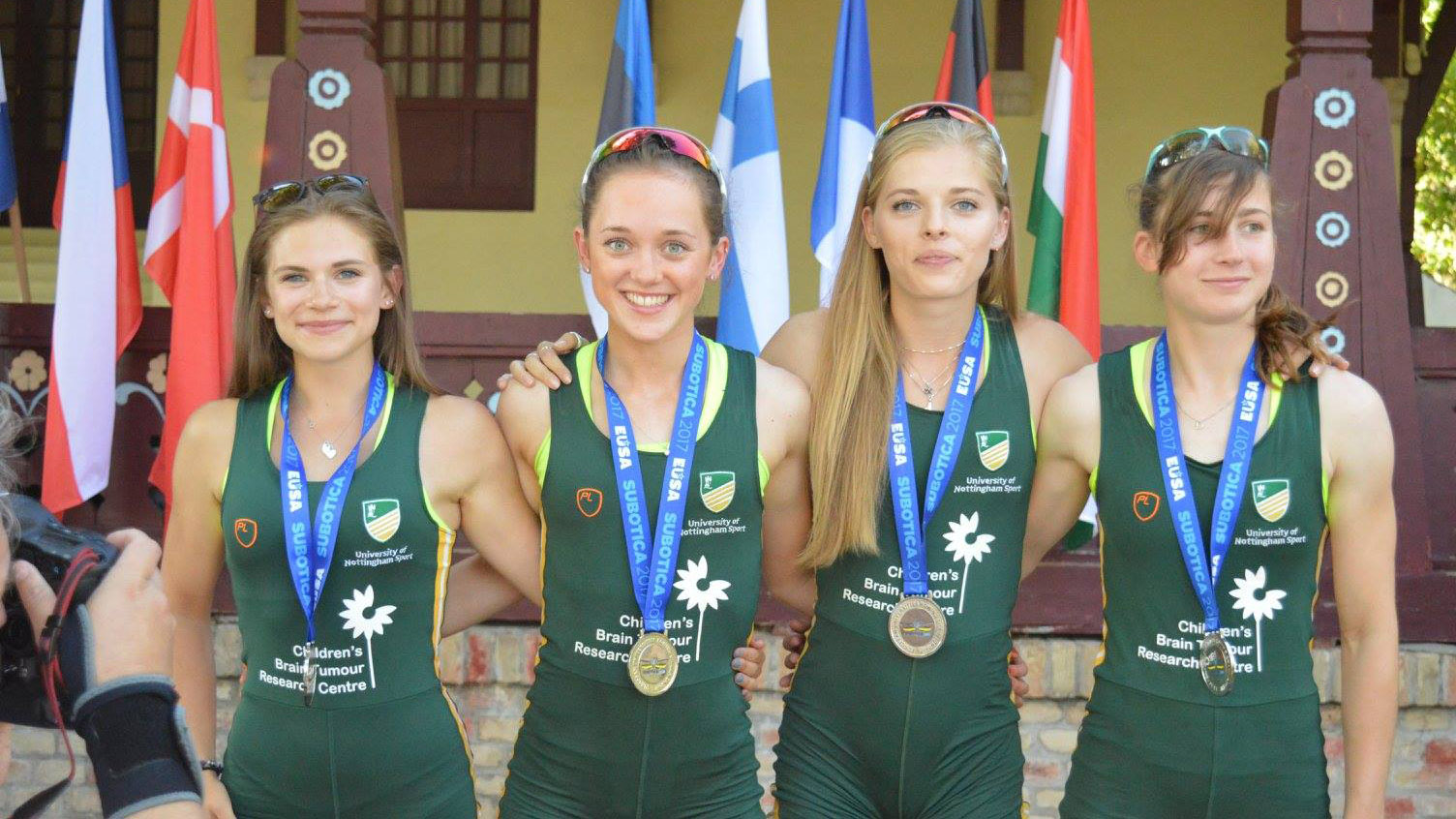 A squad of 106 rowers and 18 coaches will form the British Universities delegation to compete at the European Universities Games in Coimbra, Portugal later this month . The crews have been selected following their results at the BUCS Regatta earlier this year and will form a composite team to challenge their European counterparts.
At the 2017 EUSA Rowing Championships, the GB team won ten gold, six silver and five bronze medals, which was arguably the best GB team performance at any EUSA Rowing Championships. A strong team has been formed from 13 different universities and will look to defend the EUSA Rowing Salver.
The EUSA Rowing Championships has established its position on the performance pathway with many students going on to join the national team after graduating and continuing to speak fondly about their experiences of racing at EUSA.
William White, who won gold in the men's double sculls representing Birmingham in 2017, will return this year looking to maintain his position with new doubles partner, Edward White. The duo are coached by Tania Griffin, who coached the crew to gold last year.
Phillipa England is the only returner from Imperial's gold medal winning women's four from 2017. She will be joined this year by Naomi Doye, Gledisa Musollari and Alexandra Stonehill. Imperial will also be represented in the men's eight.
Nottingham's Lucy Gillbanks earned two silver medals (LW2x and LW4x) last year and will return this year in a lightweight women's double scull with Nina Giambrone from last year's quad. Nottingham will also field a lightweight men's pair, hoping to maintain the gold medal position from last year.
The University of London BC won a solid gold medal in the women's quad last year and are fielding a strong crew of Ally French, Robyn Hart-Winks, Emily Lindberg and Kesiah Roe, who will be hoping to retain that title this year.
Whilst the team includes many of the universities that have attended in the past, this year's team also includes Surrey, Bristol and Hartpury.
Full details of the 2018 European Universities Games can be found here: https://www.eug2018.com/. Progress of the GB Universities Team can be followed via Twitter @GBUniversities.
GB Universities Rowing Team 2018
University of Bath (LM4x)
Thomas Bowles, John Laurenson, James Martin, Max Valentine
University of Birmingham (M2x)
Edward White, William White
University of Bristol (W8, LM4x)
Phoebe Beer, Natalie Dixon, Sally Elphick, Charlotte Greenwood, Mathew Hardy, Matthew Jackson, Alice Lovett, Jemima Lucas, Sophia Margetts, Anna Roe, Arthur Smith, Grace Ward-Allen
University of Cambridge (M4-, W4x, W2-, M1x, LW1x)
Emma Andrews, Kelsey Barolak, Louise Brett, Rebecca Dell, Jessica Godden, Lucy Harris, Rob Harris, Reggie Mitchell, Jonty Page, Abigail Parker, Callum Sullivan
Durham University (M4-, W4-, LW4x, M2-, W2-)
Georgia Dean, Saskia Devereux, Ed Gardiner, Helena Lang, Megan Lillington, Ashleigh Mason, Alexander McGowan, Daniel Middleton, Maya Nickituk, Madeleine Orr, Christian Palmer, Amy Polgase, Francesca Louise Quinn, Alicia Schwarzenback, Ryan Todhunter, Daniel Weatherly
Hartpury University Centre (W1x)
Bryony Lawrence
Imperial College London (M8, W4-)
Alexander Ball, Edward Bentley, Naomi Doye, Jonathan Edwards, Philippa England, Dugald Fraser, Oliver Hines, William Le Brocq, Gledisa Musollari, David Simmonds, Thomas Smith, Alexandra Stonehill, Jack Walsh
University of London (M8, W8, W4x, M4-, W4-)
Kathryn Barnhill, Will Carey, Richard Clarke, Louise Cox, Clara Drewes, Ally French, Robyn Hart-Winks, Archie Hilder, Toby Langstone, Emily Lindberg, Maud Moir, Harriet Orr, Callum Perera, Amber Pierce, Kesiah Roe, Yiana Shakespeare, Alex Stevens, Thomas Worthington
University of Nottingham (LW2x, LM2-)
George Crouchley, Nina Giambrone, Lucy Gillbanks, Robert Muscroft
University of Oxford (LM4-, LW2x, LW1x)
Naomi Holland, Sooraj Mahesh, Jonathan Martin, Ian McGurgan, Alexander Pavitt, Amanda Thomas, Eleanor Watts
Queen's University Belfast (M2x)
Ross Corrigan, Nathan Hull
University of Reading (M4x, W4x, M2x, W2x, LM1x, LM1x)
Alexander Badcott, Francesca Bratt, Oliver Dix, Franklin Hamilton, Rory Harris, Chloe Knight, George Lawton, Sean O'Mahony, Laurence. O'Connor, Luke Reiser, Lucy Ryan, Anna Smart
University of Surrey (M2-)
Alastair Douglas, Alex Law
Management Team & Coaches
James Lee – Team Manager
Katy Young – Assistant Team Manager
Fiona Rennie – Finance Assistant
Matt Evans – Driver
Jamie Smith – Driver
Tanya Griffin – Birmingham
Ed Bloomfield – Bristol
Patrick Ryan – Cambridge (Women)
Alister Taylor – Cambridge (Men)
Ellie Hizzett – Durham
Laura Richardson – Durham
Ian Shore – Durham & Driver
William King – Hartpury
Lewis Sloan – London
Tim Brearley – Nottingham
John McKirdy – Nottingham
Chris O'Hara – Oxford (Women)
Samuel Wells – Oxford (Men) & Driver
Mick Desmond – Queen's
Chris Bartley – Reading
Charlotte Booth – Reading
Will Rand – Reading
Lewis Sloan – Surrey