Coaching Week series: staying positive
In our fourth article to celebrate the inaugural UK Coaching Week, we look at the letter 'p' in people for 'Positive'. How can coaches keep their crews positive after suffering defeat?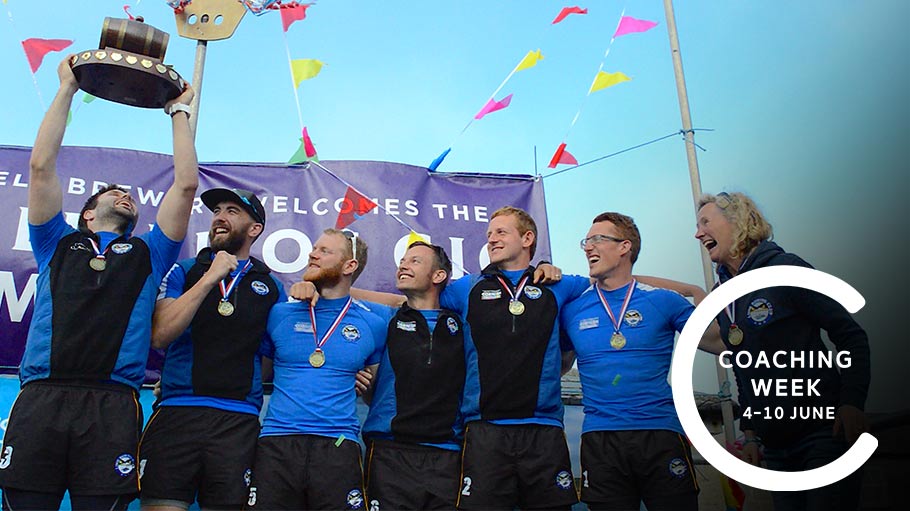 As part of Coaching Week, UK Coaching have announced six principles of great coaching – PEOPLE. 
Person-centred
Empowering
Organised
Positive
Learning
Engaging
To support these six principles, we're sharing the stories of rowing coaches from across the country about how they coach by these principles. 
Positive
Next up is the letter 'P' for being 'positive'. Emma Cox is coach of the men's senior crew from Looe Rowing Club, champions at the Gig Worlds on the Isles of Scilly back in May. The crew beat arch rivals Falmouth and Caradon, a momentous victory after finishing second five times. It was a dream come true for the south Cornish crew when they finally lifted the trophy. British Rowing spoke to Cox about her experiences.
2017 World Pilot Gig Championships: the crushing loss
Rewind to August 2016 when Cox started coaching the crew and brought in a new training programme, including the idea of 'controlling the controllables'. With the 2017 Gig Worlds title as their target, she took their preparations to a new level. One of the main challenges was getting enough boat time – almost impossible with a crew made up of busy farmers, fishermen, a plumber and a classic car restorer!
They were completely devastated when the Gig Worlds came round and they lost to Falmouth once again.
"I had left no stone unturned in that seven months and the crew felt confident and fully prepared," says Cox. "The final was full of a series of incidents which cost us the half a length that we lost by.
"One member said that he felt 2017 was the last year the whole crew could commit to the level they did and therefore he might not have the opportunity to ever compete for gold again so was devastated. The crew were all deeply upset and we met the following week to evaluate 'what went well' and 'even better if' in true teacher style.
"They then literally went their separate ways and only competed as a full crew once last summer. They all 'grieved' in different ways."
It took Cox three months to get over the defeat.
Keeping positive
She adds, "It's very hard to give tips as to how to keep the crew positive, especially as I really struggled with the defeat. Olympic silver medallist Annie Vernon came to our club to talk about her experience and I really empathised with her; a silver medal and it felt like the end of the world."
This is how Cox kept her crew positive*:
1 – I was always on the end of a phone and messaged them individually periodically.
2 – Try to keep a sense of proportion, as it's only rowing (!) and amateur rowing at that.
3 – Try not to talk about the future but respect the crew's need for some time in the boat, enjoying the training and racing through the summer, without the big question 'can we put ourselves through it again?' dominating thoughts.
"My overriding thought was that they had trusted me to look after the process and it wasn't good enough and how/why should they trust me again?
Respect the crew's need for some time in the boat, without the big question 'can we put ourselves through it again?' dominating thoughts
"I also doubted my ability to coach and cox and had some very dark thoughts focussing on a) could I put myself through the process again and b) would they want me to?
"I think just talking to them individually and monitoring how they were feeling helped, and they did bounce back as the racing season continued."
2018 World Pilot Gig Championships: the expectation
Fast forward to 2018 and the Gig Worlds were on the horizon again.
"We had one crew change, and this had a positive impact. A mid-ship rower, who had experience but had no idea of the amount of training that was needed, and he worked insane hours as a plumber. However, we became used to his midnight ergo screens. He felt under enormous pressure to succeed but kept calm right through the championships and didn't crack.
"The crew adopted a calm, focussed, clinical and less emotional attitude in the boat; in my opinion we became more professional and didn't waste a minute of training on the water. We had – and executed – a more effective race plan. We didn't think about any other crews, focussing instead on what we were doing and why. I banned the crew from saying the F word (Falmouth) or C word (Caradon) in the boat. Yet we did try to keep a sense of perspective and fun.
"I would say that you have to keep the belief in your crew and when you have doubts, you must never let them see them. For top-end amateur sportsmen the time demands are huge in terms of balancing training with work and families. So, as a coach, you feel that you have to justify everything you are asking the rowers to do, as you know that the time needed will sometimes cause friction in their lives – that will, in turn, affect their mental state while training.
I could feel the weight of expectation literally dragging the boat down
"The club became increasingly supportive of what we were trying to achieve and the whole community was behind us. This added to the immense pressure. On top of this, the whole gig community (except Falmouth and Caradon) wanted us to win and over the weekend of the 2018 Gig Worlds we were all bombarded with well-wishers and words of support. This was fantastic but we had to receive these comments gratefully and yet keep our focus.
"Rowing out to the final with 150 other boats was very emotional as other crews were shouting 'good luck' and 'come on boys, this year!' I could feel the weight of expectation literally dragging the boat down and behind every pair of shades were some pretty emotional rowers feeling the pressure. Once the race started however, it all just clicked into place and we took the lead and kept it.
"Everyone says that it is harder to defend a title than it is to win one. For us, the battle has taken so long and has been so difficult. I am actually relishing starting the campaign with more self-belief and confidence along with fewer doubts. We have to row better with more fluidity and once we have found the most effective stroke for our crew (something we still have to develop) we can progress from being good rowers with the best levels of fitness, to being truly unstoppable."
*This approach works for adults but obviously with juniors other considerations apply.
If you'd like to try coaching then British Rowing can help support your development. Check out our courses here.
Look out for British Rowing's new code of conduct for coaches – coming soon.