Coaching Week series: empowering the athletes
In our second article to celebrate UK Coaching Week, we look at the letter 'e' in people for 'Empowering'. How can coaches empower their athletes?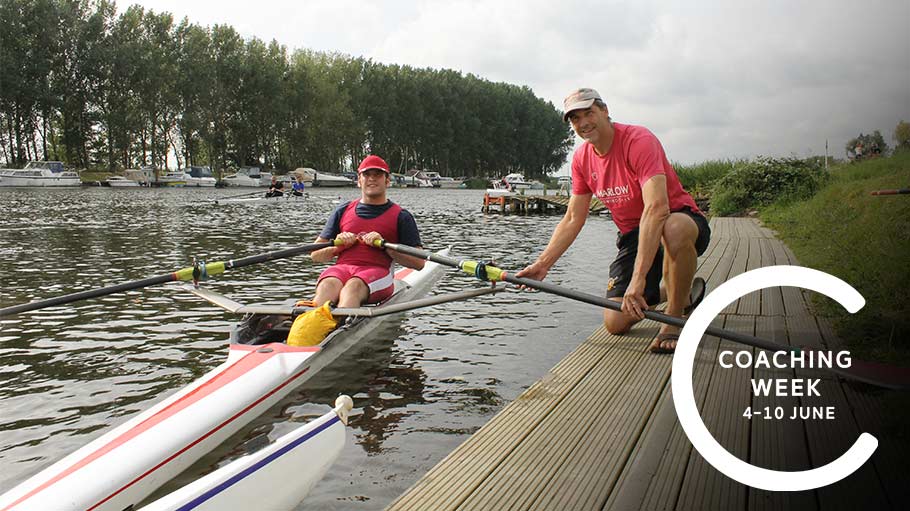 As part of Coaching Week, UK Coaching have announced six principles of great coaching – PEOPLE. 
Person-centred
Empowering
Organised
Positive
Learning
Engaging
To support these six principles, we're sharing the stories of rowing coaches from across the country about how they coach by these principles. 
Empowering
Next up is the letter 'E' for being 'empowering'. Bruce Lynn is the coach and coordinator for Marlow Adaptive Rowing, looking after about a dozen active rowers. Here are three areas that Lynn concentrates on to empower his adaptive rowers. There are tips in here for every coach.
Bruce Lynn, coach and coordinator for Marlow Adaptive Rowing
Lynn is on the British Rowing Adaptive Advisory Board to help promote and develop the sport. 
1 – Leadership
There are lots of definitions of leadership out there, but one of my favourites is 'someone who cares'.  A sports 'programme' can be as simple as one coach with one athlete. When someone 'has your back', it is easier and safer to push one's boundaries and to tackle a new activity or new skill or new approach.
Coaches need to have a core proficiency for safety's sake, but after that caring is much more important than punditry.
So what does empowering mean?
The parents of one PR3 junior at Marlow said: "When asked what empowerment at Marlow RC means to him, Sebastian responded 'encouragement and feeling proud'."
2 – Community
Strength in numbers. Pushing one's self and taking the risks needed to progress is always easier with a group of supporters. Rowing with fellow adaptive athletes offers not only a peer group of people facing similar considerations, but also provides a community for sharing innovative adaptations to overcome the physical challenges.
Rowing as part of a larger rowing club broadens that collection of perspectives available, as well as providing more people who can lend a hand with simple matters like carrying the boat and manoeuvering a wheelchair on an awkward shaped pontoon.
PR1 rower Kingsley Ijomah explained, "Having the opportunity to join a community and take part in a sport such as rowing, despite my disability, is incredibly empowering to me. I have the chance to push myself to my limits in a sport and that's something that I never thought I would be able to do. Every little help from the coaches and volunteers at Marlow RC has made, and continues to make, this possible.
"Rowing is a beautiful sport and it can be a more inclusive sport with a little help."
I have the chance to push myself to my limits in a sport and that's something that I never thought I'd be able to do
3 – Flexibility
There's a reason it's called 'adaptive' rowing. In team sports, one can tend to focus on the group – the team strategy, the team technique, etc – but the best coaches understand and respond to each individual – their strengths, their weakness, their personalities.
All the more so for adaptive athletes who also have to consider very individual impairments. Even athletes with the 'same' disability can vary dramatically in severity and impact. This situation puts more onus on the coach to listen and observe the athlete while also discovering what adaptions to technique and training are most effective for their individual progress and satisfaction.
Empowerment is not just about enabling people to do things they would otherwise not do, but also about doing things the way they want to do them.
As Ella Holloway, PR3 rower at Marlow, put it: "Adaptive rowing makes me feel limitless rather than limited."
If you'd like to try coaching then British Rowing can help support your development. Check out our courses here.
Look out for British Rowing's new code of conduct for coaches – coming soon.