Sun shines on Thames Upriver at the 2018 Junior Inter-Regional Regatta
941 Rowers from 12 regions donned their regional colours for the annual Junior Inter-Regional Regatta at the National Water Sports Centre, Nottingham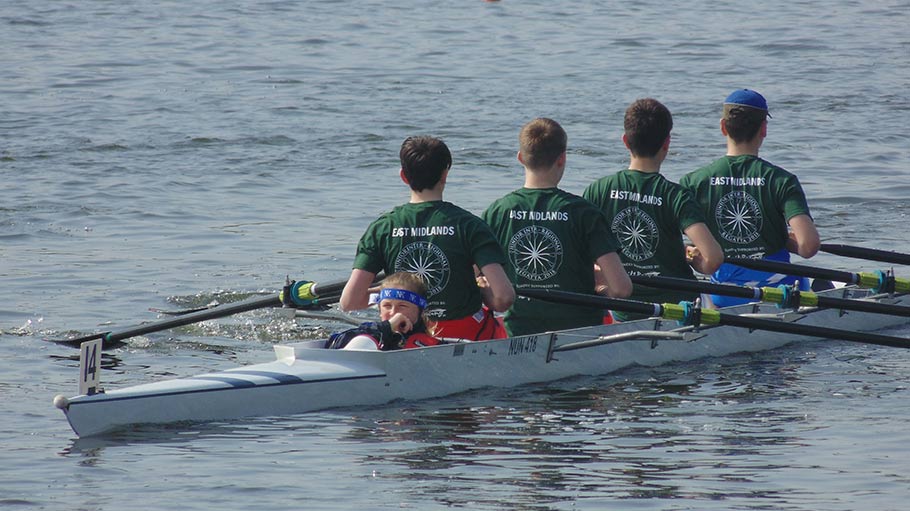 Rowers and families from 12 British Rowing regions made for a memorable day of rowing at the annual Junior Inter-Regional Regatta  (JIRR) at the National Water Sports Centre, Nottingham.
Calm waters and warm temperatures made for excellent conditions for the rowers, with their vocal supporters along the towpath treated to 96 races throughout the day. All rowers raced over 1,500m with the faster six times progressing to the A finals, with a total of 249 medals up for grabs.
There was lots of close and exciting racing with some amazing performances on the water from the talented junior rowers, including a dead heat for silver in the men's J16 2x between Lea RC (Eastern) and Northwhich RC (North West).
Thames London were looking to continue their dominance having won the men's, women's and overall trophies last year but had to settle for second.
Thames Upriver took the overall Victor Ludorum, the Di Ellis Shield, named after the late Dame Di Ellis, after amassing the highest points total on the day. Meanwhile, the Margaret Marshall Cup for the Junior Women's event was won by Thames Upriver.
The Eastern region went home with the Ann & Brian Colborne Cup after finishing ahead of Thames London.
In the eights, Henley Rowing Club (Thames Upriver) picked up the Cambridge Bowl in the women's, whilst Abingdon School BC (Thames Upriver) collected the Nigel Smith Claret Jug for the men's. Meanwhile, the Martin Humphreys Cup was won by the Northern region.
Luke Dillon, Chairman of the Junior Inter-Regional Regatta said: "Huge congratulations to everyone who has been part of today. There has been some nail-bitingly close racing and it has been fantastic to see the quality of crews selected by all the regions.
"Everyone who races at the JIRR has competed and won in order to be selected, just rowing at the event is an achievement. Thank you to all the parents, coaches and team managers who have helped to support the teams and to the officials who have run the event."
Over 119 clubs were represented at the Junior Inter-Regional Regatta, which enables junior club rowers to compete for their region. JIRR is a key step towards the England Talent Pathway which supports young, ambitious and talented rowers to achieve their dreams and row for their country.
Did you compete at the 2018 Junior Are you interested in taking your rowing to the next level? Find out more about the England Talent Pathway here.
Click here for the full 2018 Junior Inter-Regional Regatta results