Quality racing at the 2018 Vets Head of the River
The Vesta Veterans' Head of the River Race took place on Sunday 25 March, racing from Mortlake to Putney on a calm River Thames. Joanne Harris reports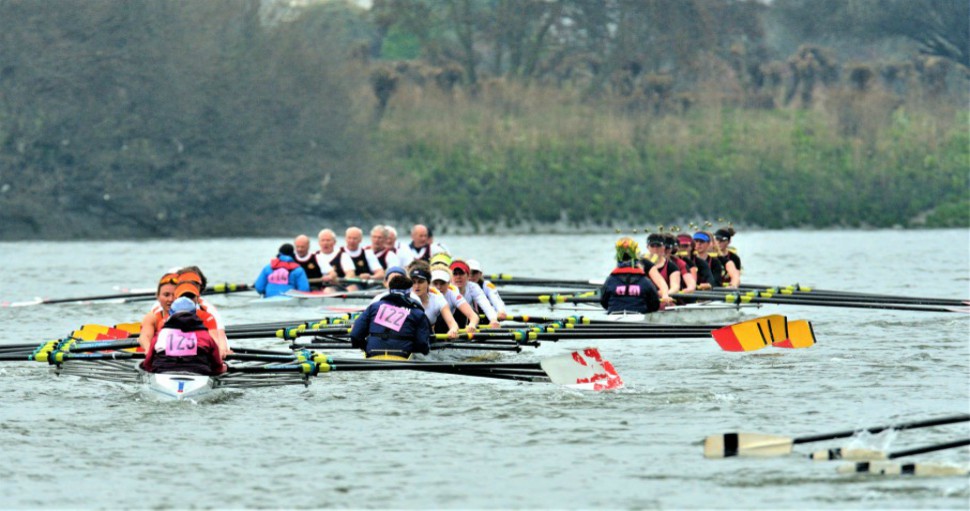 The day after the Boat Race, the Tideway played host to over 200 eights and quads at the annual Vets Head. Molesey BC's masters B eight, including several former internationals, proved they were the fastest crew on the Thames on Sunday as they pipped a Thames RC masters A boat of Henley Royal Regatta winners to the headship in just under 18 minutes.
A masters B composite from several Tideway clubs finished an impressive 49th overall, the quickest women's crew of the day ahead of Agecroft RC's masters A boat.
Quintin BC's Rebekah Edgar, at bow, said afterwards: "Vets Head started as a bonus race for most of us towards the end of our senior career, but now we are all semi-retired it's a great season focus for us with a mix of a fun atmosphere and competitive racing."
Exeter RC won the mixed eight A-C pennant and French club Aviron Toulousain's masters D crew was the fastest foreign entrant.
It's a great season focus for us with a fun atmosphere and competitive racing
Many eyes were on Tideway Scullers' masters B crew, featuring Tour de France winner and five-time Olympic cycling champion Sir Bradley Wiggins in his first competitive rowing race. The crew finished third overall.
Race chairman Jim Harlow said he was pleased with the event's continued success, which introduced quadruple sculls for the first time.
"It looks like there's a gap in the year; a lot of masters row in quads and there's no races for them right now. It's in for good, it's not a one-off," he said.
A masters B composite from Star Club, Peterborough City RC, Leicester RC and Upper Thames RC were the fastest men's quad in an adjusted time of 19.24, with a masters C crew from Eton Excelsior RC winning the women's quads pennant in an adjusted time of 21.28.
For full results click here.