Victoria Taylor's Road to BRIC
Veteran indoor rower Victoria Taylor of team ESPRIT reflects on her four-year-long journey to the British Rowing Indoor Championships, presented by Visit Sarasota County.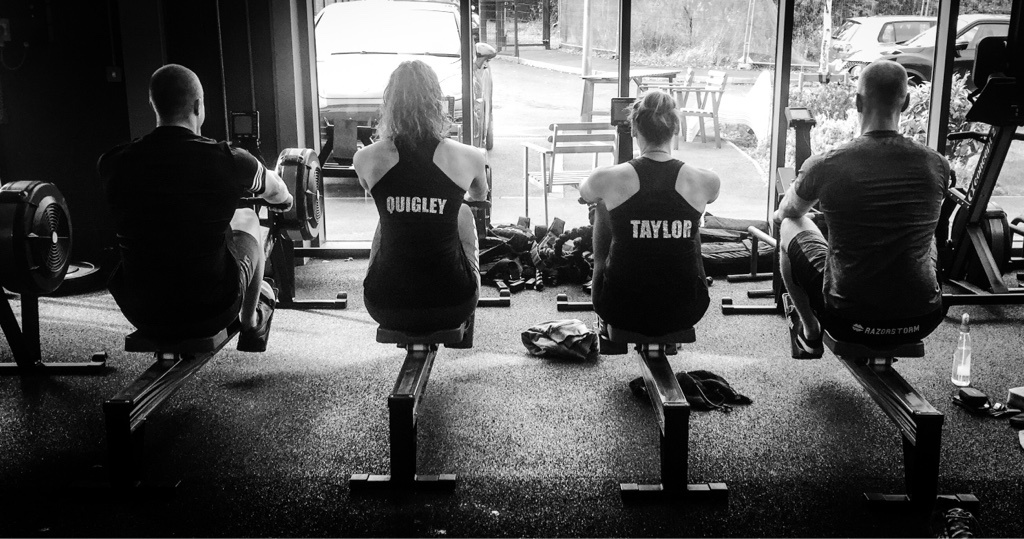 I can't believe how quick this annual pilgrimage comes round each year. This is my fourth Road to BRIC and the journey has been slightly different every time. It's almost become more of a marker for Christmas than taking my kids to Santa's Grotto.
BRIC February 2015 was my first ever competition – like, literally the first event I've EVER competed in outside of school sports. I never considered myself to be 'sporty' due to a lack of self-confidence which was a huge barrier that kept me from pursuing the things I had been good at when I was younger (netball and athletics). I entered nonetheless having done no specific training, inspired by two athletes who offered an indoor rowing workshop at my gym. They told me I had a natural talent…not something you hear often as a 6ft 1 female with a preference for weightlifting but definitely a compliment you hold on to! I crammed in some relatively relaxed training three times a week for five weeks and then managed a spectacular fly and die 2km on the day securing 5th place. I'd travelled with friends as a way of making sure I turned up and remember wanting to be in and out so didn't hang around to fully experience what the day had to offer. I'd done what I came to do and, at the time, that was all my confidence would allow. I said a brief hello to my online teammates then left.
Given that 5th place felt a pretty good reward, all things considered, and given how much I'd enjoyed the day, with the encouragement of the people I conversed with in the online community I entered again when the event was rerun later that year. This time, I felt slightly better prepared having carried on my training through the summer months and benefited from a structured training plan offered by the online team I was a member of at the time. It's true what they say, 'consistency is key'. December 2015 was a great day, the organisation of the event and the atmosphere in the velodrome was a leap ahead of that which I'd experienced earlier in the year. I had the support of my team, the new friends I'd made in the online community and it felt like an exciting time to be a part of this sport. I had a real sense that indoor rowing was growing in terms of the level of interest. This was demonstrated by the commitment and determination of the athletes who raced, and the enthusiasm of the crowd. I'm proud to say I came away with a gold in the 2km and the 500m. It was a massive motivator to progress in my training and a real validation of the work I'd put in. This was the first BRIC where I hung around and enjoyed the experience to it's fullest…and we're talking till roughly 2 am after a get together at a venue nearby with my teammates.

Entries for BRIC 2017 are open until 29 November at midday, don't miss out on your chance to compete in the fast and furious 500m sprint or the 2,000m endurance race, enter here.
BRIC 2016 had a different focus for me. My training in the run-up to the competition had been blighted by a minor heart condition that had resulted in surgery. I hadn't been able to apply myself in the same way as I had in 2015 with the same level of focus but had maintained my passion for rowing. The competition in my age and weight category had improved significantly (yet further confirmation that interest was growing) and I really wanted to race alongside some fast athletes. Rather than be 'in it to win it ' I decided there was value in participating regardless. I hadn't won the first time I'd entered, not winning wouldn't kill me, in fact participating regardless would be great race practice as well as giving me a good opportunity to challenge my fear of failure AND I would get to see my rowing buddies. I actually don't remember where I placed…I think it was 5th?!, it was really not the focus of taking part that day. The bigger feature was most definitely the social aspect. BRIC 2016 had a real buzz about it, the organisation was slick, the DJ was awesome and the effort put into making it an 'experience' rather than just an event was noticeable. Dry ice, big screens and lighting effects helped massively with that. We met in the pub afterwards as a larger group this time, team members from various teams within the community. Our 'Christmas Social' growing seemingly in line with the growth of the event itself!
My circumstances both personally and professionally have changed massively in the last 12 months. I'm now a single working parent with a demanding job (which I love) that involves a significant commute.  Back in April I also founded and now Captain my own online indoor rowing team (ESPRIT). This has been a huge positive in terms of keeping me motivated to row five times a week despite the demands on my time. This year I'm repping my team. Bringing a gang to BRIC 2017 and supporting them in their individual endeavours. Training is going well and I am following our team programme which does focus on the 2km for BRIC so we'll see. I will admit it's my favourite place to race a 2km mainly due to the size of the velodrome (I prefer larger venues where I feel lost in a sea of athletes) and the crowd. The relay is my focus this year though, I'm really looking forward to going hell for leather with a bunch of teammates at the end of what I hope will be very enjoyable days spectating. And then, of course, there's the get-together, who could forget the Christmas get together?