Glistening success at the first ever British Rowing Offshore Championships
Two dramatic sunrises set the scene for a weekend of great coastal rowing at the British Rowing Offshore Championships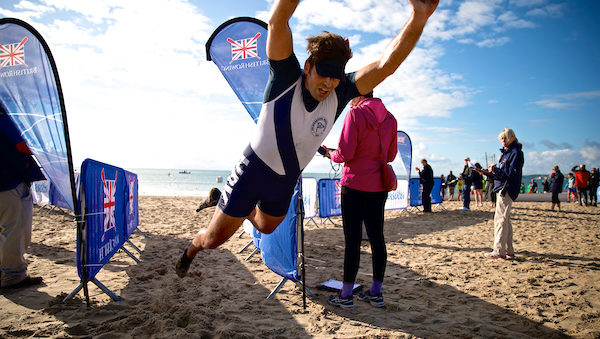 The first ever British Rowing Offshore Championships, presented by Visit Sarasota County took place this weekend at Sandbanks Beach, Poole.
On Saturday, rowers in the men's single scull heats were the first to test out the new course as they raced over 4km in a bid to qualify for Sunday's final with the top four from each of the two heats going through. Up next was the first final of the championships that saw a field of six crews in the women's double scull battle it out over 6km, navigating five turning buoys before a sprint on the beach to cross the finish line.
Jersey Rowing Club claimed gold, with Welsh Sea Rowing Association in silver and Runcorn Rowing Club in bronze. The men's double scull was up next which saw some fierce racing between Jersey Rowing Club and the Welsh Sea Rowing Association. Jersey RC held their nerve battling the wind and rain to cross the line first, followed by Welsh Sea Rowing Association in silver and Mayflower Offshore Rowing Club in bronze. The last final of the day saw the women's single sculls race out to sea.
A brilliant row by Fiona Carmichael of Mayflower Offshore Rowing Club saw her claim gold in a time of 32:50.6 ahead of Helsingborgs Roddklubb (SWE) in silver and Arklow Rowing Club (IRE) in bronze.
Sue Sljvic from Runcorn Rowing Club who claimed bronze in the women's double sculls in her first ever coastal rowing event said: "That was my first ever row in a coastal boat and it was brilliant. I normally row on a wide canal so it was great to row out with no banks to run into." Her doubles partner Clare Ng added: "I am totally buzzing, that was absolutely amazing. I can't wait to do it again."
>>> Download the full results here
On Sunday, racing got underway at 7:30am with the women's quads. A dynamic start from the Leander Club and Tideway Scullers composite crew saw them take an early lead and maintain it throughout the race, taking the gold medal in a time of 30:48.0. Exmouth Rowing Club came in to take silver and Birmingham Rowing Club snapped up the bronze. The penultimate race was the men's single scull.
Eight rowers raced hard from the start line and navigated their way around the 6km course which saw Helsingborgs Roddklubb claim gold, VK Slavia Praha RC take the silver and Falmouth Pilot Gig Club come away with bronze. The final race of the regatta was the closest of them all as the open coastal quad of Tyrian Club (A) edged out Itchen Imperial on the beach sprint finish to claim gold with Mayflower Offshore Rowing Club taking bronze.
World Champion Ellie Piggott and Honorary Chairman of the British Rowing Offshore Championships James Foad, who won silver with Itchen Imperial in the open coastal quad presented the final medals of the regatta to wrap-up the inaugural event.
After picking up his silver medal, Honorary Chairman James Foad said: "It was a really good event, I really enjoyed it. It was something a bit different for us, we're used to a bit of coastal rowing but these boats are a bit more stable which is good. The starts were different, the turns and the boats are different so we learnt a lot but it was really good fun. It would be good to see even more people from our association down in Hants and Dorset as well as from other clubs across the country get involved."
Andy Crawford, Board member of British Rowing concluded the event by thanking all the volunteers and umpires who made the first ever British Rowing Offshore Championships such as huge success.
World Coastal Rowing Championships, Thonon, France
The deadline for entries for the World Coastal Championships is Wednesday, 30 August.  If you are planning to take part, please ensure that all entries have been emailed to the Executive Office, [email protected] by that date.  The office will then check and send on to the British Rowing panel for ranking before submitting to FISA by their closing date of 15 September.  The online entry forms are available here.