'I like rowing because it gets me out of the wheelchair, and that's the biggest thing for me'
Benjamin Pritchard took up Para-rowing after suffering a serious back injury in a crash during a cycling race. He tells us how he's fallen in love with the sport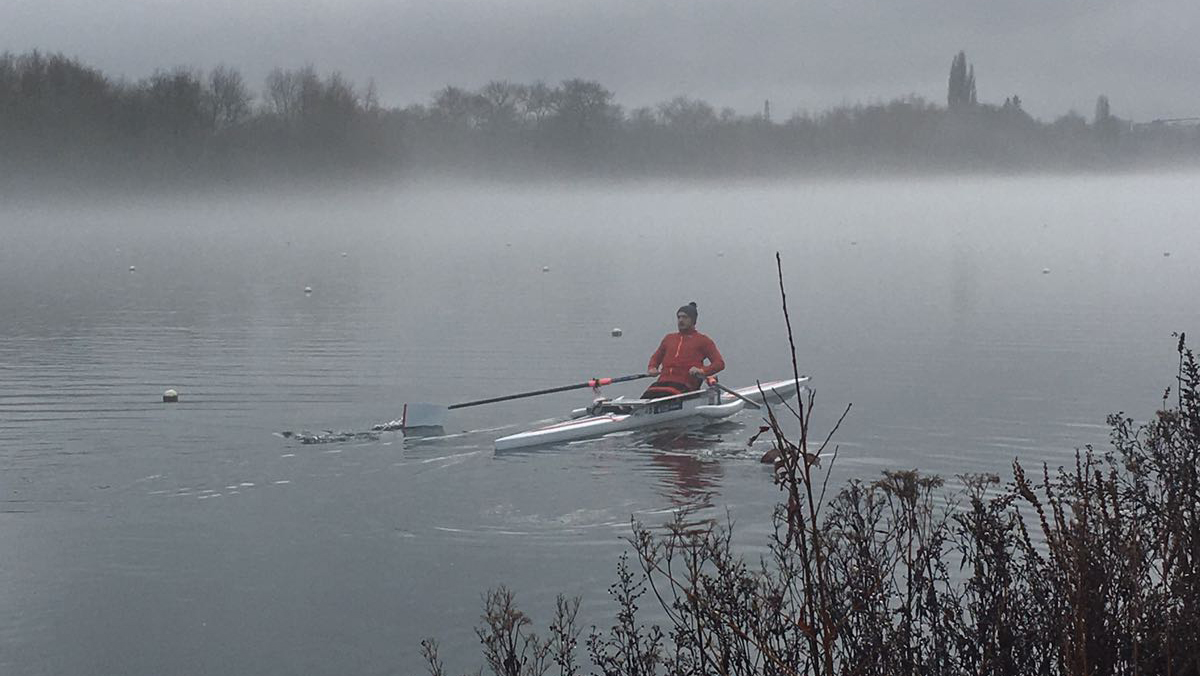 Being able to pick yourself up after a setback is a sign of a true sportsman, but for Benjamin Pritchard the setback involved taking up a whole new sport.
Before he crashed in a race in September 2016, Pritchard was rising through the domestic cycling ranks, performing strongly in time trials in particular. Before focusing on cycling, the Swansea native represented Great Britain in age-group triathlon events, competing at the European Championships and the World Triathlon Grand Final in 2013.
Months of rehabilitation for a spinal injury have ended Pritchard's hopes of riding for Spokes BPC Racing in 2017, but his time at Stoke Mandeville Hospital kick started a new love affair with rowing.
"I can't say that I loved rowing from the first time I tried it, because I hated it. But it was the fact that while I was in hospital it gave me something to compete at and I wanted to push myself," he said.
"I love the taste of iron you get in your mouth from rowing – it was very similar to what you'd get after a time trial on a bike. The main reason why I liked rowing more than other sports is that it got me out of the wheelchair, and that's the biggest thing for me.
"In all the other sports I tried I would still be in the chair, and being new to the chair I didn't like it. Rowing allows me to get out of my chair and feel more free."
"I love the taste of iron you get in your mouth from rowing – it was very similar to what you'd get after a time trial on a bike."
British Rowing's Para-rowing Talent and Development coaches visit Stoke Mandeville each month to run rowing sessions for the patients. Sport plays a key role in the rehabilitation of many patients at the hospital, but for Pritchard it was the thing that kept him motivated in his recovery.
"I remember the first time I cried after the crash," he said. "At Stoke Mandeville they give you this timetable and I could see that sport was on a Tuesday. I was really looking forward to it, being a sporty person, and I hadn't done anything for two months by that point.
"I thought if I could make it until Tuesday I would be okay. I got to Tuesday and wheeled myself to the gym, but there was a sign saying that sport had been cancelled. I was in the corridor and I just burst into tears. It broke me; it was the lowest point I had in my entire journey."
Since then, Pritchard has moved back to his home in London and continued to row with the Para-rowing Development Programme, getting out on the water and preparing to race for the first time.
"I was invited to the Para-rowing development trials. Hannah [Lawton] told me to bring on-water kit and indoor kit," he said. "I messaged back saying that I'd never even seen a rowing boat, let alone been on the water. But I've done nine sessions on the water now and I'm starting to get the technique, but there's lots to improve on. I love the process of learning a new sport."
Want to get involved in Para-rowing? No previous rowing experience is needed, just a determination to get stuck in and challenge yourself. Click here for more information.