Strong GB Team begins competing in Zagreb
The squad of 127 rowers and 19 coaches has arrived in Zagreb, Croatia ready to compete at the European Universities Games.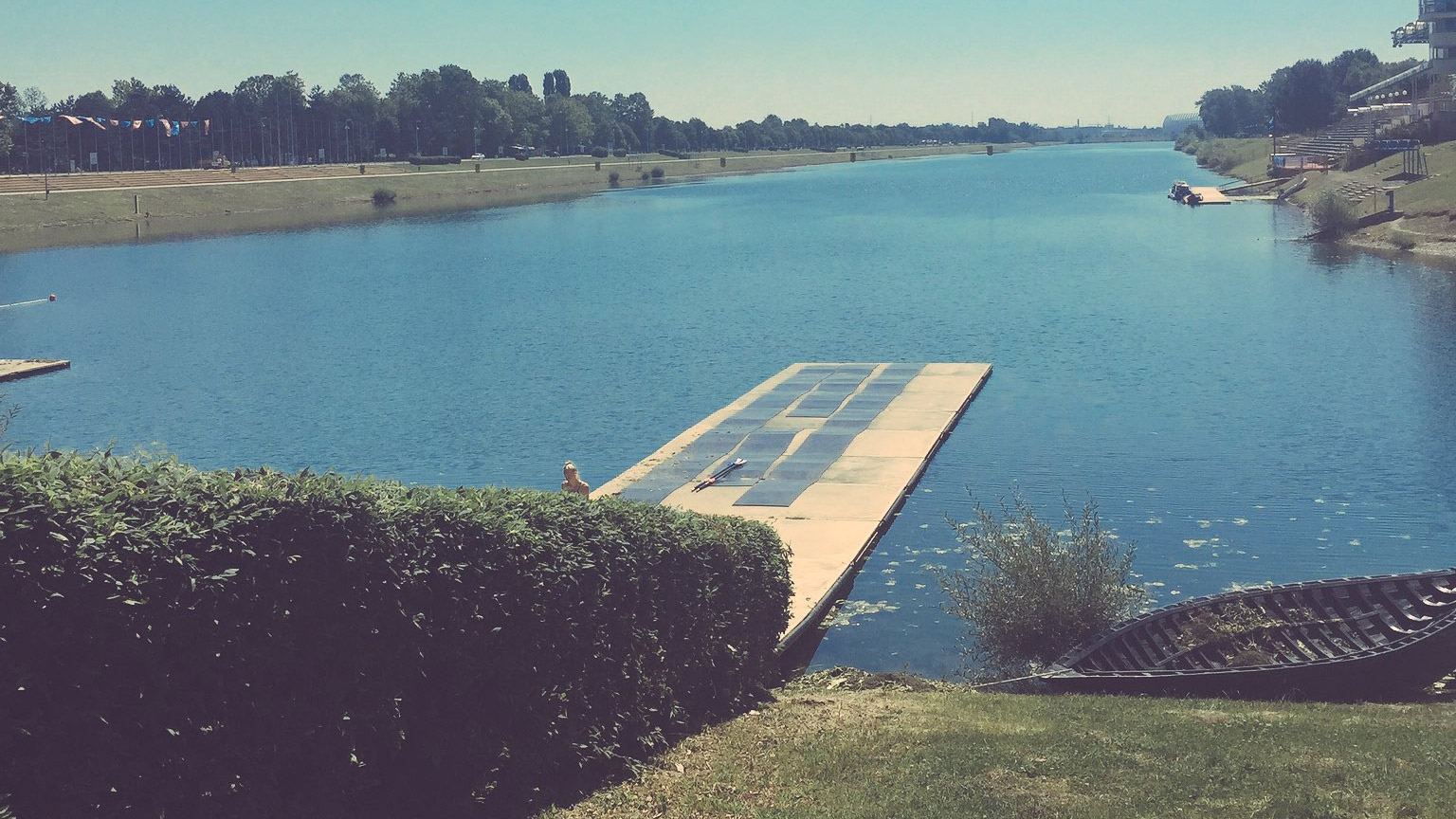 The composite team, which is from 15 different Universities, is the largest British team since 2010, the year in which GB last won the prestigious EUSA Salver.
Commenting on the squad, Team Manager James Lee said "I am pleased that we have got a very strong squad here, but we are not the only ones. We are expecting there to be some excellent racing."
Newcastle have the most athletes in the team and are being represented in the women's eight, men's four, lightweight men's four and lightweight men's quad. Newcastle have won the men's four at the last two EUSA Rowing Championships. The crew which includes William New and James Robson, who made the final of the Prince Albert Challenge Cup at this year's Henley Royal Regatta (HRR) will be looking to defend that title.
It was Edinburgh, however, who beat Newcastle in the HRR final and two of that crew are competing at the Games. James Temple will race in the lightweight single with Kiernen Tierney in the coxless pair alongside Sebastien Glen. That event will also feature British opposition with a strong pairing of Patrick Boomer and Charles Middleton from University of London.
Oxford Brookes will look to maintain their title as men's eight champions with their crew which is to be stroked by James Stanhope who stroked their crew to a Henley Royal victory last week. Brookes also have a women's eight competing at the Games who have had a solid season following their gold at the British Universities and College Sport (BUCS) Regatta in May.
Brookes are one of three British women's eights at the Regatta with Cambridge and Newcastle also racing. The Cambridge crew features half of the 2016 Blue Boat and also Ellie Hopgood and Imogen Grant who won Elite Lightweight pairs at Henley Women's Regatta who will also race the pair at the EUSA Games.
The Newcastle women's eight are looking to follow-up their win in the academic eight at Henley Women's Regatta this season.
Full details of the 2016 European Universities Games can be seen at: http://eug2016.com/
Progress of the GB Universities Team can be followed via Twitter @GBUniversities.
GB Universities Rowing Team 2016
University of Bath
M2x Luke Gwenter, Tom Mapp.
University of Bristol
LW4x Isabella Burdess, Charlotte Rogers, Emma Perkins, Teuntje Tissen.
University of Cambridge
W8+ Nicole Abernethy (Cox), Rachel Elwood, Myriam Goudet, Imogen Grant, Ellie Hopgood, Fiona Macklin, Daphne Martschenko, Hannah Roberts, Alexandra Wood,
W2- Hannah Roberts, Myriam Goudet,
W2- Imogen Grant, Ellie Hopgood.
Durham University
W2x Ros Wilson, Hanna Inntjore,
W4x Grabriella Hatfield, Helena Lang, Megan Connolly, Amy Polglase,
LM1x Stephen Griffiths,
LM4x Alex Fisher, Leon Langmead James Vogel, Ben Weston,
M4x Neil Connel, Ben Evans, Matthew Grozier, Matthew Roe,
M4- Andrew Aitchison, Max Robinson, Will Toogood, Dan Gorenkin.
University of Edinburgh
LW2x Emily Bissett, Laura McDonald,
W4x Emily Bowie, Mairi Buchan, Lauren Gray, Anne Rodahl,
W4- Flora Blake-Parsons, Amelia Donovan, Jenny Stevenson, Amy White,
LM1x James Temple,
M2- Kieren Tierney, Sebastien Glen.
University of Glasgow
LW1x Emma McDonald.
University of London
M2- Patrick Boomer, Charles Middleton.
Loughborough University
W1x Caitlin Boyland,
W2x Annie Campbell-Orde, Fleur Tavare,
M4x Alexander Evangelidis, Max Hearnden, Josh Tolley, Alex Watkins.
Newcastle University
W8+ Megan Barry, Lydia Davis, Natasha Harris-White, Grace Hockenhull, Imogen Leigh, Matilda Martin, Georgina Mulraine, Kelsey Stoddart, Charlotte Hill (cox),
LM4x Thomas Huthinson, Rory Kempson, Jack Smith, James Stevenson,
LM4- Joe Anderson, Tom Mountain, George Patrick, Barnaby Stroud-Turp,
M4- Thomas James, Alex Slater, William New, James Robson.
University of Nottingham
W4- Eleanor Ball, Jessica Eastwood, Freya George, Amber Hickson,
LM4- James Budenburg, Adam Giambrone, Thomas Glover, Robert Muscroft.
Nottingham Trent University
LM4x Hamish Bott, Chris Dove, Sam Geller, Jack McGarva.
University of Oxford
W1x Flo Pickles,
LW4x Laure Bonfils, Danielle Edmunds, Jowita Mieszkowska, Anna Robotham.
Oxford Brookes University
W8+ Jessica Brown, Susie Dear, Christie Duff, Jo Gannon, Emily Herridge, Grace Macdonald, Mirella Mcgee, Danielle Shrosbree, Alice McWilliam (cox),
LM2x Oliver Hayward, Oliver Morgan,
M8+ Charlie Clarke (cox), George Eden, Will Hall, Richard Hawkins, Matthew Hnatiw, Richard Hume, Ben Murphy, James Stanhope, Henry Swarbrick.
Queen's University Belfast
M2x Philip Doyle, Tiernan Oliver
University of Reading
LW2x Francessca Bratt, Amy Fuller,
LW4x Francessca Bratt, Amy Fuller, Katy Ratcliffe, Anna Smart,
M1x Sam Twine,
M2x Oliver Dix, Dom Tope,
LM2x Franklin Hamilton, Simon Williamson.
Management Team and Coaches
James Lee – Team Manager
Katy Young – Assistant Team Manager
Fiona Rennie – Finance Assistant
Matt Evans – Support Team
Peter Jones – Support Team
Patrick Hudson – Driver
Brendan Gliddon – Driver
Coaches
Ed Bloomfield – Bristol
Nick Acock – Cambridge
Patrick Ryan – Cambridge
Laura Richardson – Durham
Ian Shore – Durham
Tom Young – Edinburgh
Iain Docwra – Glasgow
Nicola Spencer – Loughborough
Dez Atkins – Loughborough
Alex Leigh – Newcastle
Ciro Prisco – Newcastle
John McKirdy – Nottingham
David O'Sullivan – Nottingham
Ashley Hewitt – Nottingham Trent
Chris O'Hara – Oxford (Lightweights)
Ali Williams – Oxford
Allan French – Oxford Brookes
Will Rand – Reading
Sean Casey – Reading