Six more GB crews through to European finals
Stewart Innes and Alan Sinclair's men's pair semi-final win was one of the highlights today at the European Championships.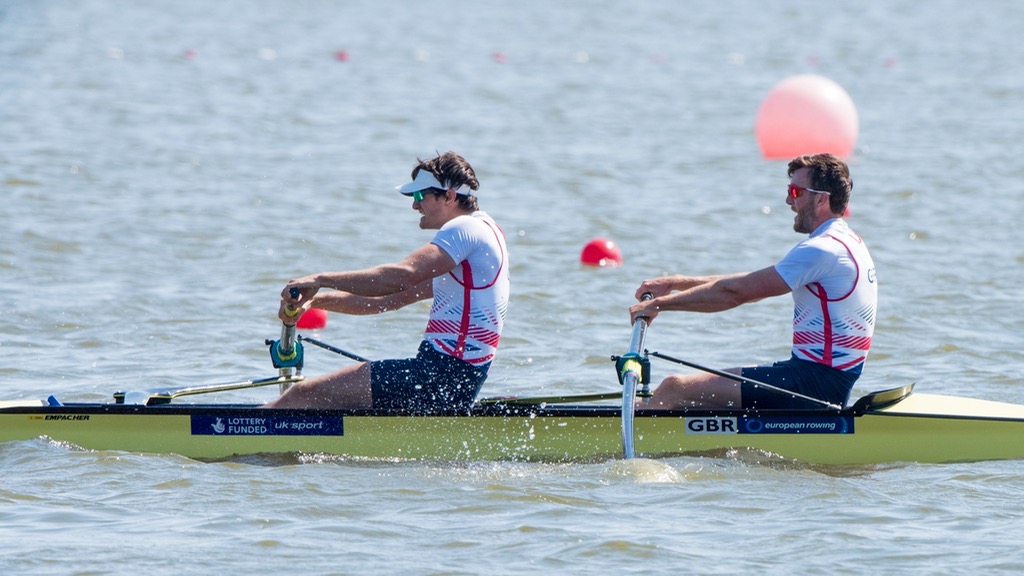 Their perfectly-paced race on Brandenburg's breezy Beetzee made them one of six GB Rowing Team crews to make tomorrow's finals and join the seven crews that had already qualified from yesterday's racing.
Innes said:  "We had a good start and then the middle bit got a bit bouncy but we came through it well – job done and we're looking forward to the final".
John Collins and Jonny Walton came through strongly in the second half of their open men's double semi today to take a third place and move through in a strong field.
Collins said:  "We looked at both semi-finals and thought we had the toughest one but we know we have to race the best at some point. We had quite a strong first half in yesterday's heats but needed to be a bit calmer in these conditions and I felt we pitched it a lot better today".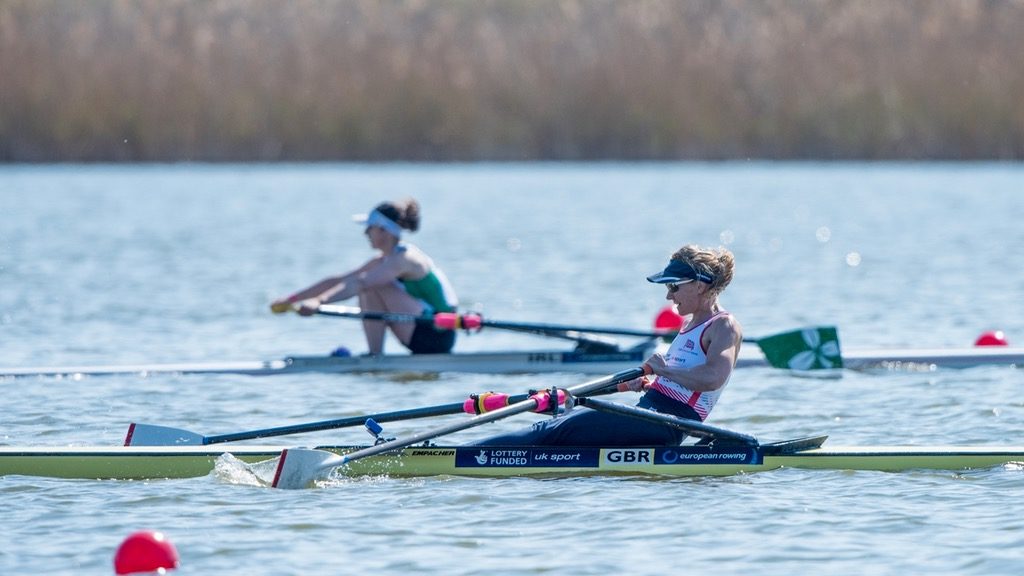 Imogen Walsh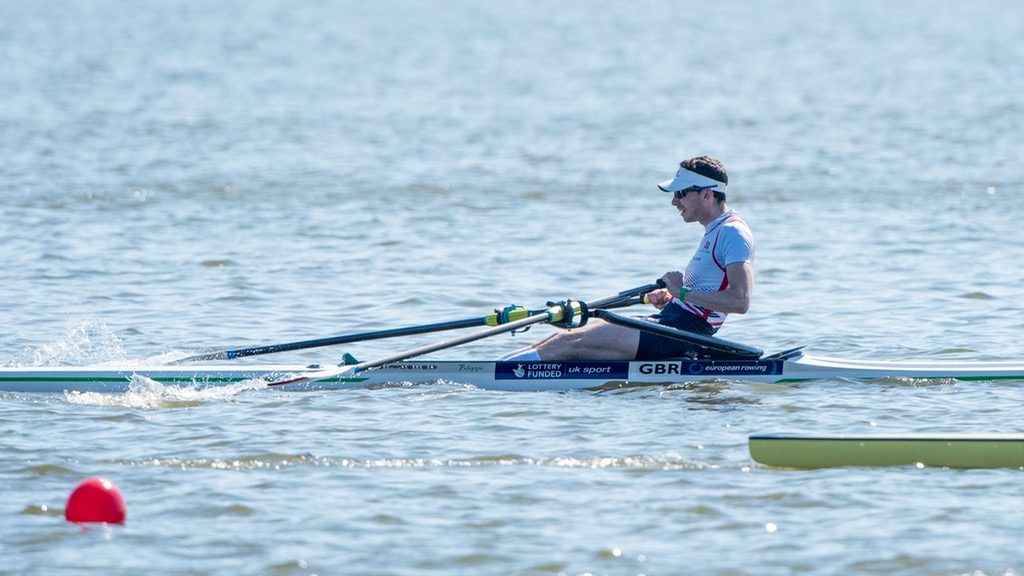 Jamie Kirkwood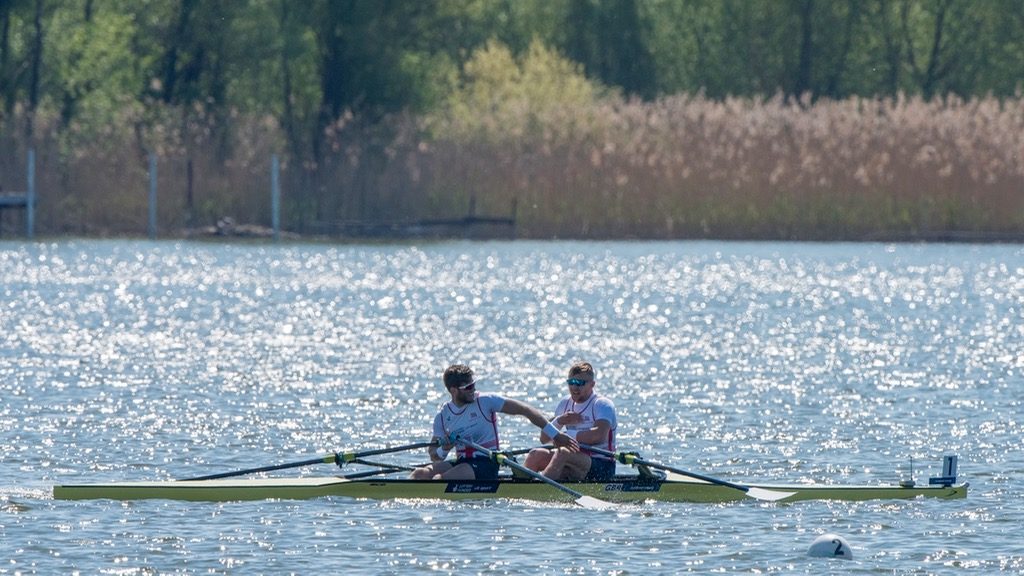 Jonny Walton and John Collins
Both GB open quads went through – the men in second place and the women in third in their repechages.  As an inexperienced crew the women did well in the worsening wind and the men were closing on Estonia, who won, in the closing stages.
Jamie Kirkwood grabbed third in a dramatically close finish to his lightweight men's single semi and Imogen Walsh was second in her repechage to book a place tomorrow.
Meanwhile, It was a difficult day for two 2012 medallists.  Olympic champion Kat Copeland and her partner Charlotte Taylor missed out on a finals spot coming fourth in their light double semi.  Alan Campbell looked out of sorts and finished fifth in his open men's single.
Conversely fourth place was a significant achievement for 21 year-old emerging talent Mathilda Hodgkins-Byrne in the open women's single at her first regatta at this level in this boat.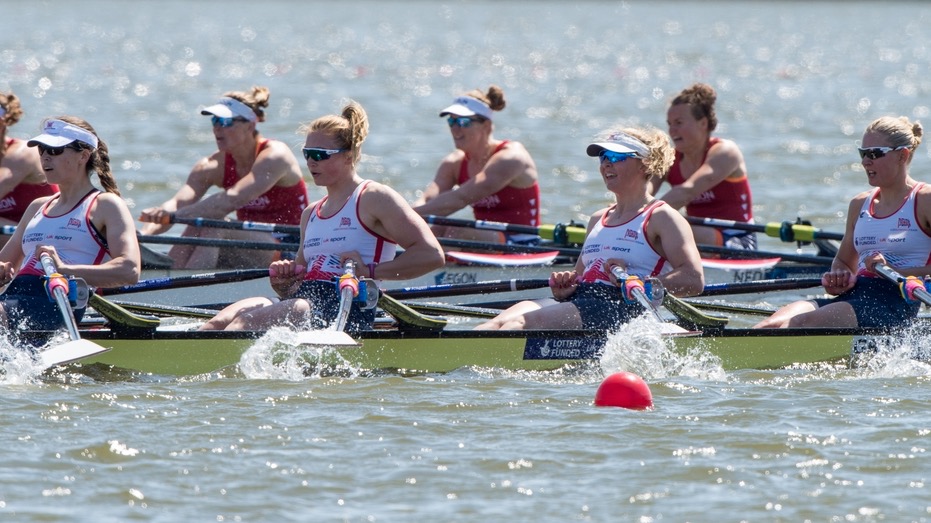 End of the Rio Road for W4x. Copyright Intersport Images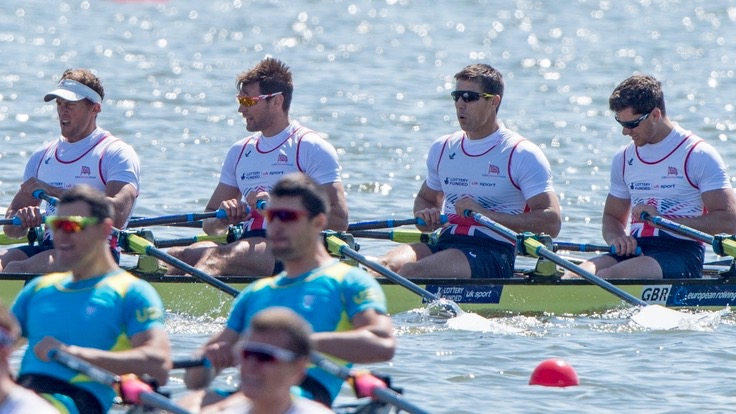 The men's quad
The 2016 GB men's four of Alex Gregory, George Nash, Mohamed Sbihi and Constantine Louloudis, after an eye-catching heats win,  are amongst the seven already-qualified crews.  Despite their comfortable qualification all four feel there is more to be done.
Gregory said:  "For me it feels like it's been a long winter of training.  There has been a lot riding on trials and getting selected.  So, to finally get a run-out competitively in the heats here was exciting.  It felt great.
"But we have a few things to adjust in our race place and we are looking forward to putting them right tomorrow.  The conditions here are not easy so it's a test of boatmanship was well as our first international races as a crew".
Sbihi added:  "Looking ahead to the final, we are not looking at who we are racing but how we are going to improve from yesterday".
The men's eight were pleased with their heats win ahead of Poland but are not resting on their laurels.
Scott Durant said:  "We obviously want to win tomorrow but this is the first regatta of the season, so it's about building on what we have done so far and working towards the goal of Rio. It's all part of the learning curve".
The lightweight men's four also impressed in qualifying yesterday and Peter Chambers said: "It's been going well for us over the last few weeks, we've got our act together and have been moving the four along nicely. We've been setting a good high standard and hopefully we can show that tomorrow".
Helen Glover and Heather Stanning will kick off the Olympic boat class action tomorrow for GB as favourites to win the women's pair after a blistering heat.  They race at 09.18 UK time in a finals session which has been brought forward by one hour due to predicted strengthening wind conditions later in the day.  The session starts at 07.00 with the B finals. A Finals start at 08.33 and finish at 12.33.
Follow live updates on Twitter – @GBRowingTeam.
GB ROWERS TO RACE EURO FINALS WEARING BLACK RIBBONS
In tomorrow's European Championships finals, members of the GB Rowing Team will race wearing black ribbons on their vests in memory of the late Ron Needs who sadly died a few days ago.
Ron had been a GB coach since the 1970s, coaching many medal boats and he continued to work with the team until a couple of years ago.
He coached the current GB women's pair coach Robin Williams to a lightweight world medal in the 1970s and coached alongside current GB Rowing Team Performance Director Sir David Tanner in his days as an international coach.
Ron also coached the first GB crew to win a world gold since the 1940s when they won lightweight eight won in Amsterdam in 1977.
Katherine Grainger said:  "Ron was my first GB Rowing coach and remained a wise counsel and friend to me for 20 years.  His passion for rowing was infectious and his knowledge and understanding of the sport immense".
For reaction to this report and interview requests on the day please contact the GB Rowing Team press office on site:  [email protected] or 07831 755351 or 07765 071683.