UPDATED: World Cup report – Gold for lightweight men's pair
Glover and Stanning dominate semi on a day when men's doubles also shine on the Rotsee.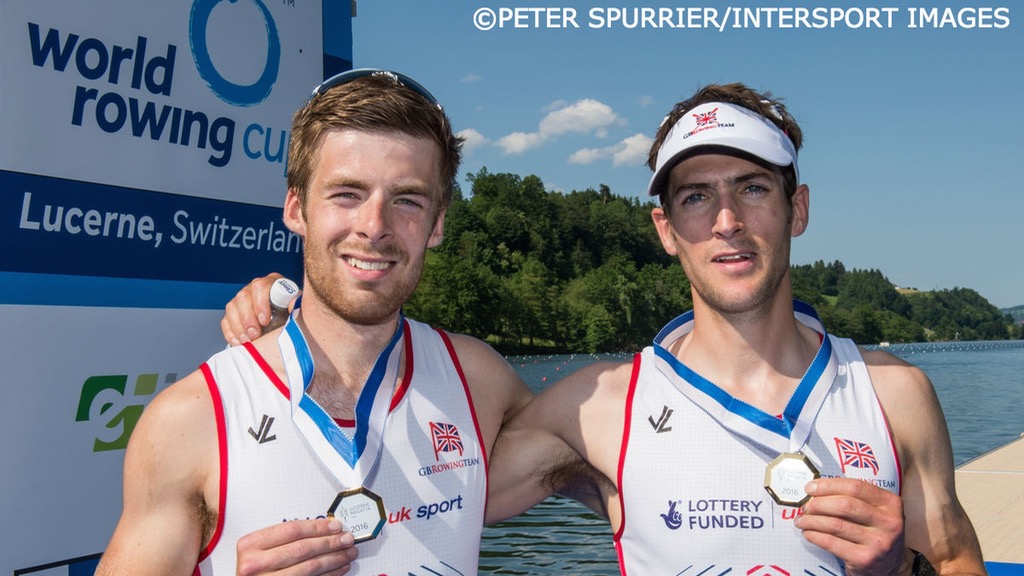 Joel Cassells and Sam Scrimgeour today added a world cup title to the European gold they won earlier this month in the lightweight men's pair.
The Coleraine-Kirriemuir combination took victory in style on Switzerland's Rotsee lake, leading from the outset.  Behind them, for the early part of the race, the Italians and Danes battled for second and third in an international class in which Great Britain is also the reigning World Champion nation.
Whilst GB repelled all attacks to win in 6:31.03, the French came flying through to take silver with the Italians, who had looked a danger with 500m to go, in bronze.
"It's my first time here in Lucerne and it was always going to be an exciting experience, racing at the world's best rowing venue", said Cassells. "We've got a good partnership going so far – we haven't lost a race yet, so hopefully we can keep that record up. I really enjoy racing in the pair and Sam is a master at it, it's great to row with him."
"I don't think we went out any harder than normal", said Scrimgeour.  "One of our strengths is the start and it's better when we are out front, we can relax into it".
Tomorrow GB has 11 boats in the finals of the Olympic classes, nine having qualified through earlier rounds with the men's and women's eights having participated in seeding races.
Racing in the A finals starts at 09.18 BST with GB crews also involved in two B finals earlier in the morning.
BBC coverage begins live online at 9.15am  and then transfers to BBC Two television from 12.30-14.30.
SCROLL DOWN FOR MORE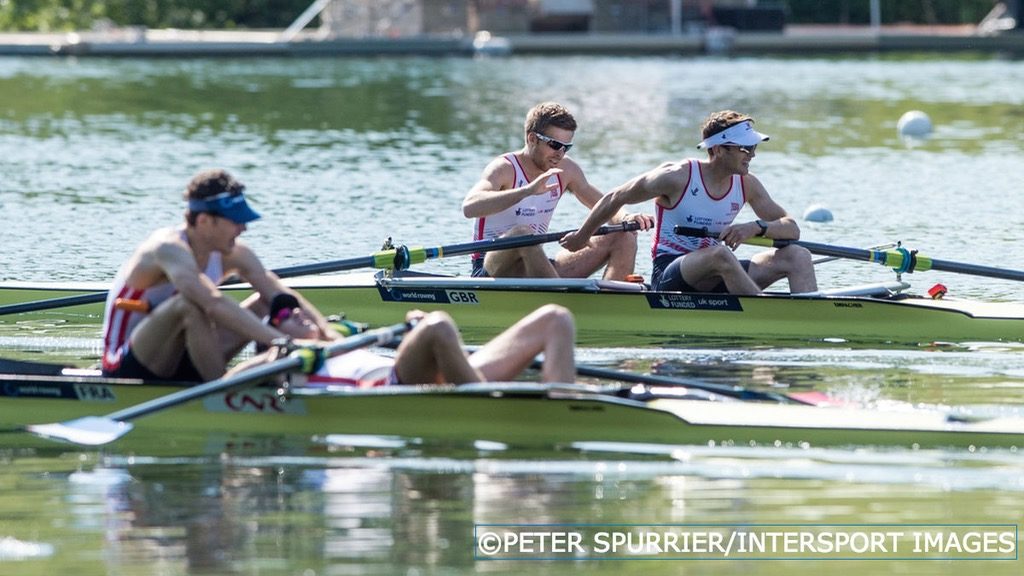 Joel Cassells and Sam Scrimgeour celebrate their victory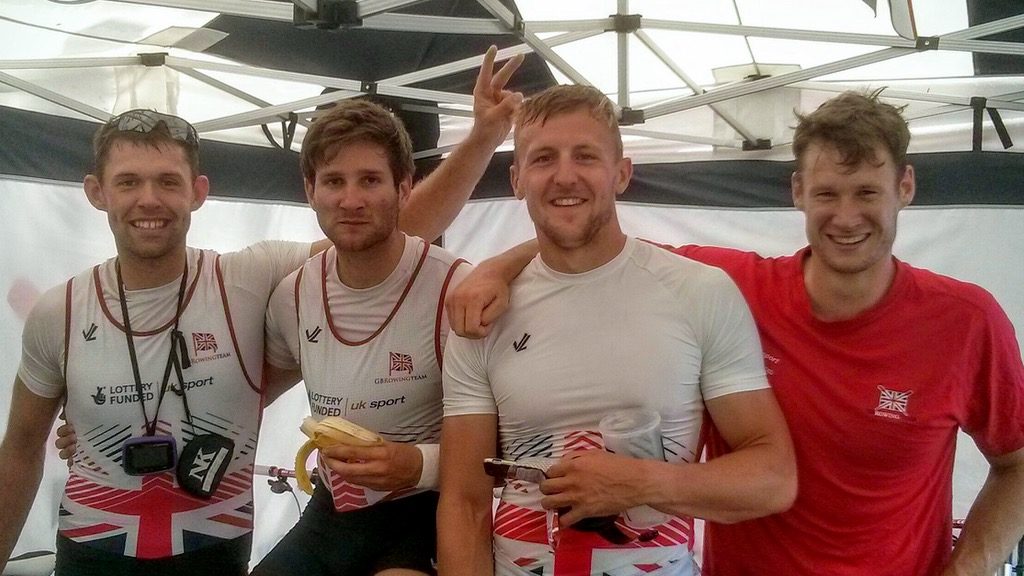 Jack Beaumont, Jonny Walton, John Collins and Nick Middleton are all through to the men's double final
Helen Glover and Heather Stanning never take anything for granted but felt they had "stepped on" in their world cup semi-final which they won convincingly in the Swiss rain this afternoon.
"Today was a step on. We always tend to improve through the regatta", said Glover.
"I'm looking forward to tomorrow's final. It will be tough but we're definitely looking forward to it", added Stanning.
But theirs was not the most eye-catching GB performance of the day as GB pulled off an exciting one-two in the repechage of the open men's double scull.
Jonny Walton and John Collins won the race in style in GBR 1, leading throughout. Behind them Nick Middleton and Jack Beaumont, in GBR 2, were lying third and seemingly out of a qualifying slot until a startling final 200m surge took them past the Australians by a sliver and into the final.
"We had a really good race in today's repechage.  We got out strongly and got in control of the race and put our stamp on it. It was really pleasing to get that dominance", said Collins.
Walton said:  "Tomorrow will be the first time that we won't be racing a final from an outside lane. We hope to demonstrate what we've been doing in training".
"I think we timed it perfectly and just wanted to make everyone excited", said Beaumont with his trademark humour afterwards.
"It was a real crowd pleaser and it's nice to be in the A Final", added Middleton.
Beaumont is back racing this season after a serious training accident last summer after which he needed extensive treatment for a back injury in Portugal and back at Reading's Berkshire Independent Hospital before mounting a remarkable recovery.
Alan Campbell showed significant improvement on his European performance to each the final.  "I did it by the skin of my teeth by just two tenths of a second in third place from the Belarusian. We've had a great day for GB scullers".
In the final race of the afternoon session, the GB lightweight men's double scull of Richard Chambers and Will Fletcher became the tenth GB crew through to the finals from 14 entered. They were beaten by Norway but showed they have the pace to challenge tomorrow.
Brianna Stubbs and Ellie Piggott, in the light women's double, put in a strong first half but paid for that early pace, slipping to fifth and will race a B final, as will the second-ranked GB open women's pair who were sixth in today's semis.
For reaction to this report and interview requests please contact the GB Rowing Team press office on site:  [email protected] or 07831 755351 or (from Saturday) 07765 071683
All times of racing are subject to the weather and members of the media should check for updates with the GB Rowing Team press officer via [email protected]
Any updates to schedules will be posted on twitter:  @GBRowingTeam and on Facebook:  www.facebook.com/gbrowingteam