Ron Needs (1925 – 2016)
A lifetime of contribution to the sport he loved.
GB Coach from 1973-2006, coached at four Olympic Games, 10 Boat Race wins with Cambridge women.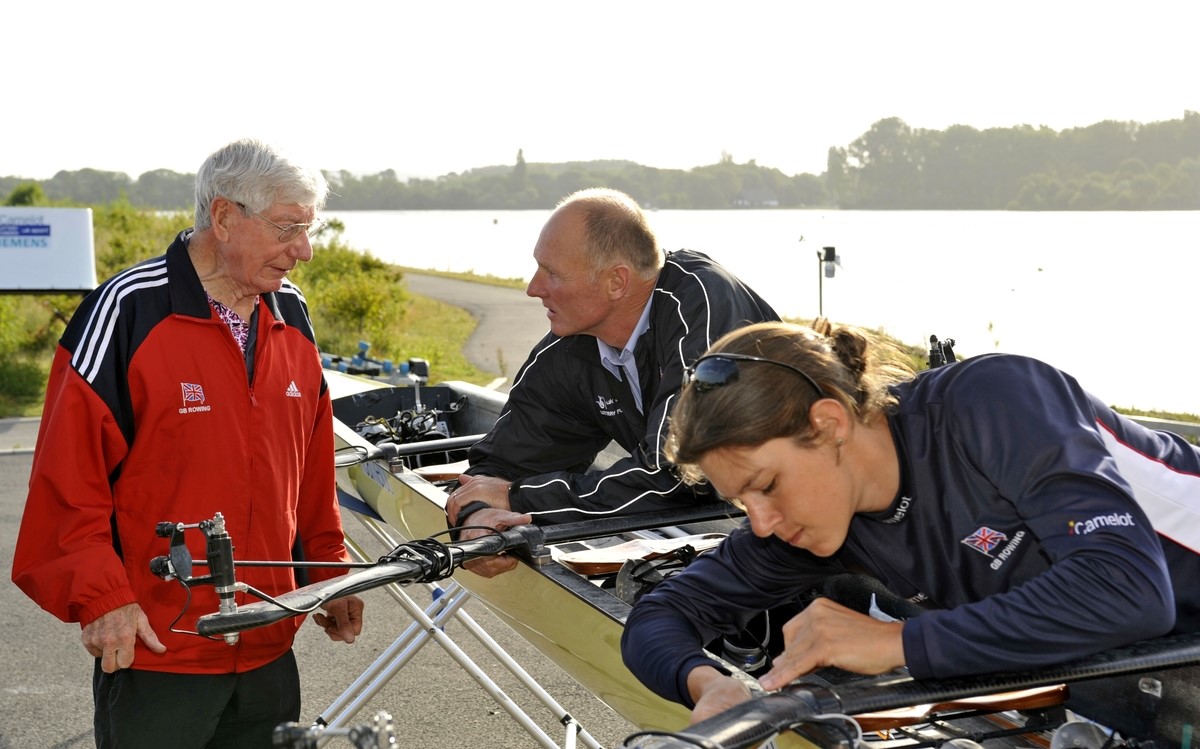 More recent recruits to the GB Rowing Team will remember Ron Needs fondly as the white-haired and softly-spoken gentleman who sat out in all weathers at Caversham with a video camera, filmed their sessions and then analysed them.
This input, as the older recruits and many leading British Rowing staff members will know, is the tip of a very big iceberg of contribution to the sport that he loved.
As far back as 1948 Ron's passion was evident when he rode his bike daily from Chiswick to Henley to watch the 1948 Olympics. He served in the Army from 1943 – 1947.
His passion for rowing meant that even as a top executive with Beechams (now GSK) he was known within the company for working overseas and then flying back to coach a crew and then flying back out again – sometimes on Concorde.
From rowing at school and then "not seriously" at the London School of Economics, Ron became a coach and coached at both Quintin and Kingston – who met famously in the 1960s at Henley Royal Regatta in the Wyfold Challenge Cup.
In 1969, Ron was put onto the national selection board and coached a GB coxed four in the early 1970s. He also became a Steward of Henley Royal Regatta.
In the late 1970s and 1980s he made a step change in lightweight rowing when based at London Rowing Club as a coach.  His involvement resulted in World gold and silver medals.
"I remember that time well", said Sir David Tanner, British Rowing's Performance Director. "Ron was coaching the lightweights and I was contributing to the open weights by coaching the men's four. Ron was a great guy and a very nice man. He was very good to work with".
In 1981, Ron moved to coaching the national women's squad before returning to the lightweight men in 1984. By 1989, just retired from his role at Beecham's, he began coaching the Cambridge women alongside Roger Silk and they remained close allies from that day on. Ron brought with him advanced levels of technical and physiological training, sports psychology as well as his now legendary video analysis sessions – then a luxury and rarity. Ron wrote the training programmes for the coaching team and was instrumental in moving the club up to a new level. Over the following 11 years CUWBC dominated the Women's Boats Races, winning 10 races and consistently fed its athletes into the GB Rowing Team.
Annamarie Phelps said "Ron never stopped thinking about how he could better support his athletes and his immense generosity with his expertise, time and resources made him a key part of the success of women's rowing at a time when support for women's rowing was very limited. He was a coach and mentor 24/7, always willing to listen and gently guide. I will always remember him taking great delight in contrasting my (poor) sculling technique to that of Thomas Lange, the great German sculler, in between outings at Longridge."
By 1997, still coaching, Ron was involved again with the national women's squad guiding his charges to gold in the women's four in 1997 and bronze in the women's eight at the World Championships in Aiguebelette, France.
Katherine Grainger today, paid tribute to Ron's influence on her rowing career: "Ron was my first GB Rowing coach and remained a wise counsel and friend to me for 20 years. His passion for rowing was infectious and his knowledge and understanding of the sport immense.
"Ron extended that enthusiasm to his athletes and it was always patently obvious how much he cared. Not that any of us were spared from a critical comment or sharp word when needed, but his motivation was to get the best out of his athletes and any comments were carefully designed to raise us to the very high standards Ron believed we were capable of.
"Over many decades Ron helped athletes achieve their dreams and the pride he felt for his rowers was palpable right until the last days of his life. I will sorely miss his wit and wisdom, his charm and style, as will so many others. But I have absolutely no doubt his teachings and influence will live on."
The Amateur Rowing Association, now British Rowing, recognized his lifetime of support by awarding him the ARA Medal of Honour in 1982 and he later won the National Coaching Foundation's Mussabini Medal for outstanding achievements in coaching.
In 2005 Ron, now in his eighties, was still coaching with the national team as they travelled to the World Championships in Gifu, Japan. By this point in his coaching career had already played a vital role for GB at four Olympic Games.
In 2006, the national training centre opened at the Redgrave-Pinsent Rowing Lake at Caversham and Ron continued to be involved, making a daily trek from his home in Effingham and back – a round-trip of 100 miles or so.
At the time he told Mike Rosewell, rowing correspondent of The Times and the author of a feature on Ron in Rowing and Regatta magazine: "I still feel I am making some contribution to the success of the British team and that means a lot to me".
He moved to Henley in 2010 after his wife Katie had passed away the year before.
Paul Thompson, Chief Coach for Women and Lightweights, said: "Ron was the consummate gentleman, generous to a fault, and cared deeply for the rowers he came in contact with. He never lost his drive, steely determination or sense of humour that helped him coach medal-winning crews through decades of coaching.
"Rowing was in his blood, even the week before last he was giving me advice on the crews preparing for Rio. Ron has been a significant figure in GB Rowing's success in lightweights and women's crews over many decades.  He will be immensely missed by many in the rowing fraternity".
 Competitive coaching record
World Championships
1975 silver lightweight men's coxless four
1976 silver lightweight men's eight
1977 gold lightweight men's eight
1978 gold lightweight men's eight
1992 silver lightweight women's single scull
1997 gold women's coxless four
1997 bronze women's eight