Reilly O'Donnell and Tarrant take world cup gold
Nathaniel Reilly O'Donnell and Mat Tarrant produced a perfect start to the GB racing season by taking gold in the men's pair at the World Cup in Italy.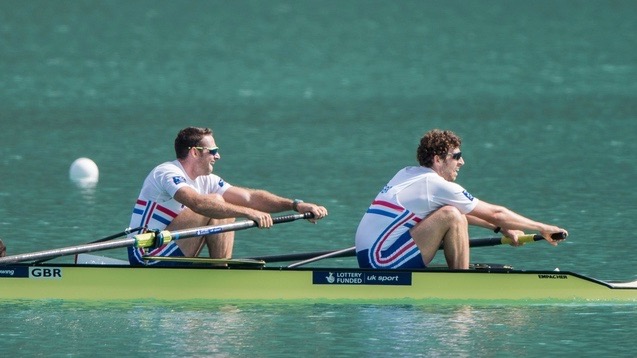 Nathaniel Reilly O'Donnell and Mat Tarrant produced a perfect start to the GB racing season by taking gold in the men's pair at the World Cup in Italy.
Whilst the GB Rowing Team European Championships squad were absent at training camp the British duo, who missed out on selection for Brandenberg next month, took on and beat a tough field on lake Varese.
They were led in the early phases by the European Champions and World finalists Roel Braas and Mitchel Steenman from the Netherlands with the experienced Italians and South Africans chasing.
At halfway the GB crew, themselves World Champions in the non-Olympic coxed pair last year, eased their nose in front and then staved off multiple Dutch attacks to take the win in 6:40.06. The South Africans were third and Italy fourth.
A jubilant Mat Tarrant said afterwards:   "We only had two weeks to prepare after our trials. For each race of the weekend we tried just to do our best race. We went into the final to establish ourselves in the pack and then take the lead after the thousand."
The tactic worked. Coach Rob Dauncey said:  "We had a very specific race plan that we were working on throughout the regatta and the final was where they put it all together and produced their best row and their best result. So I'm very pleased with what they have done".
O'Donnell added:   "I think it was really important for us to come here and put our best foot forward. I really think we've developed on from the Trials and we've shown a better version of ourselves.
"It feels similar to the good stuff we were doing last summer when we were in the coxed pair, like the strength that we had then".
O'Donnell and Tarrant now return to the UK overnight before travelling out to join the rest of the team in training.
Just a few months ago Jack Beaumont, from the Varese GB Rowing Team men's double scull, wondered if he would ever row again, having sustained a serious back injury in a training incident.
Today, following a remarkable and resilient recovery, he and Nick Middleton were in the world cup final and in a tightly bunched pack behind the leaders and race favourites, the World Champion siblings Martin and Valent Sinkovic from Croatia.
Whilst they strived to stay with the leading race pace, the Croatians held onto and then extended their lead to take gold with Poland and Switzerland taking silver and bronze respectively.  The GB double were sixth overall, fading a little in the final 500m.
Dauncey said:  "It was really good that the guys made the A Final. That was a big thing for them.  I don't see their performance here as a negative".
Kristina Stiller, Jess Leyden, Holly Nixon and Rosamund Bradbury qualified in third place for today's women's quadruple scull final from the prelims.  Today the newly-formed GB combination were in the chasing pack behind the fast-starting Ukrainians and Poland in the first half of the race.
Poland went on to win in 6:36.34 with the Dut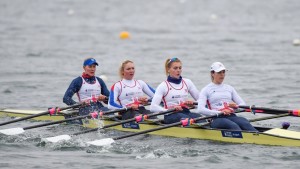 ch running out of time by just fractions of a second to attack them in the final 250m.  Ukraine squeezed the bronze by just two-tenths from the British quartet whose aim in Varese was to seek race practice prior to the Olympic qualifying regatta next month.
B Finals
Jamie Kirkwood and Zak Lee Green were race leaders for much of their lightweight men's double scull B final only to be pipped in the final sprint to the line by Poland who won in 6:42.71 to GB's 6:43.24.
Ellie Piggott and Emily Craig also took the early lead but were overhauled by the experienced Italian double of Laura Milani and Elisabetta Sancassani just after halfway. The Italians, in turn, missed out in the sprint to the line to Sweden.
The men's pair of Oliver Cook and Callum McBrierty came through to Argentina in the final 500m to take third in their B Final in a race won by Serbia.
Open All
Race Results
RESULTS
FINALS
OPEN WOMEN
Quadruple scull
1.  Poland 6:36.34
2.  Netherlands 6:36.47
3.  Ukraine 6:39.37
4.  Kristina Stiller/Jess Leyden/Holly Nixon/Rosamund Bradbury (GREAT BRITAIN) 6:23.03
OPEN MEN
Pair
1.  Nathaniel Reilly O'Donnell/Matthew Tarrant  (GREAT BRITAIN) 6:40.06
2.  Roel Braas/Mitchel Steenman (Netherlands) 6:42.43
3.  Lawrence Brittain/Shaun Keeling (South Africa) 6:45.10
4.  Niccolo Mornati/Vincenzo Capelli (Italy 1)  6:49.77
5.  Georgij Efremenko/Ivan Podshilvalov (Russia 1) 6:51.16
6.  Alexander Sigurbjonsson Benet/Pau Vela Maggi (Spain)  7:03.13
Double scull
1.  Martin and Valent Sinkovic (Croatia)  6:33.10
2.  Dawid Grabowski/Dominik Czaja (Poland) 6:35.73
3.  Nico Stahlberg/Roman Roeoesli (Switzerland) 6:36.33
4.  Kjetil Borch/Olaf Tufte (Norway) 6:38.41
5.  Eduardo Rubio Rodgriguez/Adrian Oquendo Ibanez (Cuba) 6:42.83
6.  Nicholas Middleton/Jack Beaumont (GREAT BRITAIN)  6:46.30
B FINALS
OPEN MEN
Pair
1.  Mened Bedik/Milos Vasic (Serbia)  6:48.12
2.  Alexander Stradaev/Grigorii Shchulepov (Russia 3) 6:56.05
3.  Oliver Cook/Callum McBrierty (GREAT BRITAIN 2) 6:57.63
4.  Martin Lasserre/Rodrigo Murillo (Argentina) 6:59.20
5.  Felipe Leal Atero/Oscar Vazquez Ochoa (Chile) 7:02.26
6.  Bartosz Zablocki/Rafal Hejmej (Poland) 7:04.02
LIGHTWEIGHT WOMEN
Double scull
1.  Annie Svensson/Emma Fredh (Sweden) 7:19.10
2.  Laura Milani Elisabetta Sancassani (Italy 1) 7:19.14
3.  Eleanor Piggott/Emily Craig (GREAT BRITAIN) 7:21.18
4.  Giulia Pollini/Valentina Rodini (Italy 2) 7:21.73
5.  Frederique Rol/Patricia Merz (Switzerland) 7:24.07
6.  Anastasia Zhukova/Anastasia Lebedeva (Russia) 7:38.07
LIGHTWEIGHT MEN
Double scull
1.  Artur Mikolajczewski/Milosz Jankowski (Poland) 6:42.71
2.  Zak Lee Green/Jamie Kirkwood (GREAT BRITAIN) 6:43.24
3.  Silvan Zehnder/Michael Schmid (Switzerland) 6:45.13
4.  Huseyin Kandemir/Enes Kusku (Turkey) 6:45.26
5.  Pedro Fraga/Mendes Nuno (Portugal) 6:49.77
6.  Felipe Cardenas Morales/Bernardo Guerrero Diaz (Chile) 6:53.22
Crew List
CREW LISTS
World Rowing Cup I, Varese, Italy, 15-17 April, 2016
*(Crews listed from bow to stroke with cox and with club, home town and date of birth).
OPEN WOMEN
Quadruple scull
Holly Nixon (Leander Club/Enniskillen/07.12.93/
Jessica Leyden (Leander Club/Todmorden/22.02.95)/
Kristina Stiller (Tees RC/Yarm/23.06.87)/
Rosamund Bradbury  (Leander Club/Banstead, Surrey/17.12.88)
Coach: Jane Hall
OPEN MEN
Pairs – two boats
Nathaniel Reilly O'Donnell (Univ of London BC/Durham/13.04.88)/Matthew Tarrant (Oxford Brookes Univ BC/Shepperton/11.07.90)
Oliver Cook (Univ of London BC/Windsor/05.06.90)/Callum McBrierty (Leander Club/Edinburgh/13.08.92)
Double scull
Jack Beaumont (Leander Club/Maidenhead/21.11.93)/Nick Middleton (Leander Club/Henley-on-Thames/12.08.88)
LIGHTWEIGHT WOMEN
Double scull
Emily Craig (Univ of London BC/Mark Cross/30.11.92)/Eleanor Piggott (Wallingford RC/Bedford/16.05.91)
LIGHTWEIGHT MEN
Double scull
Zak Lee Green (Agecroft RC/Cardiff/05.02.91)/Jamie Kirkwood (Leander Club/Cresswell/30.08.89)