The Sun Shone at the Schools' Head
Westminster retained the Schools' headship in bright and blustery conditions this afternoon, seeing off their nearest challengers by four seconds.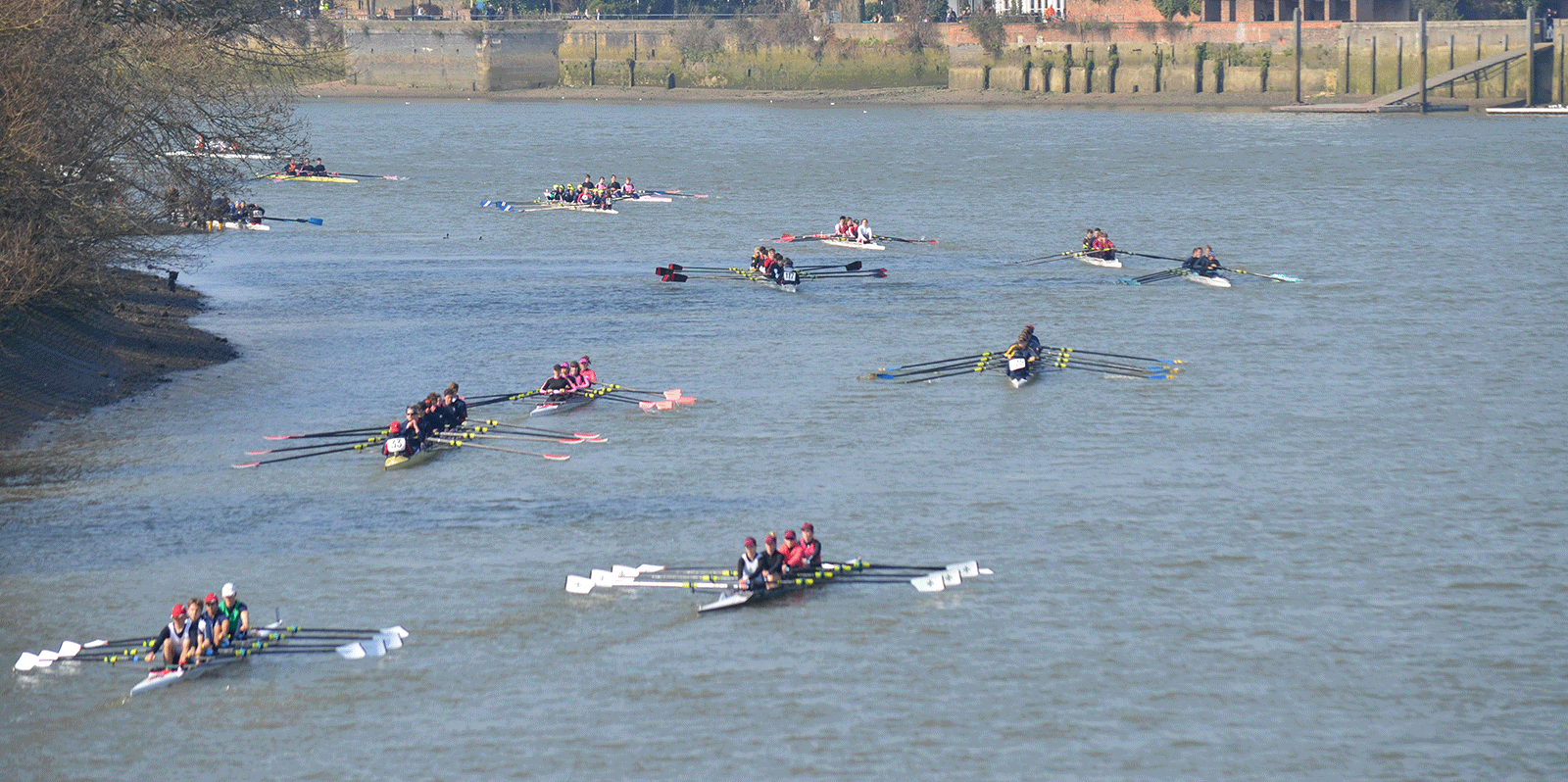 The crew led the field out and had the luxury of picking their racing line, a factor which cox Matthew was quick to appreciate. "It was a privilege going off first," he enthused, shortly after coming ashore. "The lads earned it last year so it was a treat to have the entire river to ourselves! I couldn't really see what was happening behind me, so I wasn't sure about margins or results, but I couldn't have picked out too much wrong."
The Tideway-based school covered the four and a quarter mile course in 17 minutes and 38 seconds and Josh Butler, who took over as head coach at Westminster in September, was pleased with the performance of his crew. "Mr Riches has got the event pretty much down to a tee now so it all ran very smoothly and efficiently, which is a huge credit to him. Overall I'm pretty happy."
Meanwhile, Headington saw off the challenge of Henley Rowing Club to once again claim the girls championship eight category in 19 minutes and 28 seconds. Ryan Demaine, Director of Sport for the Oxfordshire school, was satisfied with the result. "It's a good performance from the girls, but there is still two months to go until National Schools' and a lot more work to do," he explained.
"The culture and ethos of the club reflects what you see in their performance – taking each day as it comes and doing the basics well. It's great to have pedigree clubs like Henley around and no doubt the summer will produce some exciting racing."
Shiplake College sprung a surprise to take joint second place with St Paul's School overall, finishing in 17 minutes and 42 seconds.
Eton College and Abingdon School finished fourth and fifth overall respectively.
Lady Eleanor Holles, who finished third in girls championship eights, were winners of the J16 girls championship eights category ahead of rivals Headington and Henley in a time of 20 minutes and nine seconds.
It was still a day worth celebrating for St Paul's as their second eight and J16 championship eight emerged as winners in their respective categories, with the latter finishing an impressive 13 seconds ahead of Hampton School.
Bobby Thatcher was impressed by the strength of his squad. "They're pretty good groups so we are pleased – the second eight are very strong and their ergo average is what our first eight was three years ago. Obviously we're slightly disappointed not to take the win in the top eight, but it's a long season and we haven't quite found our rhythm yet."
Claire's Court took the victory in the junior quads category, finishing ahead of crews from Marlow, and the Windsor Boys School. Gloucester Hartpury improved on their second placed finish from 2015 to come home first ahead of Molesey in the women's quads with a time of 20 minutes and 17 seconds
*Note these times are based on the provisional results, which can be found here. Once results are finalised we will ensure that this report reflects these.
Report by: Tom Morgan