Thames RC victorious at Vets' Head
For many clubs, this weekend marked the end of the Head Race season. For Thames RC, it was an opportunity to conclude the winter racing in style when they became overall winners of the Vesta Veterans' Head of The River.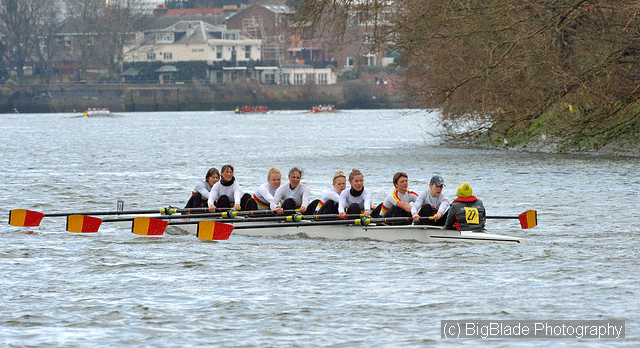 The crew which included many of the same oarsmen that won the Vernon Trophy at yesterday's HoRR finished almost 15 seconds ahead of Imperial College to win the Masters A pennant.
After the race, Bradley Jowitt who raced for Thames on both days said: "We felt confident going into today's Vets' head that we could back up  HORR's performance with another top result. With what was essentially the same core crew that finished third, we set a target for nothing less than overall victory.
Upper Thames RC took the Honours in the Masters D category beating local crew London RC by just half a second. The Masters B pennant went to a Molesey/Crabtree composite who were 3 seconds quicker than Molesey's Masters C crew, who were also pennant winners. After applying the age handicap, the fastest time across the course was posted by the Masters G crew from Quintin BC.
"From our perspective, the race proceeded very smoothly. A light wind and a little cold, but nothing untoward."
The fastest women's crew of the day was the Masters B crew from Tideway Scullers School (TSS). The crew included some of the winners of the Masters Pennant at the Women's Eights' Head two weeks ago and others who had been in the TSS first 8+ . The TSS crew took the advantage of being on their home water and finished a comfortable 20 seconds ahead of an experienced composite crew resulting in a third consecutive year for TSS having the fastest women's crew at the event.
The draw included 221 crews – with 219 competing – the biggest ever field for the event which included 26 foreign crews. The open foreign pennant went to Toulouasain (France) and the female foreign pennant to Belfast Boat Club (Ireland).
Speaking after the race, Chris Harrison, Chairman of the Organising Committee commented: "From our perspective, the race proceeded very smoothly. A light wind and a little cold, but nothing untoward. Thanks to all competitors, friends and volunteers for their hard work today and over the previous three days to bring four days of successful head racing on the Thames and in the Thames Valley to a triumphant close."
Provisional results from the event are available here: http://www.vestarowing.co.uk/veterans-head-of-the-river/
Report by: James Lee