Rainbows Bring a Splash of Colour to University of York Boat Club
Rainbow Wellies is a campaign instigated by the University of York Boat Club to create an environment where every individual, regardless of sexual orientation or gender identity, feels welcome. Alex Ighalo, University of York Boat Club's Captain shares their story.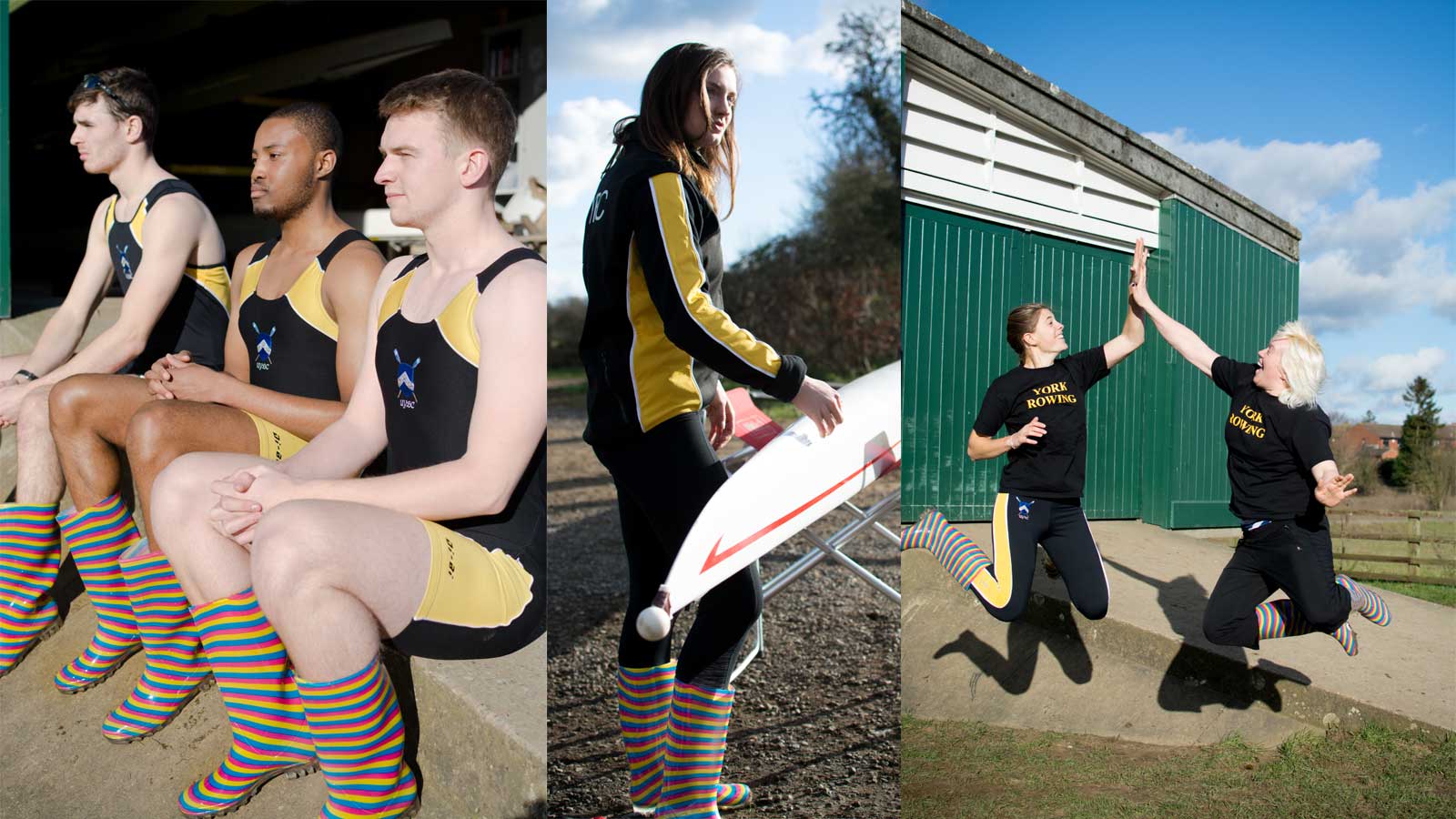 "We had seen how influential the 'Rainbow laces' campaign had been, but were gutted we could not be more involved because the shoes in rowing boats have Velcro instead of laces. This prompted us to create our own version – rainbow wellies."
"Rainbows have been a symbol of Lesbian, Gay, Bisexual and Transgender (LGBT) inclusivity for decades, but in this particular instance they also represent our new LGBTQ (Lesbian, Gay, Bisexual, Transgender and Questioning and/or Queer) policy on bullying, homophobia, biphobia and transphobia. The club worked with Stonewall (http://www.stonewall.org.uk/) (creators of the policy for Rainbow laces) to draft the policy, which includes key definitions, refers to the use of gender-neutral pronouns and clearly outlines the support available for LGBTQ persons within the club and on campus, which you can download here."
"The idea was originally proposed in an executive committee meeting in January 2016. We wanted to launch the campaign in February to fit in with LGBT History Month in the UK, so we had one month to pull it altogether. After working with Stonewall on the policy, we then sourced the wellies online (the fun bit) and decided how we wanted to promote the campaign. "
"Everyone loves videos and photos so, on 3 February 2016 (having waited for the Ouse to retire within its banks) with the weather on our side, we had great fun filming and completing a photo shoot (thanks to Mark for completing the mammoth task of editing!)."
"The campaign celebrates how universal our club is and we definitely think the campaign will have a positive impact on the club. There have not been any instances of homophobia, biphobia or transphobia at the club in recent years to our knowledge. But until now we have never had an LGBTQ specific policy in our constitution."
"We would love other rowing clubs and sports teams across the country to get involved by wearing their own rainbow wellies, and downloading the policy from our website (uybc.org.uk)."
"We hope other rowing clubs can join us in our continued efforts to make rowing even more diverse, more inclusive and more accessible."
Visit Pride Sports' website for further information and advice on LGBT sports and equity.
Links
University of York Boat Club's LGBTQ policy – http://uybc.org.uk/rainbow-wellies/
Pride Sports – http://www.pridesports.org.uk/