British Rowing Initiative Shortlisted for Hampshire and IOW Sports Awards
A British Rowing satellite club, hosted by Toynbee School in Eastleigh, Hampshire has been shortlisted for a Hampshire and Isle of Wight (IOW) Sports Award – the London 2012 Legacy Award (sponsored by Hampshire Olympic & Paralympic Legacy).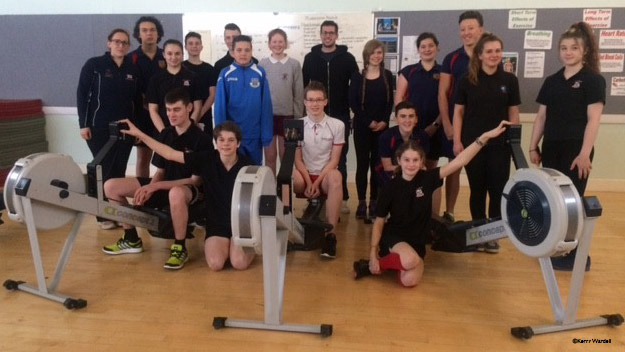 "I loved learning how to row and getting to know pupils from other schools and working together. It gave me more confidence. It gave me new leadership skills. Thank you very much for your time." – Maisie, Student.
The club, that has a cohort of over 20 active members this year, provides students from a wide range of schools in the local area with the opportunity to learn indoor rowing and the option to take to the water at a local Southampton rowing club.
The Hampshire and IOW Sports Awards is a joint venture between Hampshire County Council and Sport Hampshire & IOW, with support from the local sports councils and forums in Hampshire. The awards recognise commitment, performance and excellence across all sports in the local area.
The funding was initially provided by a Sport England grant back in 2013 which has allowed the project to be where it is today, led by Kerry Wardell, a Stewards' Charitable Trust Coach and supported by staff at Toynbee School and volunteers from local clubs.
"It was a wonderful experience for us all. Thank you!" – Sara, Parent.
Many of last year's club members have joined local rowing clubs and sport centres to progress their rowing, with many looking to compete at local regattas in the summer. The club includes pupils from a huge range of backgrounds including a visually impaired student who continues to be an ambassador for the club.
Summing up the experience of many is Sara, a parent of two graduates: "It was great watching my two kids learn a new skill at the same time. I saw their relationship solidify and enjoyed seeing them work together to organise an event. It was a wonderful experience for us all. I hope the initiative continues and many more kids get the chance to take part. Kerry is a fantastic coach and is very encouraging; the volunteers from the club were also very supportive. Thanks to the staff at Toynbee too who organised it all, it is a fantastic initiative. Thank you!" – Sara, Parent.
The awards will be held in Southampton on 17 March 2016 at Southampton Football Club.
For more information about the awards, visit the Sport Hampshire & IOW website.
To find out more about Toynbee School satellite club, click here.
If you're interested in getting involved in rowing in your local area then check out Go Rowing.
Links:
Sport Hampshire & IOW website – http://www3.hants.gov.uk/shiow/sporthampshire-events/sports-awards.htm
Toynbee School satellite club – http://www.toynbee.hants.sch.uk/