Established and rising stars claim British gold
There were gold medals for both established and up-and-coming GB Rowing Team stars on the opening day of the British Rowing Senior Championships in Nottingham.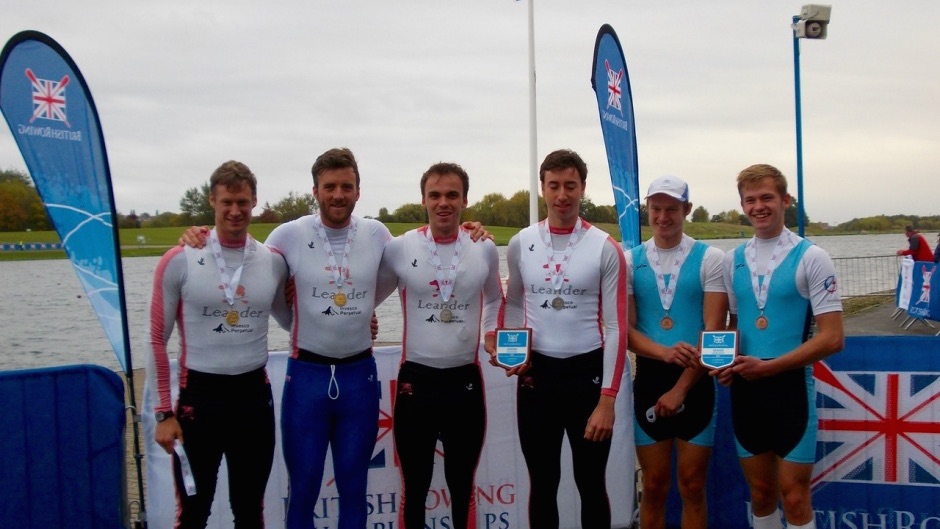 There were gold medals for both established and up-and-coming GB Rowing Team stars on the opening day of the British Rowing Senior Championships in Nottingham.
The eagerly-awaited men's four competition, featuring a host of medallists from last month's World Championships in Aiguebelette, was won by the Leander Club A crew of Stewart Innes, Pete Reed, Matt Langridge and Constantine Louloudis.
Leander also took the honours in an exciting women's four final as Louisa Reeve, Lucinda Gooderham, Rosamund Bradbury and Katherine Douglas won gold. A composite crew featuring Katherine Grainger and Beth Rodford just held off Molesey BC to take silver.
The men's double scull title went to World men's four bronze-medallist Alan Sinclair and Nick Middleton, while the women's race was won impressively by Georgia Francis and Mathilda Hodgkins-Byrne – the GB combination at this year's World U23 Championships.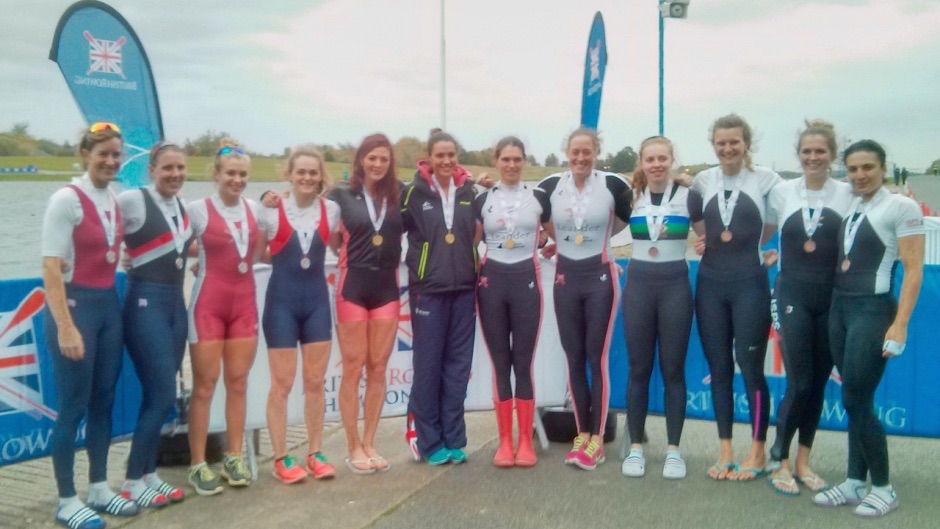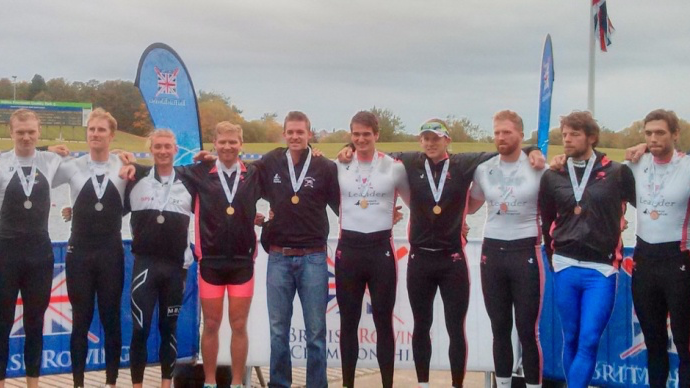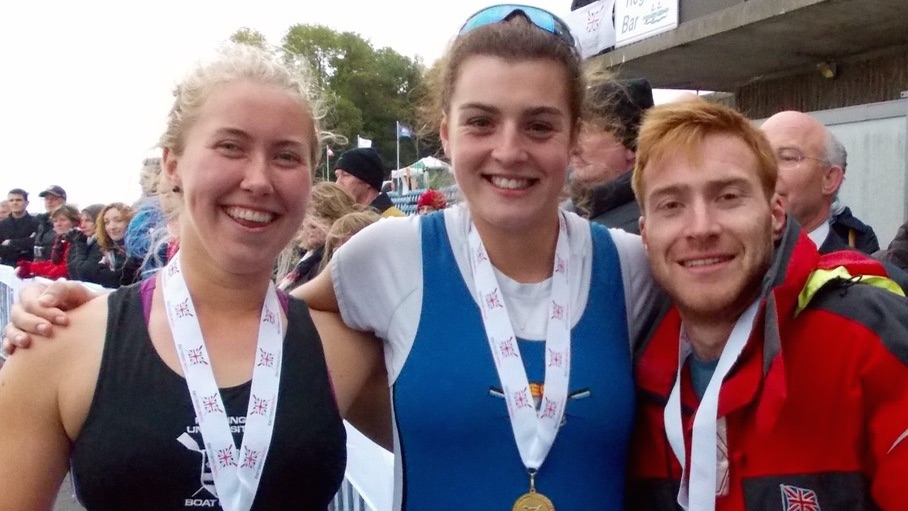 ——
RACE REPORTS
Seven of the men's eight that won gold in Aiguebelette were split across three boats in a high-quality men's four competition.
As expected, it was closely-contested throughout with the morning time trial ending in a dead heat between Leander Club A and a Molesey BC four of Moe Sbihi, George Nash, GB U23 international Tom Marshall and Sam Whittaker.
Leander A won their semi-final, while Molesey were narrowly beaten into second place by a Leander B crew of Will Satch, Alex Gregory, Matt Gotrel and Tom Ransley.
The final saw Leander A quickly establish a length lead over Molesey, which they maintained until the line. Leander B took bronze, holding off a good challenge from a Leander C boat comprising of Will Warr, Callum McBrierty, Chris Boddy and Matt Rossiter.
Louloudis said: "It's been nice to get out in a four and mix things up a bit. We were much better in the final but we haven't been racing together for long as a crew, so we would expect to improve as we went through the day."
Langridge added: "That was good fun. It's always nice to win and have a few bragging rights for when we go back to Caversham."
Nash was happy with the silver medal, saying: "We did really well in the time trial and second in the final is a pretty good result, it was good to split the Leander crews."
Leander's women four had been quickest in the time trial and comfortably won their semi-final, so it was no surprise to see them lead throughout to take gold in the last race of the day.
However, there was a real battle for silver behind them that went right down to the line. In the end, the Marlow RC, Gloucester RC and Sir William Borlase's composite of Grainger, Rodford, Ellen Roberts and Molly Harding did just enough to hold off a Molesey BC and Queen's University crew by two-tenths of a second.
Gold-medallist Reeve, part of the GB women's eight, said: "It was a good day. We had a much better start in the final than we did in the semis and it is really nice to go away with a win.
"There was quite a big race going on behind us for second place, so it was a case of making sure we didn't get dragged back into that."
Grainger, Olympic champion in the double scull, added: "I've loved today. Racing is what we are here for and there was a really good standard.
"It was really nice for Beth and I to take a couple of juniors from Marlow and Sir William Borlase's, and put a crew together. They were absolutely brilliant and hopefully they enjoyed it too.
"It was a great race to finish on, the medal positions were constantly changing hands. It showed just how much people wanted to win those British Championships medals."
The first gold of the day went to the Leander Club men's double A crew of Sinclair and Middleton, who was a last-minute replacement for Angus Groom.
"This morning was the first time we had rowed together since 2011, so to still finish the day with a win was pleasing," said Sinclair.
"We knew that Edinburgh University would go out quickly in the final, so it was a case of not worrying about that and having confidence in the middle of the race."
Silver went to the Leander U23 combination of Ronan Law and Andy Joel, with Edinburgh University U23 lightweights Gavin Horsburgh and Matthew Curtis winning bronze. Horsburgh was part of the GB quad that won a historic gold at this year's World Junior Championships in Rio.
There were more promising signs for the future in the women's double competition as Francis and Hodgkins-Byrne, representing Sport Imperial and Reading University, impressed throughout.
The GB U23 pairing were quickest in the time trial and won their semi before leading the final throughout to take gold ahead of the Wallingford RC lightweight crew of Ellie Piggott and Brianna Stubbs, silver-medallists in the lightweight quad at the World Championships. Bronze went to the Leander Club A crew of Katie Greves and Polly Swann.
"We're really pleased with that result," said Hodgkins-Byrne. "We won silver last year, so it's great to get gold this time.
"It was really exciting to race against the seniors, especially Brianna and Ellie. As U23s we are probably closer to the lightweights, so it was really useful to see how they pace a race."
Stubbs added: "I've really enjoyed today. We think that it is probably the best we have ever raced with a tail wind behind us. Sometimes you can get it wrong in those conditions but today we got it right.
"What's good about the format, where all the crews are mixed together, is that racing is really close and you have to plan your regatta carefully.
"It's good to go out and row just for joy of racing and have some fun."
The British Championships continue at Holmes Pierrepont National Water Sport Centre on Sunday, with the quads and eights in action as well as the para-rowing single scull races.
For further details and ticket information, as well as full results from Saturday's racing, go to http://www.britchamps.org/seniors