Entries open for Senior Championships 2015
Save the date! 17th & 18th October 2015 at Holme Pierrepont, Nottingham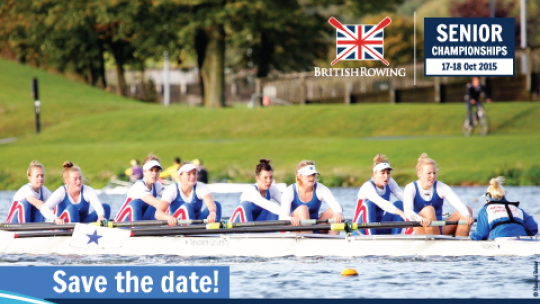 The summer has been packed with some great races, we had the British Rowing Junior Championships in Strathclyde, shortly followed by the British Rowing Masters Championships in Nottingham and both of these events were huge successes acheiving growth records. Now it is time for our Senior Championships to set records of its own. The event is being held at the National Water Sports Centre in Nottingham on Saturday, 17th and Sunday, 18th October and we can't wait to see you there.
The event provides the perfect setting to test your speed against the country's best oarmen and oarswomen across both sweep and sculling events in all different boat types. For those of you who want to trial for GB, it is a compulsory event for you to attend, as it is one of the first assessments of the 2015/2016 season.
Make sure to get your entries in through BROE by 15:00 on Monday, 12th October 2015 as no late entries will be accepted.
For more information about the Senior Championships the head to: www.britchamps.org
For volunteering, then please head to this link.