Talkin Tarn ARC row the Caledonian Canal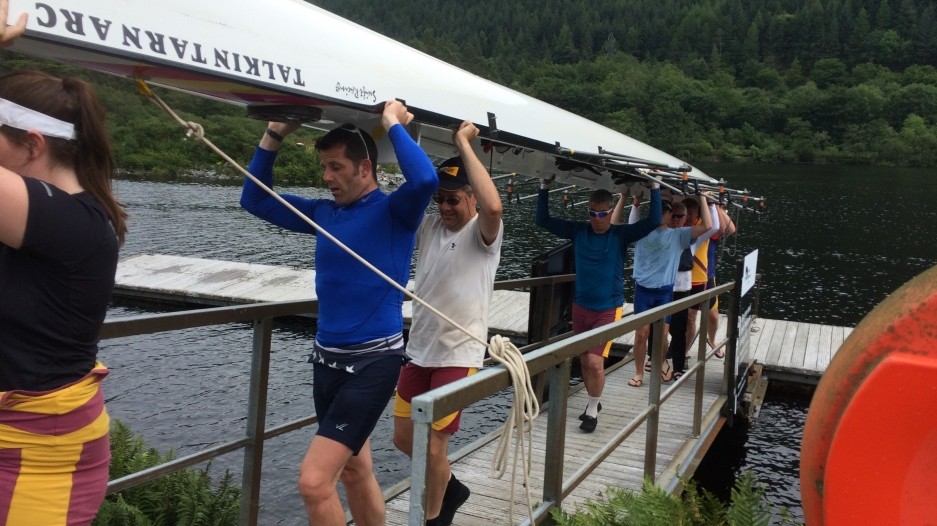 Early morning on the 13th August, ten members of Talkin Tarn Amateur Rowing Club set out to try and row the 90km length of the Caledonian Canal in just two days, to raise funds for the Club and the Great North Air Ambulance (Pride of Cumbria).
It proved to be a superb and challenging event, which tested the endurance and persistence of the whole team, but fostered a great team spirit that should help in many future events.
Having camped in the middle at Fort Augustus, they decided that with the good weather forecast for the first day, they should tackle the 36km "inland Sea" of Loch Ness whilst the going was good, so set off in high spirits. These were dampened a little after a significant swell built up during the morning, this resulted in waves breaking over the bows and pouring into the footwells of both boats – not something often seen on the Tarn! Stopping every few minutes to bail out did slow progress, but they pressed on regardless and were washed up on a pebbly beach at the North East end of the Loch by 2:30pm for a late lunch of delicious pies from Billy Kirkup in Longtown. Then it was a relatively easy 12km along the Canal into Inverness, the main challenge being a low swing bridge that required a little limbo dancing:
Their wonderful support crew of Penny Raine and Fiona Britton were there to meet them with tea & sympathy, blister treatments and a boat trailer, and 12 hours after setting off, they were back at base camp, shortly to avoid the midges and collapse into tents.
Friday dawned cold and grey, so after a quick round of bacon rolls they set off to drive to Banavie near Fort William – the start of the Canal. The distance to be covered was about 45km, similar to the previous day, but with more Canal that was less affected by wind and waves. The rowing felt harder with tiring limbs, and with many locks to "portage" around, the boats seemed to get heavier and heavier, especially as the landing stages were designed for canoes a quarter of the length:
Loch Lochy is about half the length of Loch Ness, but none the less dramatic, the mountains on both sides dwarfing the boats. But the winds were favourable and they pressed on through to lunch at Laggan lock.
The last Loch was Loch Oich, which required good navigation from the coxes as the path weaves a twisty route; with two large North Shields trawlers bearing down on us, again the sort of traffic we don't experience on Talkin Tarn! The last section of Canal to Fort Augustus was tempered by rain and midges, but with a beautiful wide straight through tree lined banks, they couldn't help imagining they were at Henley and got rid of any last drops of energy to finish with a little race.
They are very grateful to all our generous Sponsors, and proud to have now raised over £3000 for the two good causes.
Crews: Jon Britton (Longtown), Dave Harte (Brampton), John Lewis (Newbiggin), Charlie Raine (Farlam), Julius Deane (Kirklinton), Tim Morris (Slaggyford), John Pearson (Carlisle), Callum Thornhill (Carlisle) and coxes Georgie Raine (Farlam) and Sarah Loan (Carlisle).
Any further contributions would be very gratefully received on the team Just Giving page at: