Oxford Brookes University win Red Bull Outrow for the second year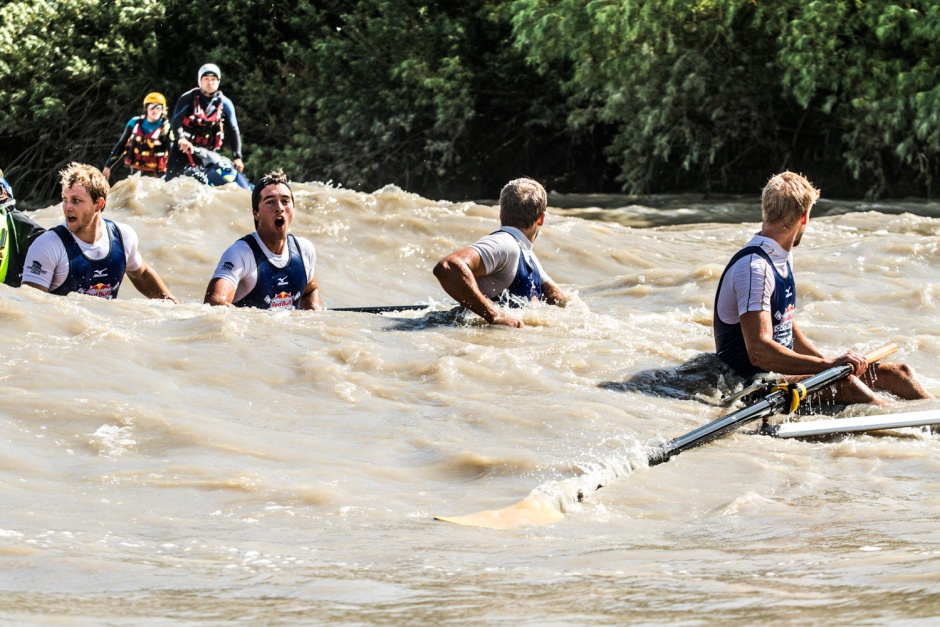 On Sunday 2nd August at 10:21am, eight rowing teams from across the world set off 3km west of Minsterworth in Gloucestershire, attempting to outrow the world renowned Severn Bore.
Yesterday the eight teams had a 280 metre head start on the bore, which equates to between a 45 second and 1minute head start. After 13 minutes and 42 seconds of intense and physical effort, Oxford Brookes University eventually emerged victorious before being caught by the bore at the 4.5km mark. The British crew won by a minute from the Swiss team, Seeclub Zurich, closely followed in third place by the crew from the Thames Rowing Club. The crew from the University of West England were the first to be caught after a clash of blades with the Swiss team. Despite an average speed of 17kmph all the teams were caught by the Severn Bore which reached speeds of up to 28kmph in the final kilometre of the race.
Double Olympic Gold Medalist and quadruple World Champion Andrew T. Hodge, "Red Bull Outrow is a ground breaking concept. It captures everything we like in rowing: athleticism, technique and strategy. I've never seen anything quite like it; it's brilliant! The teams were giving it absolutely everything to keep away from the wave".
Morgan Bolding of the Oxford Brookes University crew said, "We are really happy with this victory. The team was different from last year but the win is staying with Oxford Brookes University, which is great. Once we were on the bore it was really serious racing against the other teams but at the same time we had a lot of fun. I wish we could have more of this kind of event".
Results:
1. Oxford Brookes University
2. Seeclub Zurich (SUI)
3. Thames Rowing Club
4. VSR ROWING (Belgium)
5. Hong Kong Royal Yacht Club
6. Newcastle University
7. University College London
8. University West England
Notes to Editor:
For further still images and for moving image footage please contact Sophie Granpera –[email protected]
For more information about Red Bull Outrow, visit redbull.co.uk/outrow