How data analytics is helping GB rowers on road to Rio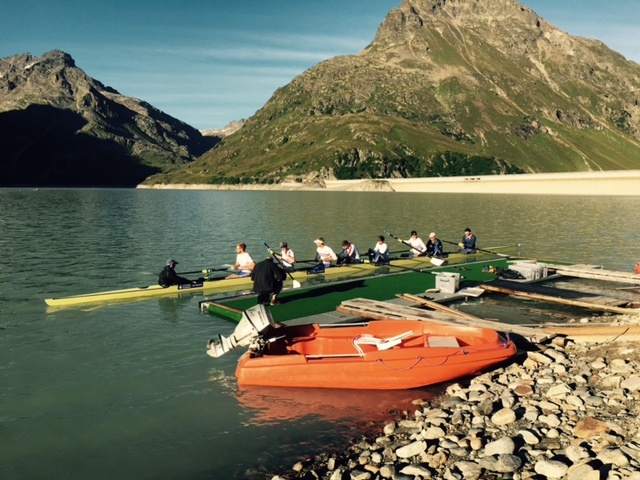 Paul Bennett is part of the men's eight looking to defend their title at the forthcoming World Championships in Aigubelette and secure qualification for Rio 2016. Here he explains how data analytics by the GB Rowing Team's partners at SAS is helping British rowers prepare for a huge year of competition…
The Rio 2016 Olympic Games are less than a year away and British sports fans are hoping for a performance that beats Team GB's record medal tally at London 2012.
That's never been achieved by a country directly after hosting the Games. And the pressure's on us in the GB Rowing Team given that our sport is one of the nation's strongest Olympic teams and kicked off the incredible "Super Saturday" at the 2012 Games.
Fans will be pleased to know we're working hard to improve our performance on the road to Rio. In fact, I wrote this recently from high up in the Swiss Austrian Alps, where we're in high altitude training for the World Rowing Championships. The altitude puts our bodies through different physiological effects and makes training even more strenuous than usual!
But coupled with more and better use of data and analytics, we're confident of making those crucial marginal gains that could be the difference between gold and silver, or even winning a medal at all.
The partnership between our team and SAS is truly incredible. Rowing is a simple sport. But last year, the GB quad were pipped to gold at the World Rowing Championships by just nine 100ths of a second and it's those margins, almost impossible for the human eye to detect, that we can find with data analytics.
Our fans would probably be surprised at how much we rely on data every single day, both on and off the water. We're all big believers in using numbers to guide our future choices and help us make better decisions.
For example, in the gym, analytics tell me what weights I should be lifting, what speed I should be rowing and so on. On the water, it tells us the exact timing, power and weights required to achieve the optimum combination of team members in each boat. Every subtle measurement – no matter how small – can make a big difference to the final outcome. As people in other sports have said, "If you can improve 100 things by one per cent, that amounts to a significant improvement".
While gaining speed is the ultimate goal, analytics helps us tackle our specific challenges. For me, I can use data analytics to be more efficient in the water – that can mean improved performance or the same performance, but with less pain in my body!
It also helps me work better with the team. On the water, a large part of what we do relies on uniformity, so any little changes that make things more aligned and in-synch ultimately helps with speed. As a crew, we know there are gains to be made. We can have a good session on the water in the morning, then a poor session in the afternoon – and it can be difficult to put your finger on exactly why that is.
As we get closer to race day, a huge benefit of having numbers on our side is the confidence boost it gives us. Mental confidence on the water is an advantage that physical training can't quite provide. Knowing that we're using the best technology available and that we're getting the best possible data analysis is hugely important. We know we've examined every aspect of training to ensure we do it in the best way possible.
Imagine sitting on the boat about to begin your Olympic race. You're surrounded by the best combination of team members. You're secure in the knowledge that everything you've done for the past year has brought you to your peak physical condition. There's not a shred of doubt – because that's what the numbers have told you.
When you're working to differences as small as nine 100ths of a second, the confidence you get from preparation underpinned by analytics can be monumental in helping you to that career-defining gold!
This blog was originally published at http://blogs.sas.com