Lightweights stay on course for Henley showdown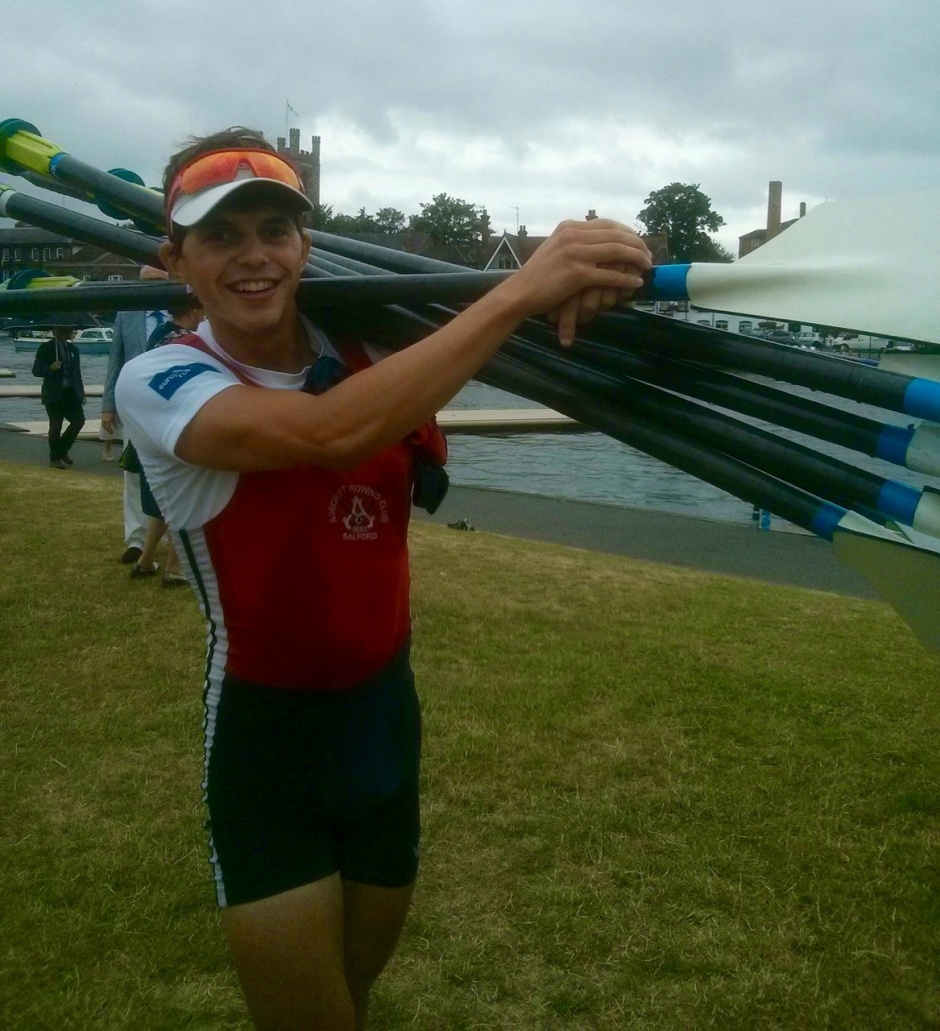 The lightweight men's squad took centre stage for the GB Rowing Team on day two of the Henley Royal Regatta as they stayed on track for a potential Saturday semi-final showdown.
European lightweight men's pair champion Joel Cassells teamed up with Steven Parsonage, Sam Mottram and Jamie Copus in a Leander Club and Oxford Brookes University quad which comfortably beat Reading University B in the Prince of Wales Challenge Cup heats.
That came after Zak Lee-Green featured in a quad with John Hale, Charles Waite-Roberts and Tim Richards – representing Imperial College London and Agecroft RC – that overcame a Molesey BC and Sir William Borlase's Grammar School crew featuring the familiar faces of Adam Freeman-Pask, 2013 eights World Champion Dan Ritchie and London 2012 Olympian Tom Solesbury.
Should both crews win again on Friday, they will meet at the weekend and Lee-Green, a lightweight single-sculls finalist at the recent European Championships, is hoping that happens.
"We have all rowed together for the past two years and we are crew-mates in everything we do, so it will be an interesting one – if we both get there of course," he said.
"Today was only our sixth session in the quad in that order so we're happy with the win but there is a lot we can learn from it as well."
Thursday's victory came in an eye-catching race against a boat featuring three rowers with elite GB experience and an aspiring international in Angus Warren, a winner of the Fawley Challenge Cup at Henley last year.
"We are the old boys, apart from Angus, and they are a GB lightweight crew, so it was quite tasty," said Freeman-Pask. "I fancied racing them at the Regatta – that's my level of competition.
"Tom and I bumped into each other in London and came up with the idea of getting a crew together for Henley. It's a bit of a mish-mash but it's been a fun project."
Jack Beaumont, who won a bronze medal with the men's quad at the European Championships in May, and his Leander Club team-mates also made impressive Prince of Wales progress with a comfortable victory over a Bath University B crew.
Beaumont is eyeing a fourth consecutive Henley win and said: "I know there's a strong field this year but hopefully we can come through on top – I feel confident."
Friday will see GB crews take to the water, with the women's eight starting their Remenham Challenge Cup campaign in the morning.
The eight will be looking to build on the progress shown at the World Cup in Varese, where they twice went under six minutes and gave the all-conquering Americans an almighty scare in the heats.
They went on to finish third in the final behind the US and Canada – potential opponents in Sunday's final – but cox Zoe De Toledo believes the crew is making good progress.
"We made a big step on between the Europeans and Varese, and we are operating now at a much higher level," said De Toledo, who has been commentating on Henley's YouTube channel.
"It's a combination of factors, there is no one big thing that has made a difference. It's not about crew changes, it's not about some major technical difference, it's about everyone individually stepping up their game and it clicking.
"It's now about using Henley and next week's World Cup in Lucerne as the best learning experiences possible because there is a long seven-week period without racing after that going into the World Championships."
The GB eight – racing as Leander and Imperial College London – face Leander Club in their opening race and, if all goes to plan, will meet Canada, racing as Western RC, in Sunday's final.
"That would be great because we lost to them by a couple of seconds in Varese so they are a good crew to measure ourselves against," De Toledo added.
"They have been on the American's stern for quite some time, so we know they are there or thereabouts in terms of the fastest in the world. It would be good to have another crack at them."
The feeling is clearly mutual with Cristy Nurse, the Canadian bow, relishing the prospect of facing a GB crew on their home water.
"It's exciting," said the World silver-medalist. "Obviously the crowd will be very much on Britain's side but that's something we can feed off as well – it's still noise, and it's still excitement, and it'll be a lot of fun.
"I think all of us just love the atmosphere here. It's so unlike anything at home – the grandeur, the outfits, the number and interest by the spectators. It's a unique race."
Tomorrow there will be three GB crews in the Silver Goblets & Nickalls' Challenge Cup for men's pairs – the European champions of James Foad and Matt Langridge; Varese World Cup finalists Mat Tarrant and Callum McBrierty; and Oliver Cook and Stewart Innes, who will race in Lucerne next week.
John Collins and Jonny Walton will also be competing in the Double Sculls Challenge Cup.