Strong GB Rowing Team representation at Henley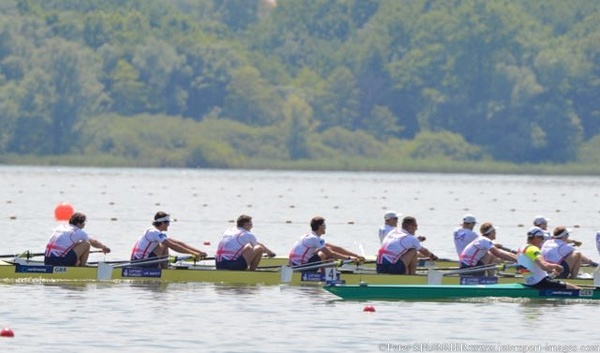 There will be a strong GB Rowing Team representation at the 2015 Henley Royal Regatta, taking place from July 1-5.
The GB men's eight – World Champions in 2013 and 2014 – will race as Leander Club and Molesey Boat Club in The Grand Challenge Cup.
And they could once more come up against Olympic and European Champions Germany, who will be represented by Hansa von 1898 e.V. Dortmund, should both crews reach the final of the Blue Riband event.
Britain overhauled Germany in a thrilling final at the World Cup in Varese on Sunday and stroke Will Satch is looking forward to a potential third meeting between the crews this year.
"It's obviously two strong forces and there is a lot of competition there that has built up over the last two-and-a-half years, which makes it more exciting," said Satch.
The GB men's quad – fresh from their World Cup success in Varese – will be looking to retain the Queen Mother Challenge Cup when they race in Leander Club and Agecroft RC colours.
Jonny Walton and John Collins represent Leander Club in the Double Sculls Challenge Cup and the GB men's four of Nathaniel Reilly-O'Donnell, Alan Sinclair, Tom Ransley and Scott Durant – who won gold at the European Championships last month – will compete in the Stewards' Challenge Cup.
Fellow European Champions James Foad and Matt Langridge have been entered in The Silver Goblets & Nickalls' Challenge Cup for men's pairs. They sat out last weekend's World Cup in Varese, Italy after Foad picked up a slight niggle in training.
Polly Swann, World Champion in the women's pair in 2013, will ease her way back into competitive racing with a tilt at the Princess Royal Challenge Cup.
The GB women's eight and quad will also be in action at the Regatta, which has attracted a huge entry of 526 crews from 18 countries.
The gladiatorial style of head-to-head races on the famous 2,112m course will be seen beyond the hundreds of thousands of spectators that line the riverbank this year as the Regatta will be live-streamed across the five days on YouTube.
ENDS
For media enquiries about the GB Rowing Team please contact:
The GB Rowing Team Press office on (01225) 384211 or [email protected] or 07831 755351
For picture requests, please e-mail: [email protected]
GB Rowing Team website, including full rower biogs: www.gbrowingteam.org.uk
Follow us on:
Facebook: www.facebook.com/gbrowingteam
Twitter: www.twitter.com/gbrowingteam
Youtube: www.youtube.com/gbrowingteam
=================================================
THE GB ROWING TEAM is supported by the Lottery through UK Sport and has Science in Sport as a supplier. SAS Analytics is the Official Analytics Partner of British Rowing and the GB Rowing Team