Masters Champs Goes from Strength to Strength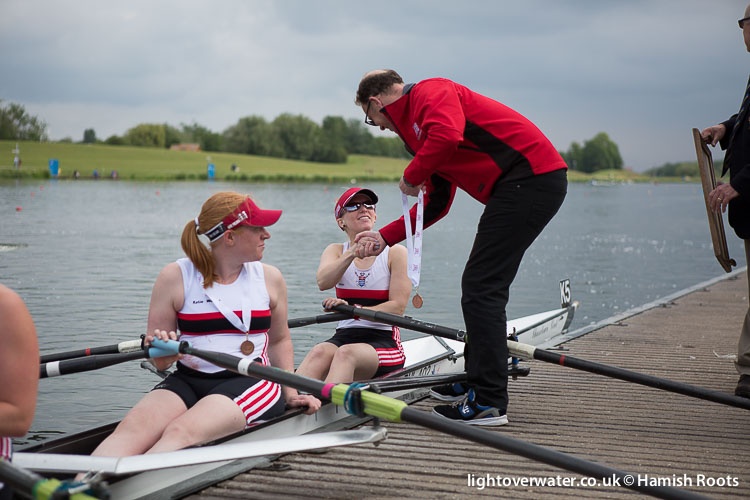 A RECORD 795 boats entered the new-look British Rowing Masters Championships in Nottingham as nearly 1,400 competitors aged from 27 to 82 raced for the first time over two days.
Wallingford RC took the Victor Ludorum with 258 points, with their women having a hand in five of their six championship golds (MWC 8, MWD 4x, MWD-E 4-, MWA 2x and M Mxd D 8) and two of their four novice wins.
Ardingly were second on 209 points, with Durham ARC third 12 points back.
New BRMC chairman Chris Anton said: "We just had to move from one day to two to accommodate the number that wanted to race.
"There's no way we could have managed it all in one day with the huge entry, so two days is here to stay. The event just goes from strength to strength.
"We had championship sculling on Saturday, sweeping on Sunday, so racers can do both, with novice racing on day one and IM3 on day two. It also takes the pressure off the regatta team in terms of getting races off.
"The first couple of races both days were close decisions and it was really competitive right through. The standard gets better and better."
The rise of women's masters rowing continued, with female rowers accounting for 43% of the 124 club entry, while IM3 and novice entries saw a big rise from just over 20% last year to more than 30%..
Persistent drizzle on day one at least allowed for perfect flat water conditions, while day two's tailwind saw some fast times, with London's gold medal MD 8 setting the benchmark of 3mins 5.16secs.
Monmouth RC's Mark Stewart-Woods was one of only two competitors to do the maximum six events, winning two golds and four silvers, as well as being involved in the two closest finals, squeezed out by Maidstone Invicta's Lewis Hynes by 0.21secs in MB singles, and just 0.23secs to Bewl Bridge in MC 4x.
More than 60 clubs landed championship golds, as organisers hosted 388 races in total.
New British Rowing chief executive officer Andy Parkinson said: "It's a great event ¬- super competitive on the water and a fantastic atmosphere off it. Masters rowing is very healthy – it's very important to British Rowing."
Umpire Ian Donald, of Star Club, added: "It's been really good. It's less pressured, with more time to enjoy the racing, and more opportunity to do more events.
"We're ahead of time, it's running well, and today we'll be finishing at 4.30pm instead of gone 7pm like last year."
Maidstone Invicta's James Knight said: "It's been a great weekend of fun, hard racing, and a huge thank you to all the volunteers getting cold and wet whilst we enjoyed ourselves.
"Our Masters B/C squad of four rowers came away with three golds and a silver. The two-day format means you can do more events, but means shorter gaps between finals, which adds to the challenge."
After winning MWD 8s in her composite crew, Nottingham RC's Helen Bloor said: "We won silver in MWD 4+, so were determined to nail it in 8s. We got up early on, and then enjoyed the ride. Our cox Josh Kay was at his first masters, so we're showing him the ropes and winning him gold."
Quintin had a share in seven championship golds (ME 8, MF 8, MF 4-, MG-H8, MG2x, MG1x and MMxd E-F 4x), while Upper Thames scored a high five.
Rome 1960 Olympic champion Klaus Riekemann, 75, took gold in MG-H 8s, MG4+ and MG-H 2-, the latter two with Minerva Bath Olympian club mate Arnold Cooke, who also added the MH-J singles title, while Nottingham RC's 'father of the regatta' Bill Payne, 82, took golds in MH 4x and 2x.
Romanian international Valentin Piticariu took MA championship singles and MA 2x with Paul Keane, in Team Keane colours, while 1979/80 world lightweight champion Colin Barratt helped his Ardingly MF 4x land gold.