Hereford Regatta held after three-year break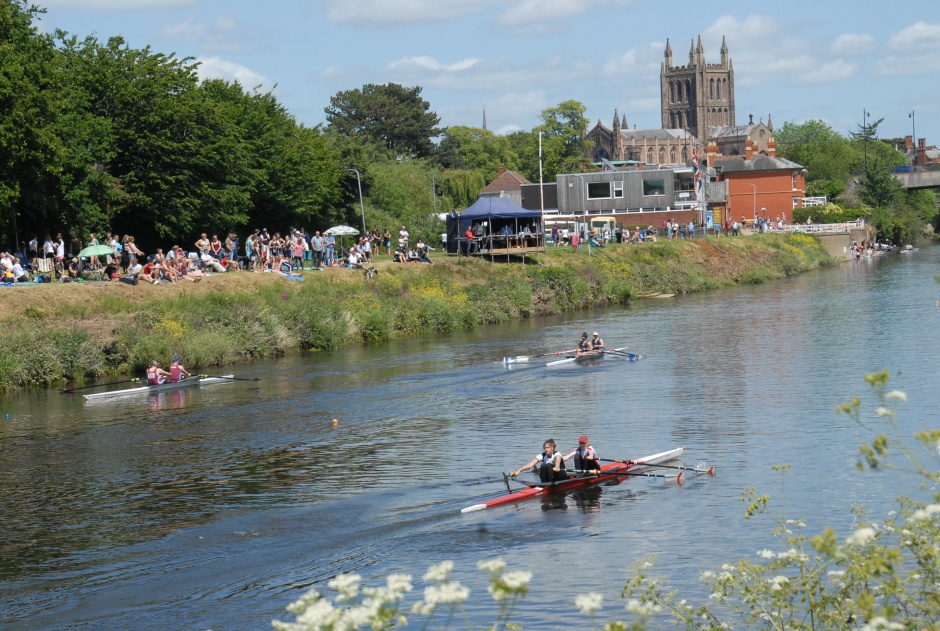 The River Wye welcomed back historic Hereford Regatta after a three-year hiatus at the weekend, as nearly 300 boats raced beneath the city cathedral in beautiful sunshine.
With its 150th anniversary next year, organisers were keen to relaunch the event after being buffeted by foot and mouth, floods and falling entries, with five events cancelled in the last 10 years.
And the date switch from early August to the first weekend of June looks finally to have done the trick of re-establishing the regatta, as rowers from 25 clubs made a splash on one of the UK's most beautiful rivers, in two days of racing.
Umpire and WAGs regional chairman Phil Clements said: "It's really good to see the event resurface with a reasonable entry.
"Racing on rivers is where the sport comes from, and it's a lovely setting here, with the cathedral and the old railway bridge on a dead straight course."
Hereford RC life member Norman Matthews was on prize-giving duty. He said: "There's no doubt Hereford and other river regattas have been hit by the Dorney effect, with clubs just racing there instead of travelling for the weekend.
"We've got a straight 2km here and before Dorney opened in 2002, we used to get Boat Race rowers and Henley-bound crews at the Worcester/Monmouth/Hereford weekend, including some who went on to win at the Royal Regatta.
"We had foot and mouth in 2001 and flooding in 2006, and our entries gradually fell on our traditional May Bank Holiday Monday date, so we moved to August.
"It's the best river stretch in the country, with a fantastic backdrop, and it's great to see racing again where it's taken place since 1866."
A total of 298 entries took part in Saturday's 1,000m event and Sunday's 500m sprint, with Stourport taking home 15 pots and City of Bristol 11. Worcester won 10 with
Hereford, Evesham and Monmouth each landing nine apiece.
Some excellent racing saw Stourport beat Evesham by a foot to sprint ME/G doubles, while Worcester beat Hereford by 3ft to WIM3 doubles and City of Bristol pipped Evesham by the same margin to WJ15 doubles.
University of the West of England's Jessica Corbell, whose WIM2 sprint four beat Evesham, added: "It's a fun, well organised event. We've had a great day."
Rowers from as far afield as City of Oxford, Guildford and Nottingham RC launched out in 203 races.
Other notable performances saw Monmouth's junior double treble up with J16 1km doubles and J17 and J16 sprint doubles, while club mate Rory Freeman landed IM3 and novice sprint singles.
Flipping burgers at the BBQ, Hereford RC's GB U23 cap Jamie Coombes said: "This date looks like it works. It's a big boost for the club."
Club junior coach and former UL oarsman Nigel Fraser added: "It's great to be back on the scene and we can move on from here.
"The weather's smiled on us as well, though Saturday's cross tail wind was tricky coming through the bridge, but that's the beauty of river regattas."
Report and photos by Nick Hartland