Westminster and Headington top National Schools Regatta 2015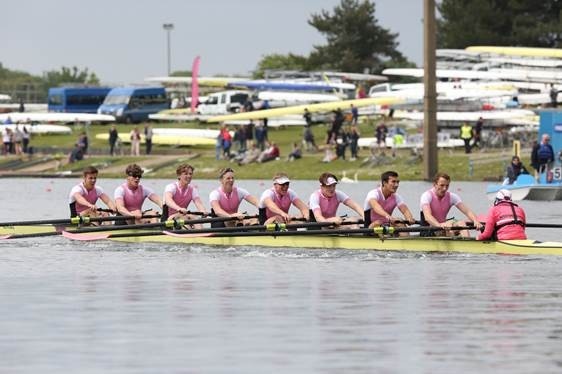 Westminster School, winners of the Schools' Head in March, took the champions eights' title over St Paul's with Eton College third in a thrilling finale to Saturday's racing at this weekend's National Schools Regatta in Nottingham. With 500 metres to go four crews were in medal contention but it was the Tideway-based school who had left enough spare in the tank to win by a length.
"They are not big lads but they achieved this by rowing well," explained coach Bill Mason. "That's two out of three done – now anything is possible at Henley (Royal)," he added.
The next day the Westminster crew split into two coxless fours and took gold and silver with last year's winners Pangbourne College third.
Headington School retained the girls eights' title to the loudest cheer of the day as stroke Matilda Martin received the Aylings Challenge Cup from Oxford Blue Maddy Badcott.
In a change to previous years' timetables the boy's championship quads were also held on the Saturday. Sir William Borlase's Grammar School, with three of last year's silver medal winning crew here and winners of the Fawley Cup at Henley Royal, took gold over Northwich and Pangbourne, the latter the same crew which also took bronze in the coxless fours.
Flo Pickles from Gloucester Hartpury and Alex Haynes (Reading Blue Coat School) took the girls' and boys' championship singles titles respectively, both by just over a length. Pickles then teamed up with fellow GB junior internationals to take her second gold in the girls' quads the next day.
Cox Cosmo Webber from Tideway Scullers won a hat-trick of medals, winning a gold in the junior 15 coxed fours, silver in the junior 15 coxed quads and a silver in the 1st fours – and he celebrated his 15th birthday as well!
A huge event such as National Schools Regatta can only run with the support of the numerous volunteers from a wide variety of backgrounds. One of the 100 or so officials on duty this year was newly qualified FISA umpire Remco Nabuurs from the Netherlands.
He said "The NSR is a unique regatta, anywhere in the world, with well over a thousand crews racing in front of their supporters and all the school marquees – what a spectacle.
"As a Dutch umpire I've now learned to pronounce many (not all!) of their names correctly and was impressed by the experience of the crews, coaches and organisation of the event."
Chairman George Hammond summed up proceedings, saying: "The 2015 NSR has been one of the most magnificent – near-perfect rowing conditions on all three days helping to provide fine racing which was excitingly fought, and all witnessed by huge enthusiastic crowds. A truly memorable year."
Full results at http://www.nationalschoolsregatta.co.uk
Report by Maggie Phillips
Photos by Iain Weir at http://rowingphotography.co.uk/