Ten top finishes for GB Rowing Team on day one of European Championships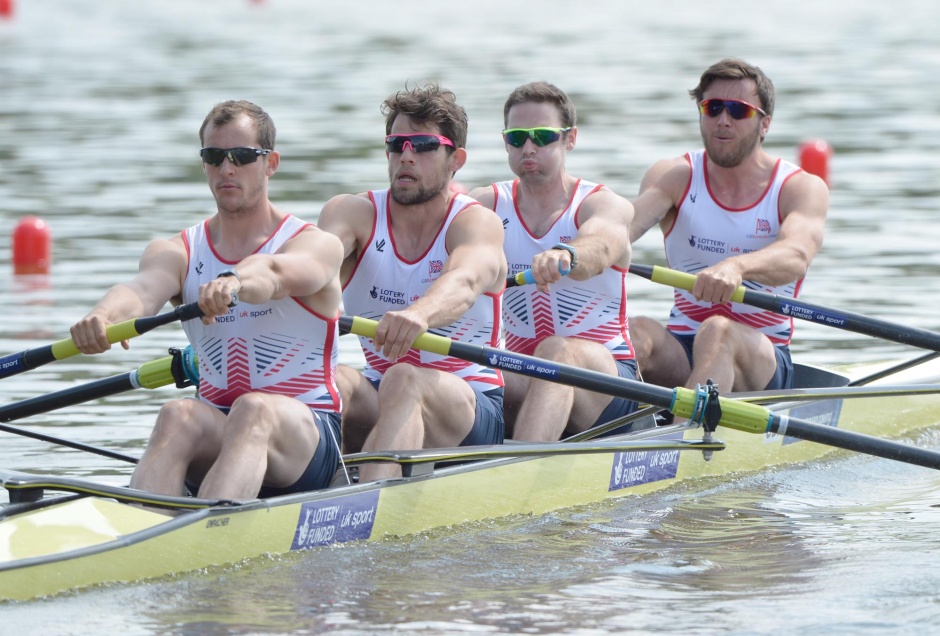 The GB Rowing Team started their European Championships like a piece of perfectly spun silk with seven heat wins from the first seven boats in action, rising to a total of 10 "firsts" by the close of the morning session.
For the opposition here in Poznan, Poland, the good news was there were then some frayed edges, including a third-placed finish from the men's eight forcing them into a repechage tomorrow and a second place for Katherine Grainger, on her return after two years out, with Vicky Thornley in the women's double scull.
Grainger and Thornley still progressed to the semi-final, as did Angus Groom with an encouraging debut performance to take second place in his heat of the men's single.
Grainger, who has rediscovered her joy in the sport since returning to training in September, was philosophical if not happy with second place to reigning European Champions, Poland, today.
She said: "It was probably as we expected today. The Poles were quick last season and the season before and they are on their home water here. It was good to show we have the speed in the boat but now we need to add consistency in the middle. We came here not as the finished product".
Alex Gregory, said of the men's eight: "It's definitely not the end of the world – disappointing, yes, but it was a good learning experience and we can take positives out of it".
Zak Lee Green led off the early string of heat successes by winning the lightweight men's single scull before the women's pair, both lightweight doubles, the open men's four and double all followed suit.
Later in the programme the lightweight men's four and the light and open men's pairs also came through to win their heats – the latter two crews progressing straight to Sunday's finals.
Helen Glover and Heather Stanning, the World and Olympic Champions, are racing for the first time in a European Championships together here. Glover is the defending champion with Polly Swann. Today they were in a league of their own to win by a big margin.
Glover said: "It was a really solid start to our Europeans. It's always nice to get out and control a race from the front".
Nathaniel Reilly O'Donnell said that the men's four "just got on with it" when their event was reshaped into two heats at short notice rather than the expected three due to Malta's withdrawal. "It put us under a bit more pressure because we had to win the heat to go through". This crew's heat win put them straight through to Sunday's final.
Jonny Walton and John Collins looked in good shape to win in the men's double scull and the men's pair of James Foad and Matt Langridge had a real tussle with Serbia for the first 1500m before pulling away to win.
The GB lightweight men have had a serene start to the overall Championships despite a reshuffle in recent weeks to cover injury. Richard Chambers and Will Fletcher, in the lightweight men's double, looked in control throughout their heat whilst the lightweight men's pair and four both won in style.
Kat Copeland and her new lightweight women's double scull partner Charlotte Taylor laid down a strong opening performance to win their heat too and Imogen Walsh added to the tally, racing in the lightweight women's single scull.
The GB men's quad, racing here without Charles Cousins who is injured, produced an exciting finish to claw back the home nation's lead in their heat but could not quite push past them and will now also race a repechage. GB's women's quad will do the same but showed they have stepped on since last year by taking second place only to the World Champions, Germany, in their heat.
Russia took their women's eight heat by the scruff of the neck which left the GB crew, coxed by Morgan Baynham-Williams who arrived in Poznan in the middle of the night, due to delayed flights, to replace a poorly Zoe de Toledo, playing catch up throughout. They took second and now race a repechage as only the winners go through.
Frances Houghton, twice an Olympic silver medalist in the quad, raced the single here but lost contention with the leaders in the second half and will now race a repechage, too.
"We've had a pretty good day overall. Good but not perfect", said Sir David Tanner, Performance Director for the GB Rowing Team.
Of the men's eight performance he said: "It wasn't exactly what we expected but I'm sure that they will get better".
The event will be broadcast live by BBC TV with transmission times on Sunday May 31st as follows:
Rowing: European Championships, 09:30-13:45, BBC Red Button
Rowing: European Championships, 11:30-13:50, BBC Two
RACE REPORTS
Zak Lee Green of Cardiff took the lead in GB's opening race – a lightweight men's single scull heat – of the European Championships with 300m gone. The Ukraine were the early challengers before dropping back at Bulgaria's Nedelcho Vasilev came up to pressure the British sculler but Lee Green stayed in control to win in 7:02.98.
Imogen Walsh, who already had a racing pedigree at World Cup level in the lightweight women's double scull, moved into the lead of her lightweight women's single scull here just beyond halfway to overhaul Anna Ioannou of Cyprus who had set the early pace. A strong second half saw Scotland's Walsh win in 7:40.35.
The women's pair of Helen Glover and Heather Stanning, from Penzance and Lossiemouth, were next in action and crossed the line with the significant margin they had held throughout their opening heat on Lake Malta. They looked unruffled and Glover said it was a "solid start" and "nice to control a race from the front".
GB's new lightwetight men's double of Coleraine's Richard Chambers and Chester-le-Street's Will Fletcher tussled with the field in the early part of their race before moving out strongly ahead of the Muda brothers from Holland and the Turks in third place. Their margin of victory at the end was just under five seconds.
There was a similar pattern in the ensuing lightweight women's double scull as Tees RC's Olympic Champion Kat Copeland, newly teamed with relative international newcomer Charlotte Taylor of Putney Town, put a marker down here to win their heat in 6:56.69 from Russia.
Copeland and Taylor both confirmed that it was "good to get the first race out the way" after their heat victory.
The GB mens' four of Durham's Nathaniel Reilly O'Donnell, Alan Sinclair of Inverness, Ken'ts Tom Ransley and Lancaster's Scott Durant, started the day thinking they would be in one of three heats before Malta's withdrawal meant a reshuffling 90 minutes before the race into two heats with only the winners to progress. "That put a bit more pressure on us but we just got on with it", said Reilly O'Donnell of the crew which nudged past the fast-stariting Dutch just before halfway and went on to win in 5:55.44 with Spain second.
Durant added: "We came here intent on winning and to do that you have to beat everyone anyway and it was a pretty good start today".
Twickenham's John Collins and Leicester's Jonny Walton were on song in the men's double scull heats today, winning in 6:16.08 from Ukraine's Ivan Futyrk and Sergii Gryn. Both crews progress to the semi-finals. The British duo led virtually throughout.
Scotland's Katherine Grainger and Vicky Thornley, from Wales, in the equivalent women's event, were in the fastest heat of three today. They were early leaders and had an edge over home favourites and reigning European Champions, Magdalena Fularczyk and Natalia Madaj of Poland, until the race moved past the artificial ski-slope which borders the course at the halfway mark. That's when Poland got their bow-ball in front and they had enough to hold off any counter-challenge from the British duo.
"I think it's good that we had some speed but you're never going to be happy with second", said Thornley afterwards.
Scot Sam Scrimgeour, Maidenhead's Jonathan Clegg, Birmingham's Mark Aldred and Wrexham's Chris Bartley were comfortable winners – from Germany by two seconds – in today's heats of the lightweight men's four. Bartley, a 2012 silver medallist in this event, is leading a reshaped crew here and this was their first outing. Switzerland were quicker in winning their heat and Spain sprung a surprise on the Danes who have a different crew this season but are World and European Champions in this event.
Angus Groom, who learnt to row in Guildford, caught the eye today as he moved into the semi-finals of the open men's single scull on his senior international debut in this boat class by taking second place to Lithuania's Mindaugas Griskonis in the fastest heat of the day. Groom was third in the early part of the race but kept calm and paced himself up into a qualifying place.
Peter Chambers and Joel Cassells, erstwhile primary school contemporaries in Coleraine and back in a boat together many years later and racing for GB in the lightweight men's pair, here were in sizzling form to win their heat by over five seconds today from Spain. Only one crew went into the final from this heat and the British duo made sure by dominating the race from the outset.
Northwich's Matt Langridge and Southampton's James Foad, in the GB open weight men's pair, also won their heat after a neck and neck battle with Milos Vasic and Nenad Bedik of Serbia for the first 1500m today before the British reigning World silver medallists put on the after-burners to win in 6:29.91.
Londoner Melanie Wilson, Yarm's Kristina Stiller, Gloucester's Beth Rodford and Jess Leyden from Todmorden, were second to the World Champions, Germany, in their heat today which means they race a repechage. This was a promising performance however with a strong finish in which they began to close the gap on the Germans in the second half. Three of the German quartet were in the quad which set a world's best time at the World Championships last year in Amsterdam.
The GB Word silver men's quad here is racing without injured GB Trials winner Charles Cousins but with Reading's Sam Townsend, Preston's Graeme Thomas and Maidenhead's Peter Lambert and substitute Jack Beaumont who is not unaccomplished himself as a World U23 double scull medallist. This was one of the more exciting races of the day as the GB boat made up ground rapidly in the final 500m of their heat on host nation leaders, Poland. In the end, they ran out of track but showed they have a handy turn of speed.
Townsend said: "I'm sure another race for us is no bad thing – this was our first 2k together as this combination, so we will be looking to right the ten per cent we weren't quite happy with today."
Cox Morgan Baynham Williams started yesterday in the UK and unaware of the drama that was about to unfold. Having received the call up to replace a poorly Zoe de Toledo, her last-minute dash to Poznan was thwarted by a cancelled plane and a final arrival time of 3am. She was still up bright and early to cox the crew's warm-up training session before 9am and then urged her crew on to claw back Russia's early lead in the morning's heats.
Russia flew off the start and took an early lead with observers wondering if they might then die off in the second half of the race. It was not to be. They had enough in the tank to win in 6:10.55, two-thirds of a length up on the GB boat who now race the repechage.
Russia repeated the act in the men's eight with a sizzling opening half to lead from the Netherlands and France. The GB crew did not get the best start and were lagging at the halfway point in fourth place. In the final 750m they got the better of France but had left themselves too much to do and were third in 5:39.85.
Alex Gregory said: "It's definitely not the end of the world – disappointing, yes, but it was a good learning experience and we can take positives out of it. We haven't quite found what we need yet but there is plenty more to come."
RESULTS
(Events featuring GB Rowing Team crews only. For full results – www.worldrowing.com)
HEATS
OPEN
WOMEN
Pair – Heat 2
1. Helen Glover/Heather Stanning (GREAT BRITAIN) 7:07.07
2. Katerina Kopecka/Martina Stillerova (Czech Republic) 7:17.54
3. Marcela Milosevic/Karla Milosevic (Croatia) 7:18.88
4. Olga Khalaleeva/Anastasia Zhukova (Russia) 7:20.51
Eight – Heat 1
1. Russia 6:10.65
2. Rosamund Bradbury/Olivia Carnegie-Brown/Lucinda Gooderham/Donna Etiebet/Jessica Eddie/Louisa Reeve/Katie Greves/Zoe Lee/Morgan Baynham Williams (cox) (GREAT BRITAIN) 6:12.32
3. Belarus 6:29.04
4. Ukraine 6:34.25
Single scull – Heat 1
1. Jeannine Gmelin (Switzerland) 7:38.33
2. Lina Saltyte (Lithuania) 7:41.28
3. Julia Richter (Germany) 7:45.59
4. Sanita Puspure (Ireland) 7:48.79
5. Frances Houghton (GREAT BRITAIN) 7:53.18
6. Julia Michalska (Poland) 8:03.51
Double scull – Heat 3
1. Magdelena Fularczyk/Natalia Madaj (Poland) 6:49.73
2. Vicky Thornley/Katherine Grainger (GREAT BRITAIN) 6:53.58
3. Jovana Arsic/Iva Obradovic (Serbia) 6:55.67
4. Viviana-Iuliana Bejinariu/Ioana Vrinceanu (Romania) 7:06.54
5. Helen Walshe/Lisa Dilleen (Ireland) 7:24.08
Quadruple scull – Heat 1
1. Melanie Wilson/Kristina Stiller/Beth Rodford/Jessica Leyden (GREAT BRITAIN)
2. Eleonore Dubuis/Alice Mayne/Chloe Poumailloux/Daphne Socha (France)
3. Annekatrin Thiele/Marie-Catherine Arnold/Carina Baer/Lisa Schmidla (Germany)
4. Natalia Kovalova/Daryna Verkhogliad/Ievgeniia Nimchenko/Nataliya Dovgodko (Ukraine)
OPEN
MEN
Pair – Heat 2
1. James Foad/Matt Langridge (GREAT BRITAIN) 6:29.91
2. Milos Vasic/Nenad Bedik (Serbia) 6:38.94
3. Adrian Juhasz/Bela Simon Jr (Hungary) 6:42.27
4. Onat Kazakli/Fuad Rafail (Turkey) 6:43.84
5. Marin Begovic/Ante Janjic (Croatia) 6:49.50
6. Dzimitry Begovic/Dzianis Suravets (Belarus) 7:03.67
Four – Heat 2
1. Nathaniel Reilly-O'Donnell/Alan Sinclair/Tom Ransley/Scott Durant (GREAT BRITAIN) 5:55.44
2. Javier Garcia Ordonez/Jaime Canalejo Pazos/Marcelino Garcia Cortes/Antonio Guzman Del Castillo (Spain) 5:58.66
3. Harold Langen/Peter Van Schie/Vincent van der Want/Govert Viergever (Netherlands) 5:59.49
4. Johannes Weissenfeld/Alexander Egler/Maximilian Planer/Felix Wimberger (Germany) 6:02.38
5. Jakub Paroulek/Jan Andrle/Kornel Altman/Matyas Klang (Czech Republic) 6:06.82
6. Dusan Bogicevic/Veselin Savic/Nikola Stojic/Radoje Deric (Serbia) 6:07.63
Eight – Heat 2
1. Russia 5:33.72
2. Netherlands 5:37.27
3. Matt Gotrel/Stewart Innes/Pete Reed/Paul Bennett/Mohamed Sbihi/Alex Gregory/George Nash/Will Satch/Phelan Hill (cox) (GREAT BRITAIN) 5:39.85
4. France 5:40.20
Single scull – Heat 3
1. Mindaugas Griskonis (Lithuania) 6:57.64
2. Angus Groom (GREAT BRITAIN) 7:01.81
3. Robert Ven (Finland) 7:06.80
4. Lars Hartig (Germany) 7:10.88
5. Roel Braas (Netherlands) 7:15.69
Double scull – Heat 1
1. John Collins/Jonathan Walton (GREAT BRITAIN) 6:16.08
2. Ivan Futryk/Sergii Gryn (Ukraine) 6:18.58
3. Noe Guzman del Castillo/Juan Garcia (Spain) 6:23.26
4. Bendeguz Petervari-Molnar/Gergely Papp (Hungary) 6:25.78
5. Frank Steffensen/Sophus Johannesen (Denmark) 6:29.22
Quadruple scull – Heat 2
1. Mateusz Biskup/Dariusz Radosz/Miroslaw Zietarski/Wiktor Chabel (Poland) 5:47.50
2. Jack Beaumont/Sam Townsend/Graeme Thomas/Peter Lambert (GREAT BRITAIN) 5:48.50
3. Patrick Leineweber/Karl Schulze/Lauritz Schoof/Hans Gruhne (Germany) 5:50.49
4. Allar Raja/Sten-Erik Anderson/Tonu Endrekson/Kaspar Taimsoo (Estonia) 5:54.48
5. Martin Helseth/Erik Solbakken/Bjoern-Jostein Singstad/Jan Helvig (Norway) 5:59.65
LIGHTWEIGHT
WOMEN
Single Scull – Heat 1
1. Imogen Walsh (GREAT BRITAIN) 7:40.35
2. Emma Fredh (Sweden) 7:43.55
3. Anna Ioannou (Cyprus) 7:51.75
4. Sonata Petrikaite (Lithuania) 7:58.46
5. Thomais Emmanouilidou (Greece) 8:06.54
Double scull – Heat 1
1. Charlotte Taylor/Kat Copeland (GREAT BRITAIN) 6:56.69
2. Natalia Varfolomeeva/Olga Arkadova (Russia) 7:03.78
3. Gianina-Elena Beleaga/Ionela-Livia Lehaci (Romania) 7:03.88
4. Anna Zabova/Tereza Kocianova (Czech Republic) 7:04.98
5. Camille Leclerc/Laura Tarantola (France) 7:14.06
LIGHTWEIGHT
MEN
Pair – Heat 1
1. Joel Cassells/Peter Chambers (GREAT BRITAIN) 6:50.14
2. Sergio Perez Moreno/Jesus Gonzalez Alvarez (Spain) 6:55.43
3. Jonas Kilthau/Sven Kessler (Germany) 6:57.21
4. Milan Viktora/Adam Kapa (Czech Republic) 7:01.47
5. Patryk Pszczolkowski/Bartosz Pszczolkowski (Poland) 7:03.48
6. Andrii Cherkashyn/Rostyslav Dzhyhyrei (Ukraine) 7:13.03
Four – Heat 1
1. Sam Scrimgeour/Jonathan Clegg/Mark Aldred/Chris Bartley (GREAT BRITAIN) 6:07.57
2. Jonathan Koch/Lars Wichert/Matthias Arnold/Julius Peschel (Germany) 6:09.56
3. Alexander Chaukin/Anton Kuranov/Maksim Telitcyn/Aleksey Vikulin (Russia) 6:09.72
4. Alexander Chernikov/Florian Berg/Joschka Hellmeier/Matthias Taborsky (Austria) 6:25.53
5. Michael O'Baille/Anthony English/Mark O'Donovan/Shane O'Driscoll (Ireland) 6:38.91
Single scull – Heat 3
1. Zak Lee-Green (GREAT BRITAIN) 7:02.98
2. Nedelcho Vasilev (Bulgaria) 7:06.62
3. Igor Khmara (Ukraine) 7:17.43
4. Ask Jari Tjom (Norway) 7:25.05
5. Bayram Sonmaz (Turkey) 7:26.96
Double scull – Heat 2
1. Richard Chambers/Will Fletcher (GREAT BRITAIN) 6:25.84
2. Tycho Muda/Vincent Muda (Netherlands) 6:30.13
3. Huseyin Kandemir/Enes Kusku (Turkey) 6:33.96
4. Silvan Zehnder/Daniel Wiederkehr (Switzerland) 6:34.29
5. Milos Stanojevic/Marco Josic (Serbia) 6:39.95
6. Andrej Bendtsen/Jens Nielsen (Denmark) 6:43.67
CREW LISTS (Includes club, home town, date of birth)
GB Rowing Team for the 2015 European Championships,
Poznan, 29-31 May
OPEN
WOMEN
Pair
Helen Glover (Minerva Bath RC/Penzance/17.06.86)
Heather Stanning (Army RC/Lossiemouth/26.01.85)
Coach: Robin Williams
Eight
Katie Greves (Leander Club/Oxford/02.09.82)
Olivia Carnegie-Brown (Oxford Brookes Univ BC/Oxford/28.03.91)
Lucinda Gooderham (Leander Club/Garboldisham/09.06.84)
Donna Etiebet (Sport Imperial/London/29.04.86)
Jessica Eddie (London RC/Durham/07.10.84)
Louise Reeve (Leander Club/London/16.05.84)
Rosamund Bradbury (Leander Club/Banstead/17.12.88)
Zoe Lee (Imperial College BC/Richmond/15.12.85)
Morgan Baynham-Williams (Leander Club/Ross-on-Wye/28.06.94)
Coach: James Harris
Single Scull
Frances Houghton (Univ of London Tyrian Club/Oxford/19.09.80)
Coach: Nick Strange
Double Scull
Katherine Grainger (St Andrew BC/Glasgow/12.11.75)
Victoria Thornley (Leander Club/Wrexham/30.11.87)
Coach: Paul Thompson
Quadruple Scull
Melanie Wilson (Imperial College BC/London/25.06.84)
Kristina Stiller (Tees RC/Yarm/23.06.87)
Beth Rodford (Gloucester RC/Gloucester/28.12.82)
Jessica Leyden (Leander Club/Todmorden/22.02.95)
Coach: Nick Strange
Women's Spares
Karen Bennett (Leander Club/Edinburgh/05.02.89)
Becca Chin (Agecroft RC/Deganwy/11.12.91)
OPEN
MEN
Pair
James Foad (Molesey BC/Southampton/20.03.87)
Matt Langridge (Leander Club/Northwich/20.05.83)
Coach: Rob Dauncey
Four
Nathaniel Reilly-O'Donnell (Univ of London BC/Durham/13.04.88)
Alan Sinclair (Leander Club/Munlochy/16.10.85)
Tom Ransley (Leander Club/Ashford/06.09.85)
Scott Durant (Oxford Brookes Univ BC/Lancaster/12.02.88)
Coach: Christian Felkel
Eight
Matt Gotrel (Leander Club/Chipping Campden/01.03.89)
Stewart Innes (Leander Club/Henley-on-Thames/20.05.91)
Pete Reed (Leander Club/Nailsworth/27.07.81)
Paul Bennett (Univ of London BC/Leeds/16.12.88)
Mohamed Sbihi (Molesey BC/Surbiton/27.03.88)
Alex Gregory (Leander Club/Wormington/11.03.84)
George Nash (Molesey BC/Guildford/02.10.89)
Will Satch (Leander Club/Henley-on-Thames/09.06.89)
Phelan Hill (cox) (Leander Club/Bedford/21.07.79)
Coach: Jurgen Grobler
Single Scull
Angus Groom (Leander Club/Glasgow/16.06.92)
Coach: John West
Double Scull
Jonny Walton (Leander Club/Leicester/06.10.90)
John Collins (Leander Club/Twickenham/24.01.89)
Coach: Mark Banks
Quadruple Scull
Jack Beaumont (Leander Club/Maidenhead/21.11.93)
Sam Townsend (Reading Univ BC/Reading/26.11.85)
Graeme Thomas (Agecroft RC/Preston/08.11.88)
Peter Lambert (Leander Club/Maidenhead/03.12.86)
Coach: Paul Stannard
Men's Spares
Callum McBrierty (Leander Club/Edinburgh/13.08.92)
Matthew Tarrant (Oxford Brookes Univ BC/Shepperton/11.07.90)
LIGHTWEIGHT
WOMEN
Single Scull
Imogen Walsh (London RC/Inverness/17.01.84)
Coach: Paul Reedy
Double Scull
Kat Copeland (Tees RC/Ingleby Barwick/01.12.90)
Charlotte Taylor (Putney Town RC/Bedford/14.08.85)
Coach: Paul Reedy
LIGHTWEIGHT
MEN
Pair
Peter Chambers (Oxford Brookes Univ BC/Coleraine/14.03.90)
Joel Cassells (Oxford Brookes Univ BC/Coleraine/15.06.94)
Coach: Rob Morgan
Four
Sam Scrimgeour (Imperial College BC/Kirriemuir/28.01.88)
Jonathan Clegg (Leander Club/Maidenhead/14.07.89)
Mark Aldred (London RC/Birmingham/18.04.87)
Chris Bartley (Leander Club/Chester/02.02.84)
Coach: Rob Morgan
Single Scull
Zak Lee-Green (Agecroft RC/Cardiff/05.02.91)
Coach: Darren Whiter
Double Scull
Richard Chambers (Leander Club/Coleraine/10.06.85)
Will Fletcher (Leander Club/Chester-le-Street/24.12.89)
Coach: Darren Whiter
2015 EUROPEAN CHAMPIONSHIPS TIMETABLE
Provisional timetable (all times BST)
Friday 29 May
08.30 -12.25 – Heats
14.30-16.00 – Repechages
Saturday 30 May
08.30- 08.45 – Semis C/D
08.50-11.15 – Repechages and Semis A/B
11.25-11.30 – Finals D
11.35 -12.15 – Finals C
Sunday 31 May
08.00-09.15 – B Finals
09.33-13.33 – Finals
Official website for full timetable: http://www.erch2015.com/
CONTACT DETAILS
For background information about the The GB Rowing Team contact the Press office via [email protected] or 07831 755351
For picture requests please contact: [email protected]
GB Rowing Team website, including full rower biogs: www.gbrowingteam.org.uk
Follow us on:
Facebook: www.facebook.com/gbrowingteam
Twitter: www.twitter.com/gbrowingteam
Youtube: www.youtube.com/gbrowingteam
=================================================
THE GB ROWING TEAM is supported by the Lottery through UK Sport and has Science in Sport as a supplier. SAS Analytics is the Official Analytics Partner of British Rowing and the GB Rowing Team