Spectacular Europeans for GB Rowing Team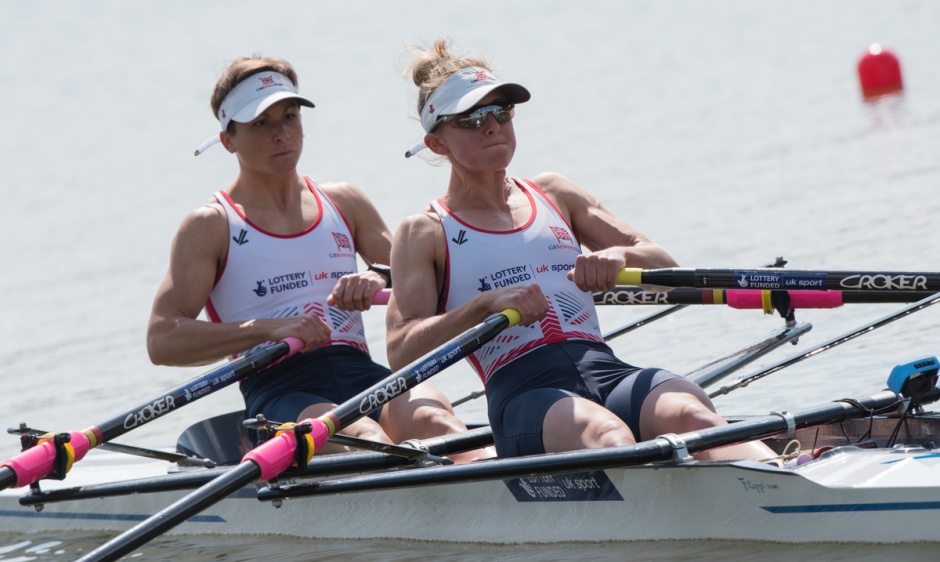 The GB Rowing Team secured a spectacular medal tally of 10 medals at the European Championships today, moving from the two golds of a year ago to six of which four came in Olympic class events.
The 52-strong squad defended the men's four and women's pair golds from last year and added new winners in the lightweight women's double, men's open and lightweight pairs and the lightweight women's single scull.
Whilst some of the top nation in rowing are from outside Europe, this was still an eye-catching performance. Sir David Tanner, GB Rowing Team Performance Director said: "I am really impressed with our team performances today. It is a cracking start to the Olympic qualifying season. We still have some improvements to make but it's good to start the season top of the European medal table".
In one such crowd-stunning performance Kat Copeland added European gold to her Olympic title, this time racing with Charlotte Taylor. The GB lightweight women's double put on a huge turn of speed before halfway to take a massive lead and hold onto it to win.
"We just stayed minute by minute in our lane and focussed on what we had to do. It feels great", said Taylor. Copleand added: "That was a big step on from our semi. We didn't want to be dropped early, so we went out fully committed and stuck to it and it really paid off".
Britain might have a much changed men's four in 2015 to the 2014 version but the European title is still coming back to the UK after Nathaniel Reilly O'Donnell, Scott Durant Alan Sinclair and Tom Ransley led from the outset to win in Poznan by 5:55.70 from Greece in silver and Belarus in bronze.
"We have a great tradition in this boat class as a nation so it's great to take up that mantle and win here", said Ransley.
James Foad and Matthew Langridge held off a blistering French finish to claim the men's pair gold in a time of 6:27.89 to add a European title to their World silver from 2014. Helen Glover and Heather Stanning added the equivalent women's title so that they are now the reigning World, Olympic and European Champions. For Glover it was a second European crown as she won 12 months ago with Polly Swann.
"It was a great way to kick star the season", said Stanning. "Now we will look to improve in everything that we do".
"We made that a bit harder than it should have been" said Langridge of the late French challenge.
The GB Rowing Team also seem to have found a very promising lightweight men's double scull combination in Richard Chambers and Will Fletcher who were second only to the outstanding 2014 crew from France, now twice European Champions.
Jack Beaumont, racing as a sub for Charles Cousins, in the British open weight men's quad ended his first Europeans with a bronze alongside Peter Lambert, Sam Townsend and Graeme Thomas from a tough field that included five of last year's World Championships finalists.
Thomas said: "Massive credit to Jack, he has stepped in very professionally. He is only 21 and I would say to all the young rowers out there watching, look at the determination Jack has got.
Katherine Grainger, the much-medalled Olympian,, marked her return to racing after a two-year gap with a bronze medal alongside Vicky Thornley in the open women's double scull. They battled Lithuania for the silver in the middle of the race before losing out. Poland took the gold.
"It's alright. It's a start. We are improving, that's the word I'd use", said Grainger. Thornley added: "It was good to get on the podium but we have a long way to go".
The men's eight added an exciting finale as they took silver behind their arch-rivals Germany but held off Russia in the dying 150m. Whilst not the overall colour of medal that the eight might covet, as reigning World Champions, it was a spectacular turn round from their poor performance in the heats.
There were fourth place finishes for the lightweight men's four, the open women's quad and the open men's single scull. GB's women's eight were challenging for a medal before they crew caught a boat-stopping crab and dropped back to fifth.
Earlier the lightweight men's pair of 2012 Olympic silver medallist Peter Chambers, Richard's younger brother, and senior international debutant Joel Cassells came through a titanic battle with the French to take gold and open the whole GB medal account for the day. Imogen Walsh, whose winter's training was disrupted, added gold in the lightweight women's single scull after a tough battle with Sweden's Emma Fredh.
SCROLL DOWN FOR MORE
===========================================================
RACE REPORTS
Poznan's Lake Malta was bathed in sunshine as the finals session got underway with the flags fluttering in a lighter cross-tail wind than on previous days.
The lightweight men's pair of Joel Cassells and Peter Chambers, both from Coleraine, were first in action for GB in the finals. They got off to a good start and took an early lead with the fast-starting Greeks. By 500m gone the British duo were half length up on the French in second with Greece having dropped back into third.. As the race moved through halfway the GB boat still had a half-length lead over the French. Spain came up to take third.
In the final 500m it was clear that the battle would be between the French and the British. France launched an attack and the British boat dug in and responded. Stroke by stroke the crews battled to the line with the British taking the verdict in 6:28.58 – a new European best time – to France's 6:28.88. Germany were third.
Cassells said: "We knew the French would come back at us but felt we had enough to hold them off. It feels really great".
Chambers added: "I'm not used to getting the final 250m of a race and feel comfortable. That made a big difference".
Zak Lee Green made his international senior debut at last year's World Championships in Amsterdam, having finished his dentistry studies and qualified he has been training with the squad and proved his tenacity in difficult conditions in the semis here in Poznan. In today's finals he got off to a solid start and held second with the race led by Pierre Houin of France.
The Frenchman increased his lead and Lee Green dropped back to fourth with Serbia in third and Slovakia in second.That's how it all finished with Lee Green just missing out on the medals to finish in 7:02.87.
Imogen Walsh was in the lightweight double last session, taking world cup medals, but has moved to the lightweight single this year. The Inverness rower found the windy conditions tough yesterday but still bagged a qualifying place for today's final. Drawn in lane six today, she put herself into a good position in the opening 500m still in contact with the leading boats from Cyprus, Sweden and Germany.
By halfway, she still had the overlap on the Swedish boat alongside her and was moving back on the top boats with Sweden and Germany now head to head at the front of the field. As the crews came in sight of the grandstand Walsh had edged and edged back into the reckoning, ahead of Germany but still marginally behind Sweden.
British pulses were racing in the grandstands as Walsh fought past the Swede and into the lead only for Emma Fredh to counter strongly. At the line, it was close but victory went to Walsh in 7:37.37 to Sweden's 7:37.57 – just two tenths in it.
"Winning in the single is a massive achievement especially after the winter i've had with illness meaning that I was out of the boat quite a bit. I just kept my eyes on the Swedish girl alongside me and that seemed to work", said Walsh.
Londoner Melanie Wilson juggled studying for medical finals with her rowing training earlier this year before being selected into the GB women's quadruple soul for the Europeans where she joined Tina Stiller, 2010 World Champion Beth Rodford from Glouceeter and Todmorden's former World Junior Champion Jess Leyden.
The British boat qualified for today's final via a repechage third place finish and were drawn in lane 6. They made a decent start in a race in which Germany, the reigning World Champions and world best time holders were favourites to win. Poland, the world cup silver medallists early this month were drawn alongside the British crew.
At halfway the British women had pulled back up into third place with Ukraine and the Netherlands challenging them closely. Out front Germany and Poland were having a ding-dong battle.
In the final 500m the Dutch put on a spurt to move past the GB women who battled hard but could not gain back the momentum to finish in fourth in 6:21.07. The Dutch also rowed through the Poles to take silver behind Germany consigning the home crew to bronze.
James Foad and Matt Langridge, the reigning World Silver medallists, put their marker down early here in Poznan by qualifying direct to the final with a heat victory. They were in lane 3 today alongside Germain Charmin and Dorian Mortelette of France, the 2012 Olympic silver medalists, and flanked by Milos Vasic and Nenad Bedik of Belarus.
Southampton's Foad and Northwich's Langridge were in the pack from the start and then emerged to take an early lead. It was clear they wanted to control the race from there with the Serbs and the French in their wake about half a length down. The effort was etched in on the British faces as the Serbs clawed back some territory to be just a canvas behind. The British boat responded and moved out a little again. James Foad risked a look around to both sides as the pace hotted up and the Serbs and GB boat moved out ahead.
By 1500m Foad and Langridge had a length lead and looked untouchable but the French had other ideas as they flew up into contention with a blistering finish only to see the British duo hang on and win in 6:27.89.
"We made that harder than it needed to be", joked Matt Langridge afterwards. For Foad it was the end of recovery from a broken bone in his foot six weeks ago. 'We knew we had the opportunity to win here, we just needed to put in a good performance", he said.
Coleraine's Richard Chambers and Chester-Le-Street's Will Fletcher put in an eye-catching turn of speed to win their semi-final and line up in today's final alongside France's reigning European Champions Stany Delayer and Jeremie Azou who were the stand-out crew in last year's event.
Today the British duo got a good start and were neck and neck with the French after 500m gone. In the second 500m the French had eased out to a tenth of a second lead with Norway, former World Champions, challenging in third. By the three-quarter mark it was clear that the French were in a class of their own as they moved out to a length lead. Now it was the British duo's task to fend off the chasing pack which they did by half a length over Norway to take sliver in 6:14.33.
Will Fletcher said: "I"m very, very happy with how it's gone, it's been a while since I had a medal. The four seems so long ago and it's a better colour as well. That's the first time that we as a combination have had a crack at the French. The have been together a lot longer than and were probably able to conserve more energy than we did in the other races but that is something we can work on before the big one in Aiguebelette".
Charlotte Taylor is a relative newcomer to rowing, having taken it up when she moved to London to make new friends. She has since had a meteoric rise and now finds herself in the GB lightweight women's double scull with Kat Copeland. They reached the final in second place behind Fini Sturm and Marie Louise Draeger of Germany who charged out quickly but were almost caught at the end of that race.
Today Teeside's heroine Copeland and Bedford's Taylor were out front with clear water between them and the chasers after putting a blistering turn of speed into the mix early in the race. Germany and Poland were tussling behind them for second at this juncture. The obvious question was whether the British boat had gone out too hard too soon. Watched by coach Paul Reedy cycling on the bank, the GB boat on the far side continued to hold their rhythm and their place and went on to win in 7:00.71 to reverse the semi-final result with Germany finishing in 7:05.27 to take sliver and Poland won bronze.
"We knew that things had been going well in training but you never want to take anything for granted", said Taylor. "We just stayed minute by minute in our own lane today and it paid off".
Nathaniel Reilly O'Donnell, Alan Sinclair, Tom Ransley and Scott Durant, in the GB men's four, made sure of a final place today by winning their heat on Friday. Ransley and O'Donnell are reigning men's eight World Champions whilst Durant and Sinclair won World coxed pair silver in 2014.
Today they had the task of staging a defence to the title won for GB in 2014 by Andrew Triggs Hodge, George Nash, Moe Sbihi and Alex Gregory. Drawn in lane three between Greece and Belarus they got out quickly, took the lead and then toughed it out at the front of the field to win in 5:55.70.
"We have a great tradition in the men's four and so it's great to carry on that mantle", said Tom Ransley. "Being European Champion feels good".
Sinclair added: "That is my first gold at a major championships, so to say I am looking forward to building on that during the season is pretty special. It is the start of a new project and we feel it has been going well in training but you can never put any definition on that until you produce a result".
O'Donnell added: "We have got more to find but winning gold is a nice way to start the season. This is a pretty similar four to the one we had in 2013 but we are definitely bigger and stronger. We have all been PBing in training during the winter, training has been going well and we are a better four.
 
Penzance's Helen Glover and Lossiemouth's Heather Stanning have taken no chances here and have progressed fluidly to the final of the women's pair with a heat and semi-final win. Here the World and Olympic Champions were drawn between the 2014 European silver medallists Cristina Grigoras and Laura Oprea of Romania and the Dutch Elisabeth Hogerwerf and Olivia van Rooijen.
From the start, Glover and Stanning were in outstanding form to win the title by several boat lengths from the Dutch and Romanians. They set a European best time by more than five seconds of 6:58.28.
Stanning said: "That was a great way to kick start our season. Having a Championships event with Europe is really important as rowing is so strong in Europe although in our particular event a lot of the top crews are from around the world".
Glover aaid: "Today we were really focussed on the task and had respect for the crews around us but this season, I guess, is about seeing which crews might come in during the big events and challenge for Rio".
Jack Beaumont, Sam Townsend, Graeme Thomas of Preston, and Maidenhead's Peter Lambert qualified for today's final by setting a European best time in winning their repechage. The latter trio are reigning World and European silver medallists but with a disputed run-up due to injury for Charles Cousins, the GB boat here is an unknown quantity.
In today's final they faced the European and World Champions from the Ukraine and the German winners of World Cup 1 earlier this month. Russia though were the early leaders and were still out front with three-quarters of the race gone. Ukraine were second on the far side wit the GB boat locked into a battle for third place with Poland.
It was a battle they won in 5:46.89 to secure bronze. Russia took the gold in 5:45.61 with Ukraine holding off a great surge from GB to take silver in 5:46.26.
"All credit to the guys", said Sam Townsend afterwards. "With five of the six crews from last year's World final in the field even getting to the final with the changes we have had – Jack coming in as a new guy and the swap of seats – would have been an achievement but to be challenging the front runners was more than we could have expected".
Lambert added: "It's great that we can put in a new man and still make the medals".
Beaumont said: "We gave it everything and it's not quite where we wanted to be but for me to win a medal after just ten days in the quad is pretty good. It has all been very positive and I am really happy with how it has gone".
 
It's not much different to competing at a junior or U23 Championships, to be honest. This is what I have been preparing for since I was a junior.
 
Graeme Thomas added: "I am pleased with that. As we have seen with the rest of the men's heavyweights during this regatta, the performances have been slowly building. This was only our 3rd 2k as a crew and we were up there competing against some of the best in the world. Massive credit to Jack, he has stepped in very professionally. He is only 21 and I would say to all the young rowers out there watching, look at the determination Jack has got".
At the other end of the experience scale, Olympic Champion Katherine Grainger, from Glasgow, faced a tough test for her first international race since the 2012 Games, this time with Wrexham's Vicky Thornley. The duo are racing in a field which includes the 2013 World Champions from Lithuania and the 2014 European Champions from Poland.
Knowing that they have a season-long project on their hands, Grainger and Thornley are learning and improving with each race. Today though it was Poland that made the early running tracked by Germany and Lithuania. For a while, in the middle of the race, Thornley and Grainger moved up into the silver medal position but Lithuania proved too strong at the finish. So it was Poland in gold in 6:55.58, Lithuania in silver and GB in bronze in 6:59.63.
The GB Rowing Team's lightweight men's four, stroked by Wrexham and Chester's Chris Bartley, and featuring Birmingham's Mark Aldred, Maidenhead's Jonno Clegg and Kirriemuir's Sam Scrimgeour, reached today's final with a second place in the semis to the reigning champions from Denmark.
In today's final the quartet lined up with the 2014 bronze medallists from France and the London 2012 crew from Switzerland. Agonisingly they were rowed out of the medals in a race won by Switzerland with France in silver and Denmark in bronze. Britain's time of 5:55.750 was just two seconds off a medal.
Rosamund Bradbury, Olivia Carnegie Brown, Lucinda Gooderham, Donna Etiebet, Jess Eddie, Louisa Reeve and Zoe Lee were coxed in the GB Rowing Team women's eight by Zoe de Toledo who was back in her selected seat, having recovered from illness. In the repechage the British women showed their mettle with a storming start before going onto win. and qualify for today.
In the final they were drawn alongside the 2014 Champions Romania with Russia also won of the crews to watch. The GB boat put themselves in medal contention behind the leading Russians and tracking the second-placed Dutch. They seemed to have Romania, champions at this event since 2007, well under control until the final 500m when the British crew slumped back into fifth in 6:18.19
It transpired that the crew had "caught a crab" which meant that the boat speed died and there was no option of getting them back into medal contention from that point.
Angus Groom from Guildford is having the time of his life out here in Poznan. He qualified for today's final on his senior debut in this event and could hardly believe it yesterday as he took the third qualifying slot in the semis in a race which set a European best time.
Today he was drawn in lane one with European best time holder Damir Martin and the defending European Champion Ondrej Synek amongst the favourites to win.
Groom was fifth at the 500m mark and had not lost contact with the leaders. Croatia were leading and the Czech Republic in second. The young sculler did not lose his composure, kept his rhythm and added a bit of distance on Belgium in sixth. In a dramatic third 500m the Lithuanian Mindaugas Griskonis pulled up sharp and dropped out of the race.
Groom moved up on the Norwegian former Olympic Champion Olaf Tufte and challenged him briefly before fading back 20m from the line. The race was won in a new European best of 6:41.65 by Croatia's Martin who was six seconds faster than yesterday and Groom set a new PB in 6:49.02.
Matt Gotrel (Chipping Campden), Stewart Innes (Henley-on-Thames), Nailsworth's Pete Reed, Leeds' Paul Bennett, Surbiton's Mohamed Sbihi, Wormington's Alex Gregory, George Nash (Guildford), Will Satch (Henley-on-Thames) and cox Phelan Hill (Bedford) were winners of their repechage of the men's eight to qualify for today's final.
In the heats Russia were the stand-out crew and were drawn alongside the British today. Germany, beaten to the World title by GB in 2013 and 2014, were in lane four.
The British crew got a decent start but the Germans and the Dutch were quickest in the opening 100m. Russia were in the mix too in what looked set to be a cracking race.
By the 500m mark the British crew had pulled up into second place and were challenging the Germans. At the halfway there was 0.02 seconds in it. Britain first by the width of a few credit cards. That's when the Germans did the damage, though. They put in a big surge and took a powerful lead as the GB boat battled and battled with the Russians and came through to take silver in a complete reversal of their Friday fortunes.
Matt Gotrel said: "In terms of the weekend, we feel we have learnt a lot. There has been a good step up from day to day, race to race. We are pleased to come away with a medal – it puts us in good shape for the summer and it will be exciting to see where we go from here".
In the B Finals Jonny Walton and John Collins were fifth at 500m gone but put in a strong finish to take second in 6:21.72 behind the Serbians with Denmark in third. Frances Houghton was fourth in the open women's single scull.
SCROLL DOWN FOR MORE
===========================================================
RESULTS

(Events featuring GB Rowing Team crews only. For full results – www.worldrowing.com)
FINAL A/B
OPEN
WOMEN
Pair – Final A
1. Helen Glover/Heather Stanning (GREAT BRITAIN) 6:58.28
2. Elisabeth Hogerwerf/Olivia van Rooijen (Netherlands) 7:04.98
3. Cristina Grigoras/Laura Oprea (Romania) 7:12.56
4. Noemi Kober/Marie Le Nepvou (France) 7:13.82
5. Hedvig Rasmussen/Anne Andersen (Denmark) 7:16.43
6. Anna Wierzbowska/Maria Wierzbowska (Poland) 7:20.16
Eight – Final A
1. Russia 6:08.06
2. Netherlands 6:09.70
3. Romania 6:12.99
4. Germany 6:15.52
5. Rosamund Bradbury/Olivia Carnegie-Brown/Lucinda Gooderham/Donna Etiebet/Jessica Eddie/Louisa Reeve/Katie Greves/Zoe Lee/Zoe de Toledo (cox) (GREAT BRITAIN) 6:18.19
6. Belarus 6:25.31
Single scull – Final B
1. Lisa Scheenaard (Netherlands) 7:38.25
2. Julia Michalska (Poland) 7:40.15
3. Julia Richter (Germany) 7:41.25
4. Frances Houghton (GREAT BRITAIN) 7:45.07
5. Eveline Peleman (Belarus) 7:47.16
Double scull – Final A
1. Magdalena Fularczyk/Natalia Madaj (Poland) 6:55.58
2. Donata Vistartaite/Milda Valciukaite (Lithuania) 6:57.08
3. Vicky Thornley/Katherine Grainger (GREAT BRITAIN) 6:59.63
4. Julia Lier/Mareike Adams (Germany) 7:02.55
5. Ekaterina Karsten/Yuliya Bichyk (Belarus) 7:04.88
6. Olena Buryak/Anastasiia Kozhenkova (Ukraine) 7:07.81
Quadruple scull – Final A
1. Annekartin Thiele/Marie-Catherine Arnold/Carina Baer/Lisa Schmidla (Germany) 6:18.93
2. Nicole Beukers/Chantal Achterberg/Inge Janssen/Carline Bouw (Netherlands) 6:19.54
3. Agnieszka Kobus/Joanna Leszczynska/Maria Springwald/Monika Ciaciuch (Poland) 6:20.87
4. Melanie Wilson/Tina Stiller/Beth Rodford/Jessica Leyden (GREAT BRITAIN) 6:21.07
5. Natalia Kovalova/Daryna Verkhogliad/Ievgeniia Nimchenko/Nataliya Dovgodko (Ukraine) 6:27.54
6. Alice Mayne/Eleonore Dubuis/Daphne Socha/Chloe Poumailloux (France) 6:37.00
OPEN
MEN
Pair – Final A
1. James Foad/Matt Langridge (GREAT BRITAIN) 6:27.89
2. Germain Chardin/Dorian Mortelette (France) 6:28.16
3. Milos Vasic/Nenad Bedik (Serbia) 6:28.94
4. Jakub Podrazil/Lukas Helesic (Czech Republic) 6:33.33
5. Adrian Juhasz/Bela Simon Jr (Hungary) 6:33.55
6. Onat Kazakli/Fuad Rafail (Turkey) 6:41.93
Four – Final A
1. Nathaniel Reilly-O'Donnell/Alan Sinclair/Tom Ransley/Scott Durant (GREAT BRITAIN) 5:55.70
2. Ioannis Tsilis/Dionysios Angelopoulos/Georgios Tziallas/Ioannis Christou (Greece) 5:57.00
3. Vadzim Lialin/Dzianis Mihal/Mikalai Sharlap/Ihar Pashevich (Belarus) 5:57.67
4. Javier Garcia Ordonez/Jaime Canelejo Pazos/Marcelino Garcia Cortes/Antonio Guzman Del Castillo (Spain) 5:57.76
5. Harold Langen/Peter van Schie/Vincent van der Want/Govert Viergever (Netherlands) 5:59.85
6. Johannes Weissenfeld/Alexander Egler/Maxiilian Planer/Felix Wimberger (Germany) 6:00.28
Eight – Final A
1. Germany 5:24.23
2. Matt Gotrel/Stewart Innes/Pete Reed/Paul Bennett/Mohamed Sbihi/Alex Gregory/George Nash/Will Satch/Phelan Hill (cox) (GREAT BRITAIN) 5:26.29
3. Russia 5:27.34
4. Poland 5:30.74
5. France 5:32.02
6. Netherlands 5:33.03
Single scull – Final A
1. Damir Martin (Croatia) 6:41.65
2. Ondrej Synek (Czech Republic) 6:46.40
3. Olaf Tufte (Norway) 6:46.61
4. Angus Groom (GREAT BRITAIN) 6:49.02
5. Hannes Obreno (Belarus) 7:29.37
6. Mindaugas Griskonis (Lithuania) 7:59.04
Double scull – Final B
1. Marko Marjanovic/Aleksandar Filipovic (Serbia) 6:20.82
2. John Collins/Jonathan Walton (GREAT BRITAIN) 6:21.72
3. Frank Steffensen/Sophus Johannesen (Denmark) 6:22.75
4. Zygimantas Galisanskis/Martynas Dziaugys (Lithuania) 6:25.02
5. Gints Zunde/Dairis Adamaitis (Latvia) 6:27.57
6. Bendeguz Petervari-Molnar/Gergely Papp (Hungary) 6:29.51
Quadruple scull- Final A
1. Vladislav Ryabcev/Pavel Sorin/Viacheslav Mikhaylevskiy/Sergey Fedorovtsev (Russia) 5:45.61
2. Dmytro Mikhay/Artem Morozov/Olexandr Nadtoka/Ivan Dovgodko (Ukraine) 5:46.26
3. Jack Beaumont/Sam Townsend/Graeme Thomas/Peter Lambert (GREAT BRITAIN) 5:46.89
4. Mateusz Biskup/Dariusz Radosz/Miroslaw Zietarski/Wiktor Chabel (Poland) 5:48.37
5. Dominykas Jancionis/Rolandas Mascinskas/Aurimas Adomavicius/Vytautas Lapatiukas (Lithuania) 5:49.05
6. Patrick Leineweber/Karl Schulze/Lauritz Schoof/Hans Gruhne (Germany) 5:49.34
LIGHTWEIGHT
WOMEN
Single scull – Final A
1. Imogen Walsh (GREAT BRITAIN) 7:37.37
2. Emma Fredh (Sweden) 7:37.57
3 Judith Anlauf (Germany) 7:41.82
4. Anna Ioannou (Cyprus) 7:44.77
5. Anastasiia Ianina (Russia) 7:47.09
6. Sonata Petrikaite (Lithuania) 7:47.23
Double scull – Final A
1. Charlotte Taylor/Kat Copeland (GREAT BRITAIN) 7:00.71
2. Fini Sturm/Marie-Louise Draegar (Germany) 7:05.27
3. Joanna Dorociak/Weronika Deresz (Poland) 7:05.36
4. Anne Loik Thomsen/Juliane Rasmussen (Denmark) 7:06.51
5. Elisabeth Woerner/Maaike Head (Netherlands) 7:06.65
6. Claire Lambe/Denise Walsh (Ireland) 7:13.41
MEN
Pair – Final A
1. Joel Cassells/Peter Chambers (GREAT BRITAIN) 6:28.58
2. Augustin Mouterde/Theophile Onfroy (France) 6:28.88
3. Jonas Kilthau/Sven Kessler (Germany) 6:34.60
4. Sergio Perez Moreno/Jesus Gonzalez Alvarez (Spain) 6:34.87
5. Georgios Konsolas/Ioannis Petrou (Greece) 6:36.10
6. Patryk Pzsczolkowski/Bartosz Pzsczolkowski (Poland) 6:43.98
Four – Final A
1. Simon Schuerch/Mario Gyr/Lucas Tramer/Simon Niepmann (Switzerland) 5:52.27
2. Thibault Colard/Guillaume Raineau/Thomas Baroukh/Franck Solforosi (France) 5:53.69
3. Kasper Winther/Jens Vilhelmsen/Jacob Barsoe/Jacob Larsen (Denmark) 5:53.76
4. Sam Scrimgeour/Jonathan Clegg/Mark Aldred/Chris Bartley (GREAT BRITAIN) 5:55.75
5. Joris Pijs/Jort van Gennep/Timothee Heijbrock/Bjorn van den Ende (Netherlands) 5:56.54
6. Ander Zabala Artetxe/Patricio Rojas Aznar/Marc Franquet Montfort/Imanol Garmendia Maiz (Spain) 5:57.14
Single scull – Final A
1. Pierre Houin (France) 6:54.48
2. Lukas Babac (Slovakia) 6:56.36
3. Rajko Hrvat (Slovenia) 6:57.29
4. Zak Lee-Green (GREAT BRITAIN) 7:02.87
5. Nedelcho Vasilev (Bulgaria) 7:05.08
6. Igor Khmara (Ukraine) 7:11.01
Double scull – Final A
1. Stany Delayre/Jeremie Azou (France) 6:11.38
2. Richard Chambers/Will Fletcher (GREAT BRITAIN) 6:14.33
3. Kristoffer Brun/Are Strandli (Norway) 6:15.53
4. Tycho Muda/Vincent Muda (Netherlands) 6:19.27
5. Paul O'Donovan/Gary O'Donovan (Ireland) 6:21.89
6. Huseyin Kandemir/Enes Kusku (Turkey) 6:23.43
SCROLL DOWN FOR MORE
===========================================================
CREW LISTS (Includes club, home town, date of birth)
GB Rowing Team for the 2015 European Championships,
Poznan, 29-31 May
OPEN
WOMEN
Pair
Helen Glover (Minerva Bath RC/Penzance/17.06.86)
Heather Stanning (Army RC/Lossiemouth/26.01.85)
Coach: Robin Williams
Eight
Katie Greves (Leander Club/Oxford/02.09.82)
Olivia Carnegie-Brown (Oxford Brookes Univ BC/Oxford/28.03.91)
Lucinda Gooderham (Leander Club/Garboldisham/09.06.84)
Donna Etiebet (Sport Imperial/London/29.04.86)
Jessica Eddie (London RC/Durham/07.10.84)
Louise Reeve (Leander Club/London/16.05.84)
Rosamund Bradbury (Leander Club/Banstead/17.12.88)
Zoe Lee (Imperial College BC/Richmond/15.12.85)
Zoe de Toledo (cox)
Coach: James Harris
Single Scull
Frances Houghton (Univ of London Tyrian Club/Oxford/19.09.80)
Coach: Nick Strange
Double Scull
Katherine Grainger (St Andrew BC/Glasgow/12.11.75)
Victoria Thornley (Leander Club/Wrexham/30.11.87)
Coach: Paul Thompson
Quadruple Scull
Melanie Wilson (Imperial College BC/London/25.06.84)
Kristina Stiller (Tees RC/Yarm/23.06.87)
Beth Rodford (Gloucester RC/Gloucester/28.12.82)
Jessica Leyden (Leander Club/Todmorden/22.02.95)
Coach: Nick Strange
Women's Spares
Karen Bennett (Leander Club/Edinburgh/05.02.89)
Becca Chin (Agecroft RC/Deganwy/11.12.91)
OPEN
MEN
Pair
James Foad (Molesey BC/Southampton/20.03.87)
Matt Langridge (Leander Club/Northwich/20.05.83)
Coach: Rob Dauncey
Four
Nathaniel Reilly-O'Donnell (Univ of London BC/Durham/13.04.88)
Alan Sinclair (Leander Club/Munlochy/16.10.85)
Tom Ransley (Leander Club/Ashford/06.09.85)
Scott Durant (Oxford Brookes Univ BC/Lancaster/12.02.88)
Coach: Christian Felkel
Eight
Matt Gotrel (Leander Club/Chipping Campden/01.03.89)
Stewart Innes (Leander Club/Henley-on-Thames/20.05.91)
Pete Reed (Leander Club/Nailsworth/27.07.81)
Paul Bennett (Univ of London BC/Leeds/16.12.88)
Mohamed Sbihi (Molesey BC/Surbiton/27.03.88)
Alex Gregory (Leander Club/Wormington/11.03.84)
George Nash (Molesey BC/Guildford/02.10.89)
Will Satch (Leander Club/Henley-on-Thames/09.06.89)
Phelan Hill (cox) (Leander Club/Bedford/21.07.79)
Coach: Jurgen Grobler
Single Scull
Angus Groom (Leander Club/Glasgow/16.06.92)
Coach: John West
Double Scull
Jonny Walton (Leander Club/Leicester/06.10.90)
John Collins (Leander Club/Twickenham/24.01.89)
Coach: Mark Banks
Quadruple Scull
Jack Beaumont (Leander Club/Maidenhead/21.11.93)
Sam Townsend (Reading Univ BC/Reading/26.11.85)
Graeme Thomas (Agecroft RC/Preston/08.11.88)
Peter Lambert (Leander Club/Maidenhead/03.12.86)
Coach: Paul Stannard
Men's Spares
Callum McBrierty (Leander Club/Edinburgh/13.08.92)
Matthew Tarrant (Oxford Brookes Univ BC/Shepperton/11.07.90)
LIGHTWEIGHT
WOMEN
Single Scull
Imogen Walsh (London RC/Inverness/17.01.84)
Coach: Paul Reedy
Double Scull
Kat Copeland (Tees RC/Ingleby Barwick/01.12.90)
Charlotte Taylor (Putney Town RC/Bedford/14.08.85)
Coach: Paul Reedy
LIGHTWEIGHT
MEN
Pair
Peter Chambers (Oxford Brookes Univ BC/Coleraine/14.03.90)
Joel Cassells (Oxford Brookes Univ BC/Coleraine/15.06.94)
Coach: Rob Morgan
Four
Sam Scrimgeour (Imperial College BC/Kirriemuir/28.01.88)
Jonathan Clegg (Leander Club/Maidenhead/14.07.89)
Mark Aldred (London RC/Birmingham/18.04.87)
Chris Bartley (Leander Club/Chester/02.02.84)
Coach: Rob Morgan
Single Scull
Zak Lee-Green (Agecroft RC/Cardiff/05.02.91)
Coach: Darren Whiter
Double Scull
Richard Chambers (Leander Club/Coleraine/10.06.85)
Will Fletcher (Leander Club/Chester-le-Street/24.12.89)
Coach: Darren Whiter
SCROLL DOWN FOR MORE
===========================================================
A LOOK BACK TO THE 2014 EUROPEAN CHAMPIONSHIPS
Last year's event in Belgrade, Serbia, was the first time that the GB Rowing Team had taken a full team to the European Championships and they were rewarded with eight medals, including two gold.
Those results put GB on top of the medal table and set the team up for a successful year on the World Cup circuit and at the World Championships in Amsterdam.
2014 European Championships Medals
Women's Pair – GOLD
Helen Glover, Polly Swann 
Men's Four – GOLD
Alex Gregory, Mohamed Sbihi, George Nash, Andrew Triggs Hodge 
Women's Eight – SILVER
Rosamund Bradbury, Olivia Carnegie-Brown, Katie Greves, Donna Etiebet, Jessica Eddie, Zoe Lee, Caragh McMurtry, Louisa Reeve, Zoe de Toledo (cox)
Men's Quadruple Scull – SILVER
Sam Townsend, Charles Cousins, Graeme Thomas, Peter Lambert 
Lightweight Men's Pair – SILVER
Sam Scrimgeour, Jonathan Clegg 
Lightweight Men's Four – SILVER
Mark Aldred, Peter Chambers, Richard Chambers, Chris Bartley
Men's Eight – BRONZE
Phil Congdon, Oliver Cook, Matthew Gotrel, Pete Reed, William Satch, Matthew Tarrant, Scott Durant, James Foad, Phelan Hill (cox)
Lightweight Women's Double Scull – BRONZE
Imogen Walsh, Katherine Copeland 
SCROLL DOWN FOR MORE
=================================================
CONTACT DETAILS
For background information about the The GB Rowing Team contact the Press office via [email protected] or 07831 755351
For picture requests please contact: [email protected]
GB Rowing Team website, including full rower biogs: www.gbrowingteam.org.uk
Follow us on:
Facebook: www.facebook.com/gbrowingteam
Twitter: www.twitter.com/gbrowingteam
Youtube: www.youtube.com/gbrowingteam
=================================================
THE GB ROWING TEAM is supported by the Lottery through UK Sport and has Science in Sport as a supplier. SAS Analytics is the Official Analytics Partner of British Rowing and the GB Rowing Team