26th World Pilot Gig Championships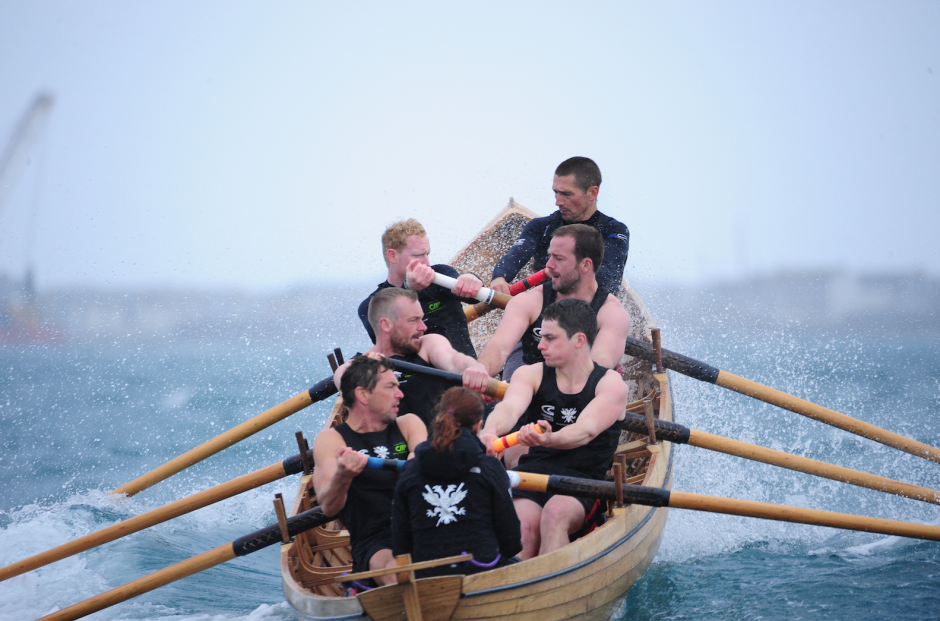 Last weekend, the 26th World Pilot Gig Championships took place on the Isles of Scilly. The weekend kicked off with the Vets & Supervets racing on Friday evening in white water conditions and poor visibility. Newquay in Spy dominated the ladies race to claim the Vets champions title whilst Teign ladies won the Supervets (over 50's) category. Roseland took 1st place Men's Vets in Polvarth and Falmouth's men won the Supervets in Governor.
In the main racing, Falmouth men's A dominated their heats whilst Roseland, Newquay and St Mary's ladies seemed to be taking turns at winning, leaving the final result still looking excitingly unpredictable. By Sunday afternoon the wind and sea conditions were rougher than they had been for many years with some novice crews taking up to 40 minutes to row the usually 12-20 minute 1.18 nautical mile course.
A dramatic ladies final saw Newquay in Spy out in front, fighting off the formidable St Mary's crew in Tregarthans. In the mayhem the Islander's bow crashed into the stern of Spy, knocking the rudder out. Despite the chaotic sea state, Newquay Cox Nick George somehow managed to re-attach the rudder, whilst the Tregarthans made a huge gutsy push to overtake. The Newquay girls rowed with incredible focus, clinging to their lead right until the last second where the two boats appeared to cross the line together. After an anxious ten minute wait for the finish line video footage to be examined Tregarthans were declared the winners by an inch – only to be heartbreakingly disqualified an hour later for causing collision. The Chairman of the Championships committee Rick Persich said "it was a tough decision, but a fair one. In those rough conditions, if you steer that close to another boat, you take that risk, the rules are clear". With so much at stake for these rowers who are investing ever increasing amounts of money and time into training for this event, Rick noted that the committee will gladly welcome any affordable suggestions to help keep race marshalling in bad weather as fair and open as possible such as gps tracking and on-board filming.
The men's final was equally as exciting with Irene and Talisman flying off the start until Falmouth A in Black Rock remarkably powered through them half way along. Falmouth champion rower Jamie Maxted says it was the worst conditions he had ever raced in at Scilly, "all that time we spent training to keep the boat running smoothly went out the window, it was just a fight to find water".
Photos and more news of the weekend's spectacular racing can be seen here.
Photos by Mel Williams and Toby Weller
By Mel Williams