Osiris lead on Tideway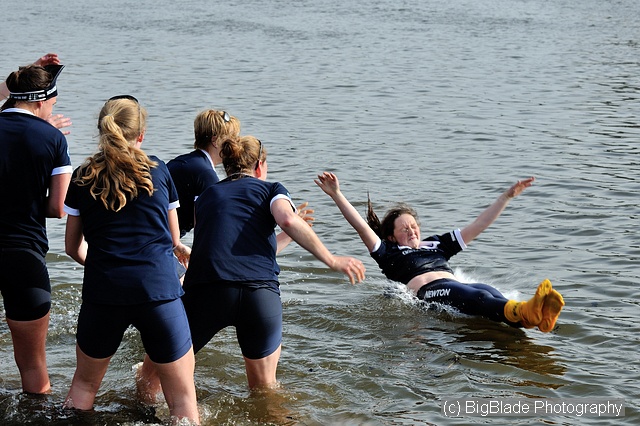 A little bit of history was made on Friday, 10th April when the first Oxbridge women's boat race took place on the full championship course as Osiris, the Oxford women's reserves, took on Blondie, the Cambridge women's reserves.
All this, 24 hours in advance of the much-talked about first Oxford-Cambridge heavyweight women's boat race over the full Putney to Mortlake course.
Sadly for the Light Blue reserves, the result on this occasion may also prove to have been a historic one as they were beaten by 15 lengths. Oxford's time was 18:58.
After the race Natasha Townsend, OUWBC assistant coach, praised her winning crew.
"They did a really good job. They got into a good rhythm and that helped them, especially when they came around into the head wind. They kept really long. It was a big confidence booster and then they could relax a bit.
"We had a bit of a struggle in the lead-up, one of our girls was sick and we had to swap our spare in so I was quite nervous before the race. But the girls were amazing and their team spirits were very high; they just dealt with it exceptionally well."
All these rowers have to find a balance between their sport and their studies – meaning that one of the Osiris crew had to miss the final outing on the morning before the race to take an exam.
In the 41 Osiris-Blondie races since 1968, Cambridge have won 21 while Oxford has won 20, including the last four.
Report by Tim Koch
Photos by BigBlade and Tim Koch