Hat-trick for Thames Upriver at JIRR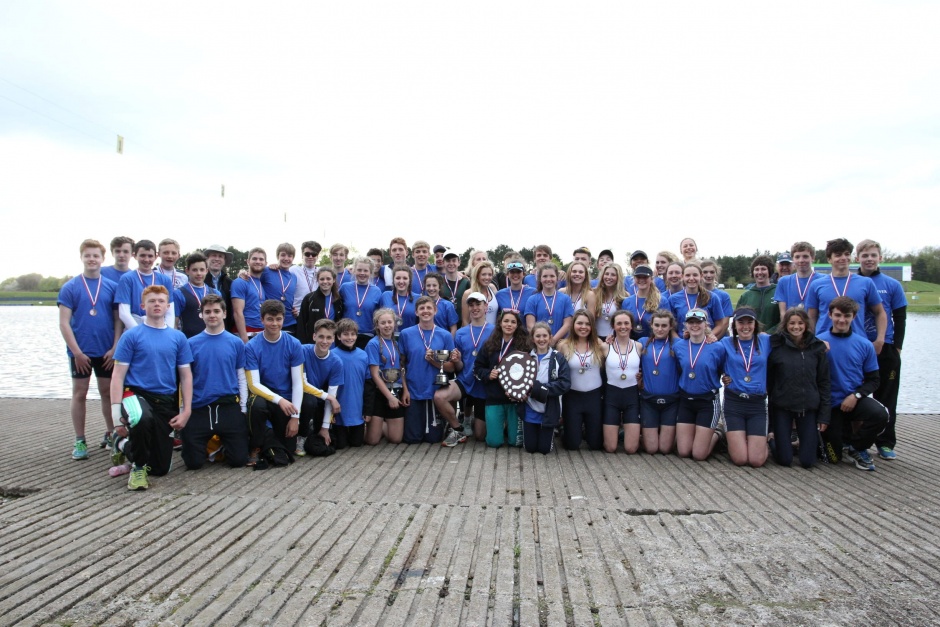 Despite tricky conditions, the 2015 Junior Inter-Regional Regatta provided a spectacle of racing for over 900 junior rowers from around the country on Saturday.
Thames Upriver won the overall trophy for the third consecutive year, winning both the boys' and girls' events.
After receiving the Di Ellis Shield, the Team Manager Laura Lion said: "Thames Upriver is lucky to have such talented, committed and hardworking juniors. They excelled themselves again this year. I am very proud to be their team manager."
Over 100 schools and junior clubs formed the 12 regional teams to contest the 24 different categories for 14-16 year olds. Competitors all got two side-by-side races with the results from the morning racing being used to seed crews into A and B finals ensuring close and exciting racing. The format of the competition allocates points to all finishing crews with the highest placed crews contributing the most points towards their regional total.
Medals were spread well across the regional teams with all 12 of the regions appearing on the medal pontoon at least once.
In the boys' races, Winchester College, representing the Wessex region showed their form in the J16 eights, beating Norwich School from the Eastern region by just under eight seconds. There was also exciting racing in the J16 coxed four where the three medallists crossed the line overlapping with Northwich Rowing Club from the North West taking the gold.
North West were runners up in the girls' events with 101 points accrued from their one gold, one silver and four bronze medals. All four of the WJ15 events were won by Henley Rowing Club representing Thames Upriver. The club also won gold in the WJ16 eights and the WJ16 quads, contributing to the dominating performance of the region to take the girls' trophy.
In the J16 events, the Eastern region took gold in the coxless four (Bedford Modern School) and the double scull (St Neots/Star composite).
Summing up the day, Regatta Chairman Martin Humphrys said: "We were delighted that despite the gloomy weather predictions once again we were able to have an excellent day's racing with all of the regions working hard to produce some very close races.
"As the first regatta of the season the Junior Inter-Regionals are a great start and we are very grateful to everyone involved within the regions for the time and commitment they make in ensuring we have a great day!"
Full results from the event are now available here.
Photos from Rowing Photography available here.
Report by James Lee