Cambridge Wins at Henley Boat Races.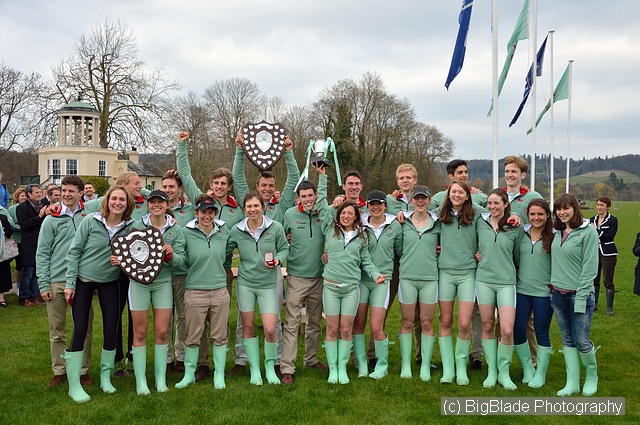 Cambridge took an early two-nil lead in the 2015 series, winning both the men's and women's lightweight boat races at Henley on Easter Sunday and claiming the Francombe Cup, the Henley Boat Races' Victor Ludorum trophy.
It was a chilly start to the first side-by-side racing of 2015, but this didn't deter the spectators lining the towpath, who were rewarded with an afternoon of dramatic racing.
This year, following the move of both the Newton Women's Boat Race and the Osiris–Blondie reserves race to the Tideway, the lightweight events took centre stage, and very much lived up to their billing as grandstand events. Both were very closely fought battles, with some of the tightest winning margins in their history.
In the women's lightweight race, the CUWBC lightweights were eager to end Oxford's winning streak, the Dark Blues having won seven of their last ten meetings.
Oxford, however, had the faster start and led for the early part of the race. Determined to close the gap, the Cambridge women pushed hard to row back through Oxford, registering a half-length lead at Fawley which they maintained through Temple Island Meadows. Sweeping down towards the finish line, Oxford wound up to an all-out sprint, but Cambridge just managed to hold on, crossing the line just three feet up – the closest race since the one-foot verdict of 1994. The winning time was six minutes, 26 seconds.
The men's race was just as close, with Oxford again taking an early lead, but Cambridge soon built up a momentum that carried them level and then out to half a length. The Dark Blue men came roaring back in the final charge to the finish, but an unlucky clash just before the line saw Cambridge hold on to their four-foot advantage, finishing in five minutes, 55 seconds.
The race marked the 40th anniversary of the men's lightweight race, and the Cambridge men had named their boat Spirit of 75 in honour of the occasion, of which seven-seat Raffaele Nicholas Russo said, "It's been an honour and I'm glad we lived up to it. It was very nice to be in that boat, and to make the boat proud."
The afternoon of racing had opened with the now-traditional intercollegiate match races, held over 1,750 metres. Here, there was some cheer for Oxford, as the universities won one apiece: while in the women's race Cambridge's Christ's College overturned Green Templeton, the men of Oriel College, Oxford, won against Jesus College.
By Zoe Gullen
Photos by BigBlade
Find out more at: http://henleyboatraces.com/